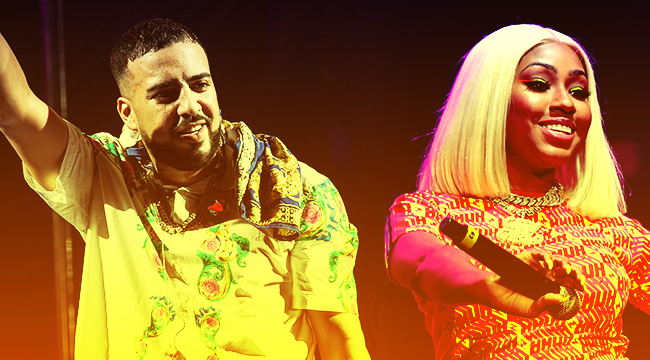 Hip-hop is moving fast as ever. Luckily, we're doing the work to put the music in one place for you. This week, there were new tracks from Kyle, Kevin Gates, and Cardi B. We also got new videos from Mustard featuring Meek Mill, Quavo, and YG, Gunna and Jordyn Woods, and Tyga, who paid homage to one of his heroes Lil Wayne on the creative "Lightskin Lil Wayne." Here's the best of the rest:
French Montana Feat. City Girls, "Wiggle It"
This week French Montana released a long-awaited Coke Wave 4 with his partner-in-rhyme Max B — but he didn't stop there. French also collaborated with City Girls on "Wiggle It," a frenetic banger that's sure to have a couple people touching their toes whenever it's played in the club.
Ghostface Killah, "Conditioning"
Ghostface Killah's self-titled album is on the way. He offered a taste of what to expect with "Conditioning," a gritty lyrical exercise over a hypnotic, Eastern-flavored sample. The "Conditioning" video is a short film that shows Ghost and his crew putting together a caper that doesn't quite go as expected.
Eve, "Reload"
[protected-iframe id="af14014186586457850217db67873dc9-60970621-76566046″ info="https://open.spotify.com/embed?uri=spotify%3Aalbum%3A3Doz4oXlBqJzMUhLEtt9W6″ width="650″ height="380″ frameborder="0″]
Legendary Philly rapper Eve just dropped her first song in over six years, and it's right on time. The festive, Reggae-tinged "Reload," which features dancehall artist Konshens, shows Eve rhyming about a fracturing relationship with a flow that sounds right in step with what's going on today.
Joyner Lucas Feat. Timbaland, "10 Bands"
There's a lot of mystery surrounding Joyner Lucas' upcoming ADHD album, but one thing that's known for sure is that the versatile artist is aiming to knock one out of the park with "10 Bands," a smooth track that shows the normally urgent lyricist swaggering over a thumping Timbaland production.
ASAP Ant, "Free Flacko Jodye"
ASAP Ant decided to pay homage to his ASAP Mob brother Rocky, who's currently being detained in Sweden. Though the braggadocious, tough-talking "Free Flacko Jodye" is light on bars about Rocky, it's the thought that counts.
070 Shake, "Nice To Have"
070 Shake released the gloomy video for her lovelorn "Nice To Have" track. The red-tinged video takes us to a relatively untapped setting for music videos: an underground traffic tunnel, with an assortment of memorable characters.
Cousin Stizz Feat. City Girls, "Perfect"
Rising rapper Cousin Stizz linked up with City Girls' Yung Miami on "Perfect," a slinky track where the two pledged their love to each other in the raunchiest ways possible.
Yung Baby Tate, "Babytron"
Yung Baby Tate offered up her entry into Nicki Minaj's #MegatronChallenge with the bubbly "Babytron," a fun track where she floats over "Megatron's" West Indian vibes with bars saluting her crew and bigging up her sexual prowess.
Dash and V Don Feat. Meechy Darko, "Fangs"
Da$h and V Don are set to release their Five Deadly Venoms album soon and gave us another taste of what to anticipate with "Fangs," a dark track with Meechy Darko of Flatbush Zombies that shows the guys trading bars.
Rothstein, "Give It Up"
[protected-iframe id="58c73967262ec20aaf550b0ca0be07e5-60970621-76566046″ info="https://open.spotify.com/embed/track/3i2cCrJykrqrntBkVgrHV9″ width="650″ height="380″ frameborder="0″]
On Wednesday, Cambridge, MA artist Rothstein released "Give It Up," a genre-bending ode to love where he vies to give his all to the object of his affection. With the sharp lyricism displayed on the three-minute track, he's already on the right path.
Some artists covered here are Warner Music artists. Uproxx is an independent subsidiary of Warner Music Group.