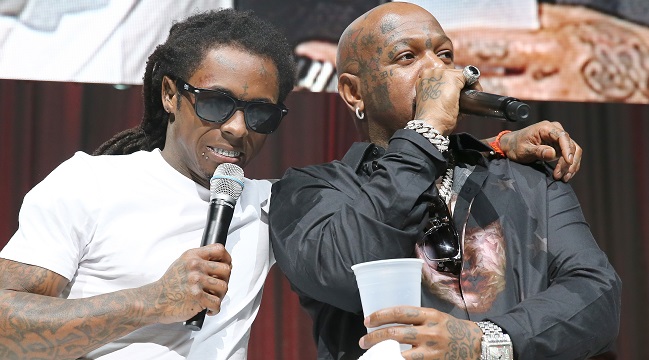 Lil Wayne and Birdman have been embroiled in a $51 million contract dispute that's held up Carter V for over four years. Their distance is a stark contrast from their previous decade-plus reign as so-called "Father and Son" seemingly bonded at the hip. Despite Wayne saying "f*ck Cash Money" and whatever was going on between those two and Young Thug, they could never fully break from each other. Their families still intermingled, and they often recorded in the same studio. It looks like they've finally decided to reconcile personally while they hash out their business differences. They were seen together at three Miami parties in the past two weeks, which has led many to speculate on whether they're ready to fully reconcile.
That seems even more likely after hearing Birdman discuss the situation on Ebro's Beats1 Radio show. He told Ebro in the brief clip that, "I'm not gon' let [our disagreement] just lay like that." He clarified his statement by noting that, "It's important to me that I make sure that sh-t's straight. I ain't worried about it benefitting me; he deserves that from me and I'ma give him that blessing."
Birdman also said their fracture has been "affecting our kids." Who knows if that means we can expect Carter V or a full on YMCMB reunion, but at least they're talking. That has to be good for something.