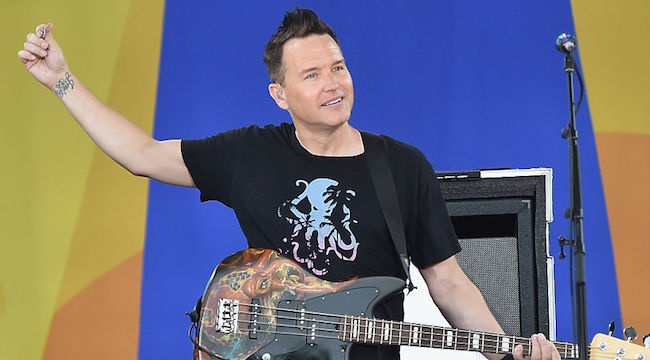 Many people are still picking up the pieces after last month's devastating Hurricane Harvey, and that process has seen an outpouring of charitable endeavors from the music world. One aspect of the storm that went under the radar for many is how animals were affected, with many people forced to leave their pets behind during the evacuation.
A new compilation, Dog Songs, is out now raising money for ASPCA (American Society for Prevention of Cruelty to Animals), specifically for the dogs harmed by Harvey. And the album landed a notable headliner, with Blink-182's Mark Hoppus penning a new song for the set, titled "Not Every Dog Goes To Heaven." The song also features Travis Barker on drums, which pretty much makes it a Blink-182 song, though Hoppus has opted to release it as a solo track.
According to Hoppus, the song is "an anti-tribute to Dinky, the total bummer of a dog from National Lampoon's Vacation." And, the reference is not veiled. "Dinky, you're such a f*ckin' drag," Hoppus sings of the '80s pooch, while also noting how rad Chevy Chase looks in the film. It's a song that harkens back to the fast and loose style of Blink's early days, with the fun that Hoppus and Barker are having in studio coming across on the record.
Check out the song below, and buy the album at Bandcamp to help out this worthy cause.
[protected-iframe id="28a25d21fd9bb9bba782d42768f8efd7-60970621-76566046″ info="https://bandcamp.com/EmbeddedPlayer/album=1849068676/size=large/bgcol=ffffff/linkcol=0687f5/tracklist=false/artwork=small/transparent=true/" ]