I was in the photographers' pit at Boston Calling's Delta Blue Stage to shoot Brockhampton on Saturday, during what might be their last performance in a while; They just canceled their remaining tour dates following the sexual misconduct allegations made against Ameer Vann (who did not perform with the group on that day). I missed it, though, and got zero photos of them. I was sitting off to the side of the pit with two emergency medical personnel after security noticed the nosebleed I got completely out of nowhere, which I reckon is the biggest of the many I've had in my years.
After the medical folks asked for my personal information and told me how to pinch my nose as if I haven't already done it a hundred times before, I cleaned off whatever blood hadn't already seeped into my shirt and festival bracelet in a nearby bathroom. Then, with just a few minutes remaining until St. Vincent's set all the way across the festival, I ran there, surely looking like a maniac with my blood-covered everything and an undeterrable sense of urgency. Slightly winded, I was able to make it to the Green Stage pit and get some completely usable photos of her performance.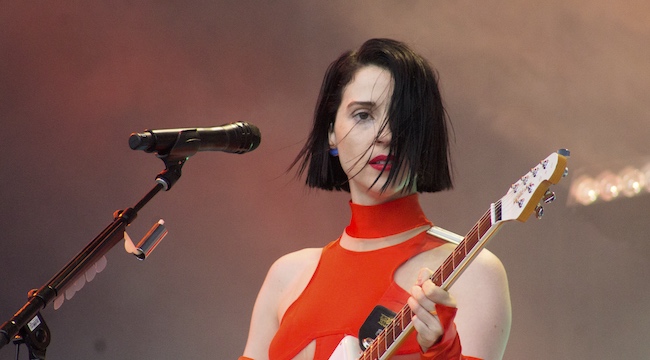 Despite the mini emergency, there was a silver lining: I ventured across the entire place in no more than four or five minutes. And that's part of what was so nice about Boston Calling in relation to other festivals: it's small.
Not to disparage Coachella because it hosts wonderful lineups every year, but since it's the country's biggest festival, let's use it as a comparative counterpart against Boston Calling. Coachella has seven stages (six if you don't count Yuma, which didn't often host recognizable names), while Boston Calling has five stages (three excluding its least prominent) spread across Harvard's Athletic Complex in Allston, Massachusetts.
Having more options might sound good, but it can also lead to analysis paralysis and/or having to choose between multiple appealing options that will make it feel like you missed out on something, regardless of your selection. For example, between 7:55 and 9:15 PM on Saturday at Coachella this year, performances from Tyler, The Creator, Haim, Fleet Foxes, Jorja Smith, Alvvays, Oh Sees, Black Bear, and Pachanga Boys started, meaning that realistically, to watch any of them from a decent vantage point, you'd have to pick one and commit to it.
That didn't happen as much at a fest the size of Boston Calling, especially since the Red and Green Stages were directly next to each other and had performances at alternating times. This is also because Boston Calling's lineup this year was about a quarter the size of Coachella's. On Boston Calling's 2018 poster, I count 45 different acts. Just Coachella's first and lightest day (53 artists) tops that, and contributes to a three-day total of 166. That's probably more than you could name off the top of your head without having to stop and think about it for a minute.
Major festivals seem to have created a false equivalency between quantity and quality, while in the end, a gargantuan musical extravaganza isn't as satisfying. Coachella, a festival gold standard, is huge, but looking at the poster, doesn't it feel impossible? How many of the artists can you really see? How many of them do you even want to see?
At a fest that size, you definitely have your own experience depending on what you pick, and it can be an excellent time, but you get to see so relatively little of the whole thing. At an event like Boston Calling, you enjoy something closer to the experience, since you have the opportunity to see a non-insignificant percentage of the acts on the poster. If you ask your friend if they saw one of Boston Calling's more obscure offerings, there's a decent chance they did, which is refreshing in a time of fewer and fewer universally shared experiences.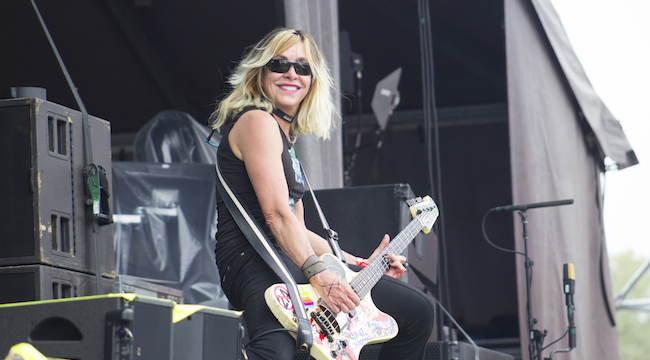 Having fewer acts overall means that you have less room for error, and that's a significant risk. I didn't notice any shortcomings in the Boston Calling lineup, though, and ultimately, the festival featured most of Coachella's best with less of the noise: Eminem, St. Vincent, Portugal. The Man, Tyler, The Creator, Fleet Foxes, Brockhampton, Alvvays, Noname, Perfume Genius, Belly, and Oh Sees all appeared at both fests. Of the performances I saw, I had no complaints: Pussy Riot — love 'em or hate 'em — were at least provocative, Alvvays is a personal favorite and they nailed it live, and The Killers, Jack White, and Eminem all put on bombastic and huge headlining performances.
I'm sure Brockhampton was fine too.
On top of all that, maybe the best part was that every night, the music ended at 11. At that point in the evening, my aching 26-year-old bones aren't looking forward to lingering for a headlining set that ends at 1:30 AM or for some DJ until three in the morning, so getting in bed by midnight feels divine.
Here's a truth we all need to acknowledge together: Staying out late sucks. It just really sucks, man. If we collectively decided that going out before 7 PM wasn't "uncool," we'd all get to sleep at a reasonable hour and there would be fewer insufferables insisting that talking to them in the AM. is somehow impossible until they've had their coffee. Thanks to its ability to pack a satisfyingly full day of music into less than 12 hours, Boston Calling solves that problem.
Hopefully, the smart vibes from the Harvard campus have rubbed off on the festival's organizers, because it would be a shame if Boston Calling got much bigger than it is now. Its compact-but-still-stacked lineup is a perfect antidote to the overblown largeness of modern festivals, and an event as thoughtfully organized as this losing its intimate spirit would be significant and sad. Boston Calling proves that in a time when everything is too big, from overcrowded cities that ran out of parking years ago to the drink sizes at McDonald's, a festival lineup of 45 artists, not 166, is enough to get the blood pumping.
In my case, though, I sometimes wish it wouldn't pump so hard that it leaves my body at a medically concerning rate.