Among all the performers at the 2016 VMAs, Britney Spears is by far the most experienced. Having performed at the 1999 MTV Video Music Awards, Brit-Brit's been doing this longer than a lot of the viewing audience has been alive, that's just facts. So, when the network asked her to grace the stage once again, we knew that it would be a lay-up for the pop princess. And bringing along a young artist like G-Eazy for the ride is a fantastic look for him, well, until he gets curved for a kiss, but we'll get to that later.
As we open, we see tons of hands all over Britney (in shadow puppet form, of course… back off, pervs).
She is then flanked by the young rhymer G-Eazy and a zebra-skinned dancer for some reason. Make me a zebra, we guess?
G-Eazy then makes his intentions well-known here.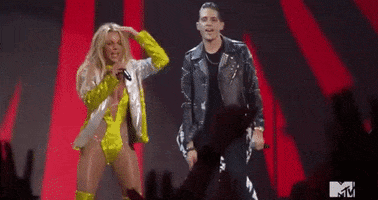 Soon enough, the office sweater Britney was wearing — it probably gets drafty in Madison Square Garden — comes off, as it's time to get down to business.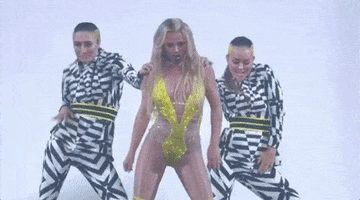 While she's dancing in front of him, in his head, G-Eazy's thinking "Yeah, this is definitely happening."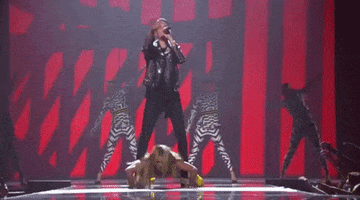 Britney: "This is fun! Who is this again?!"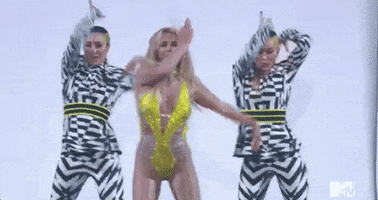 "Finally," he says. "This is the moment, I'm going in for the kill.
EEEEEESHHH. Sorry, bruh. Britney turns around and smiles, saying with her face "Oh, you're cute. I hope you weren't embarrassed."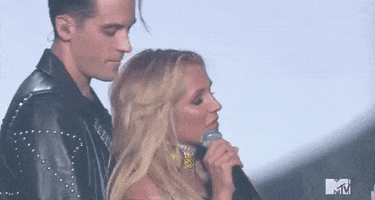 And that's the story of Britney Spears' VMA performance in GIFs.