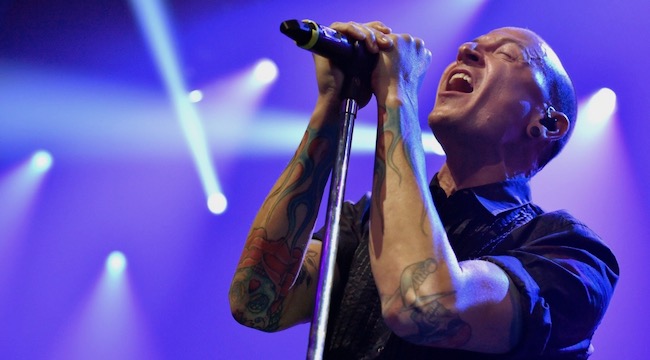 The music-loving world was rocked to its core today following reports that Chester Bennington, the lead singer of the iconic alt-rock group Linkin Park took his own life earlier this by hanging himself. He was only 41-years old. Bennington's bandmate Mike Shinoda confirmed the sad news on Twitter.
It was to his immense credit as a singer and performer that Bennington managed to criss-cross into so many different realms of music, both in Linkin Park, but also with his collaborations with Jay-Z and Stone Temple Pilots. In his life Bennington racked up a staggering collection of six number one albums, including the most recent release from Linkin Park, One More Light that hit stores only a couple months ago. All told, he's accounted for more than 70 million copies worldwide, including his group's debut Hybrid Theory which has been certified diamond.
Bennington was especially close to Soundgarden frontman Chris Cornell who committed suicide only a few months ago, serving as the Godfather to the singer's children and performing a touching rendition of the song "Hallelujah" at his funeral. Today on what would have been her husband's birthday, Cornell's widow Vicky divulged her renewed pain on Twitter.
Stars of all stripes from across the world of rock and hip-hop shared equally in her grief.