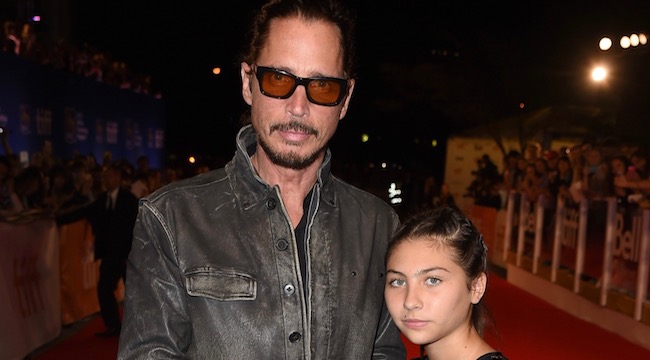 Before his untimely death last year, Chris Cornell was still hard at work writing and recording new music. We've already gotten a small taste of what he left behind a few months back with the release of his Johnny Cash inspired song "You Never Knew My Mind," and recently his daughter Toni decided to celebrate Father's Day by sharing a duet that they recorded together of Prince's immortal ballad "Nothing Compares 2 U."
It's a poignant cover to say the very least, with Toni assuming most of the lead parts of the song and her father lending his iconic voice in a backing capacity through the choruses.
Just like her dad did previously with his 2016 single "The Promise," Toni plans on donating all of the proceeds from the song to the International Rescue Committee. "My father taught me to be a voice for others who don't have one," she said in a press release. "Especially with the tragic events happening today, where children are being separated from their parents at the border, it is not okay. Please help us keep the promise (on behalf of the world's most vulnerable children) for my father."
Last year around Father's Day, Toni shared a note detailing their special affinity for Prince and specifically the film Purple Rain in a message posted to his official Facebook page. "We were staying at the BHH and you came into my room when I was trying to find a movie to watch. 'How about Purple Rain?' you said," she recalled. I always trusted your judgement. I put it on and immediately fell in love!"
You can listen to Chris and Toni Cornell's cover of "Nothing Compares 2 U" in the video above.