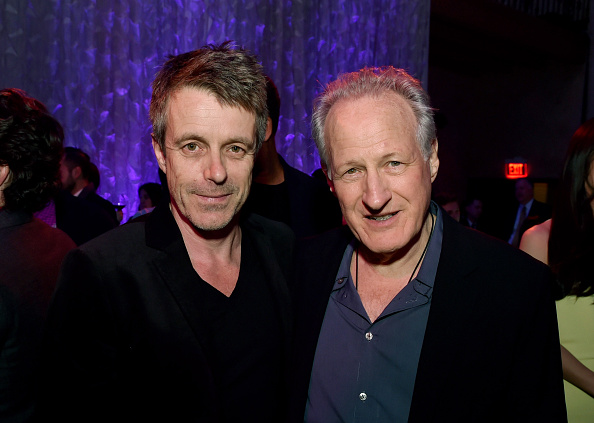 As Michael Mann's Blackhat hacks its way into theaters this weekend, try listening to the film score whenever Chris Hemsworth's godlike physique isn't too distracting. Does it sound like the product of an individual or, at the very least, a unified collaboration? If not, that's because the film features three different composers, and one of them is not happy with the final product. (Brothers Atticus and Leo Ross are the other two.)
Indiewire reports Harry Gregson-Williams — known for his work on the first two Shrek films — only realized Mann had scrapped most of his 90-minute Blackhat score after seeing an early screening. Gregson-Williams subsequently expressed his displeasure on Facebook. He later removed the post, but the internet never forgets.
Irritation aside, Gregson-Williams is right to point out the director's working history with film composers. As Indiewire notes, Elliot Goldenthal told the Wall Street Journal back in 2009 that working with Mann involves being "prepared to make a lot of changes."
He changes his mind. He watches the movie everyday in total and makes adjustments so you have to know the job is making adjustments along the way as well. (Via WSJ)
Whether or not Gregson-Williams missed the memo remains to be heard, but his is not the only score to be tossed aside by a director or an executive. A few other famous film and video game scores have come about (or not) in similar circumstances.
Alex North v Stanley Kubrick — 2001: A Space Odyssey
At this point, only the hearing-impaired do not know the iconic music from the opening title sequence of 2001: A Space Odyssey. Even people who have never seen Kubrick's film recognize the tune — "Thus Spake Zarathustra" by German composer Richard Strauss.
In an interview for Barry Lyndon with Michel Ciment, Kubrick explains what happened with 2001:
Although [Alex North] and I went over the picture very carefully, and he listened to these temporary tracks (Strauss, Ligeti, Khatchaturian) and agreed that they worked fine and would serve as a guide to the musical objectives of each sequence he, nevertheless, wrote and recorded a score which could not have been more alien to the music we had listened to, and much more serious than that, a score which, in my opinion, was completely inadequate for the film. With the premiere looming up, I had no time left even to think about another score being written, and had I not been able to use the music I had already selected for the temporary tracks I don't know what I would have done. (Via The Kubrick Site)
Few original recordings of North's film score survive, but Jerry Goldsmith and the National Philharmonic Orchestra recorded and performed it in its entirety in 1993. For comparison, here's what North wrote for the title sequence:
Bernard Herrmann v Alfred Hitchcock — Torn Curtain
Some of Hitchcock's best films made use of great music, and respected composer Bernard Herrmann wrote almost all of it. The unforgettable screeching strings from Psycho? Herrmann, of course. However, Hitchcock fired him from Torn Curtain when the composer ignored the his request for less music.
Herrmann, believing in the correctness of his score, asked Hitchcock to listen to the newly recorded cues. Hitchcock's rage was apparent as he told Herrmann that the music was exactly what he didn't want. Herrmann begged Hitchcock to at least allow him to finish the day's recording, and then make his decision…Hitchcock dismissed the orchestra midway through recording and cancelled the remaining sessions. After a few terse, embittered words Hitchcock returned to his office, apologized to his employers, fired Herrmann, and offered to pay off the composer out of his own pocket…[they] never spoke cordially to one another again. (Via BernardHerrmann.org)
The movie and its minimalist score by John Addison were critical and box office failures. Many of its most tense scenes were left music-less, which wouldn't have been the case had Herrmann's score been used.
Martin O'Donnell v Bungie — Destiny
Martin "Marty" O'Donnell achieved cult status among composers and gamers alike when he scored Microsoft's Halo trilogy for Bungie in the early 2000s. However, this all came crashing down last April when he tweeted the new he'd been fired:
At the time, O'Donnell had just completed his share of the musical score for Destiny. GameSpot later reported O'Donnell's contributions to Bungie's new game would still be used, along with contributions from three other composers. He sued Bungie in June and settled in August.