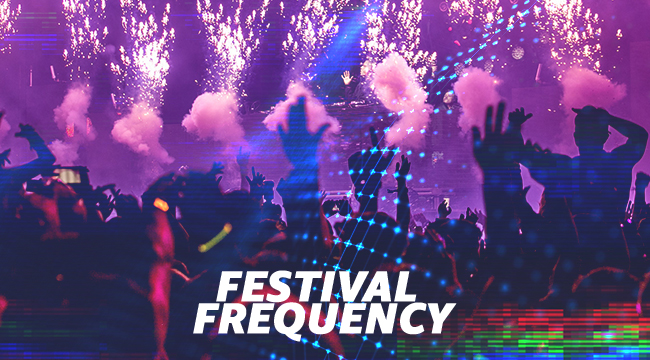 Festival Frequency is a monthly look at music festival-related topics that step beyond the shadow of the Ferris wheel, discussing everything from the performances to the inner workings that make this a global phenomenon.
Literally right now, there are thousands of American troops lined up at the border of Mexico, just days after firing tear gas into another country at families in an act so heinous, it's kind of hard to believe it actually happened. But for people on that side of the border, it's likely less surprising, just the next logical step of an increase in hateful rhetoric that began long before Donald Trump ran for the presidency but has been given the green light to escalate into acceptance.
Two years ago, just a couple weeks after the election, I visited Mexico City for the first time to attend Corona Capital music festival. The event featured artists ranging from LCD Soundsystem to Tegan And Sara to Lana Del Rey to The Killers, but the acts had more than performing a concert on their plate. They were also tasked with being ambassadors for decency, letting the Mexican crowds know that the hate they hear when they turn on the television isn't how all Americans feel. "We love you," Band Of Horses' Ben Bridwell confessed, while Sara Quin, a Canadian-born woman who sometimes reside in the US, expressed solidarity with the Mexican crowd: "I know you're Mexican and we're Canadian, but this goes out to anyone who is mortified and scared that Donald Trump was just elected the American president."
Two years later, and it's safe to say things have continued to get steadily worse with how a vocal contingent of Americans speak about Mexico. I went back to Corona Capital last week for my third visit to Mexico in the last two years, each one ostensibly for music festivals but mostly because it is one of the most wonderful places in the world. Growing up as light-skinned with mixed heritage, the closest I'd get to my Mexican roots was tamales at Christmas or family gatherings to watch an absurd amount of Julio César Chávez and Oscar De La Hoya fights. It's still a surprise to me when visiting Mexico that people assume I speak Spanish (I don't) because in America I hardly register as part Mexican. I still feel as much a foreigner in Mexico as I do in any other country I travel to, but am consistently taken aback by how welcoming the Mexican people are to Americans, even as our government consistently uses hateful rhetoric and actions against them.
Every visit to Mexico is a learning experience where new parts of their culture reveal themselves. In terms of music festivals, it's the quickest and easiest way for Americans to travel into a truly foreign environment while still maintaining many of the touchstones that make them feel comfortable. It's not hard to figure out that pizza is still pizza at any festival in the world and that dancing to Chvrches looks about the same wherever you are. The things that are different about music festivals in Mexico are so slight and insignificant that it's hard to say that anyone needs much in the way of preparation. If you are ready for a good time at a fraction of what it costs back home, then Mexican music festivals are for you.
The big differences? Well, corporate branding is probably the biggest. American fests accept corporate branding to varying degrees, with something like Coachella refusing to get sponsors for their stages, while Lollapalooza embraces that and sticks most of the branded installations into their own designated locations in the middle of the fest away from the stages. Corona Capital takes things a huge step further with giant installations from the likes of Doritos and its namesake Corona providing viewing locations for the audience. Bic pens had some sort of activity that involved people being harnessed in and the line to participate was abnormally long. Fans even line up for Spotify selfie stations, and to participate in activities put on by everyone from Amazon Prime to Nissin Cup O Noodles. In America, it might have stretched the limits of taste, with attendees often too cool to embrace the brand-sanctioned interactivity. But not in Mexico, where people were there to have a good time and dive headfirst into whatever neon-branded structure the event put in front of them.
Otherwise, the differences are even more minute. One area of the festival featured a dozen or so poster booths containing countless visual interpretations of the bands playing, a feast for any collector looking for new wall hangings. Just outside the festival gates is even more merch, this time not officially sanctioned but still paying respect not just to the musical talent, but to the hardworking hustle that's showcased outside of every big concert I've ever been to. But maybe the most important difference is just the overall vibe, how the attendees don't seem to be just there to get wasted but are actually attentive and enthusiastic audience members. The biggest American events feel like they are skewing younger and younger, with the grounds overrun by experimenting teens pushing their bodies to the limits under scorching temperatures. But even among the young people of America, there was a maturity present that is often witnessed at any international fest, where people are allowed to drink at a younger age and festivals isn't a rare excuse to push things to the max.
Corona Capital offered a chance to experience firsthand the popularity of Nine Inch Nails and Chvrches with a Mexican audience (massive!) and slightly more modest reactions to the likes of The War On Drugs and Death Cab For Cutie. And while the varying degrees of how artists are received certainly oscillates from culture to culture, the overall impression on my visits to Mexican music festivals is just how much the people and the events have in common with their American counterparts. And it's with that in mind that it remains baffling that so many people in America feel emboldened to actively hate the country to the south, one that so generously welcomes me and other travelers when we want to visit.
And it isn't just Mexico City's Corona Capital that's making Mexico a premier festival destination. In April, a different Mexican beer, Tecate, will offer up its sponsorship to a music festival with the return of P'al Norte in Monterrey. Appearing are the likes of Arctic Monkeys and The 1975, but with far more non-American music than at Corona Capital. And not everything in Mexico requires big branding. Just last month, Hipnosis festival landed with the bands like King Gizzard And The Wizard Lizard and Unknown Mortal Orchestra bringing their psych-rock aesthetic to Mexico City. It's not surprising that a culture as rich and multi-faceted as Mexico has events to match, and visiting them only highlights the degree to which they are misrepresented, misunderstood, and mistreated by some of the worst impulses of ignorant Americans. When so many in the US advocate for walls, the rest of us know we'd be much better off building bridges, because our cultures have so much to offer each other, and music festivals are just the tip of the iceberg.