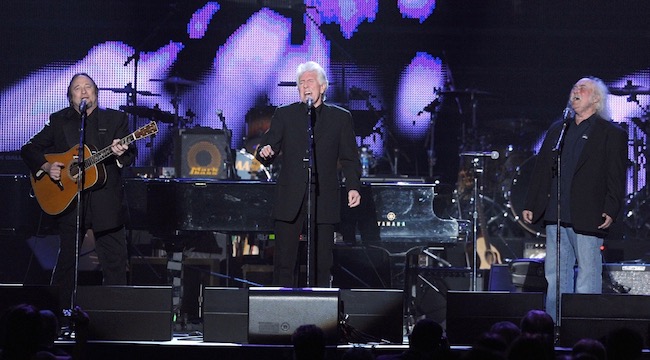 Crosby, Stills, Nash & Young is one of the greatest rock groups of the 20th century. It's also one of the most contentious. Over the last several years, David Crosby, Stephen Stills, Graham Nash, and Neil Young have all been focusing on an array of different solo ventures, choosing not to work with one another due to various squabble between them. Well, today, Twitter God David Crosby took to his platform of choice and seemed to drop a hint that the acrimony between the four men may have been put to bed, and that a reunion might be on the horizon.
Without any commentary, Crosby shared a screenshot of an article titled "Crosby, Stills, Nash & Young Could Reunite — Because They Hate Trump More Than Each Other" that was posted by Variety all the way back in April. In the piece, the author Steve Baltin makes the case for the socially-conscious foursome to bring it all back together by way of an interview with Nash.
"Here's how I feel about it: I believe that the issues that are keeping us apart pale in comparison to the good that we can do if we get out there and start talking about what's happening," Nash says of a possible CSNY reunion. "So I'd be totally up for it even though I'm not talking to David and neither is Neil. But I think that we're smart people in the end and I think we realize the good that we can do."
In an interview with Mojo back around January, Young also alluded to the potential for a reunion. "I think CSNY has every chance of getting together again. I'm not against it," Young said. "There's been a lot of bad things happen among us, and a lot of things have to be settled. But that's what brothers and families are all about. We'll see what happens. I'm open. I don't think I'm a major obstacle."
While it's impossible to know whether both Young and Nash have settled their personal differences with Crosby and have agreed to share a stage once again, or if Crosby is merely signaling that he's open to a return on a personal level, this surely must come as an encouraging sign amongst the group's most ardent fans.