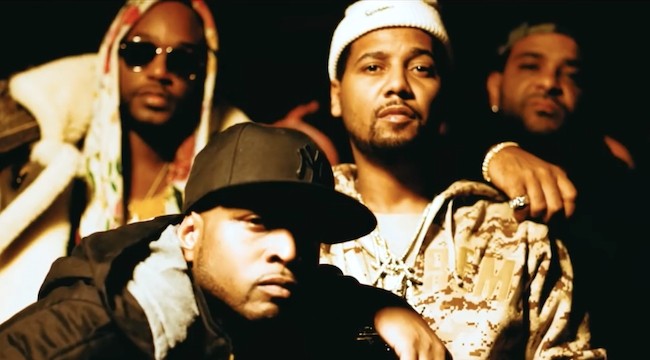 It's a mix of classic and contemporary with "On God," the newest single from Dipset's Diplomatic Ties Album. The Murda Beatz-produced track also features Belly, who recently dropped his Immigrant project. The sinister dose of "Murda Sauce" was an ideal soundscape for the rap legends to bid their undying loyalty to each other. Through stops and starts, makeups and breakups, Dipset has had a rough time putting out a follow up to 2004's Diplomatic Immunity 2. But Diplomatic Ties is really coming. A week out from release, it's hard to see what could stop their still devoted fanbase from getting some new Thanksgiving fodder.
"On god, I would die for anyboy in the squad," Belly harmonizes, as the crew follows up with. The group's tone picks up from verse to verse, as Juelz delivers his bars with a veteran's calm, Jim Jones ups the intensity, and Cam'ron vies to show he's still got it intact with his double-time verse which anchors the track.
Their choice of 08-dominated production hammers home the reality that "Once Upon A Time," Dipset was one of the main New York acts appealing to the South when the region was having its mainstream breakoutdip in the early 2000s. Now that skittish hihats and mysterious key melodies are mainstream hip-hop's sound du jour, the group is looking to show that they can stand with the best. We'll see how impressive those Diplomatic Ties are on Friday, especially as they're set to perform at Harlem's Apollo Theater.