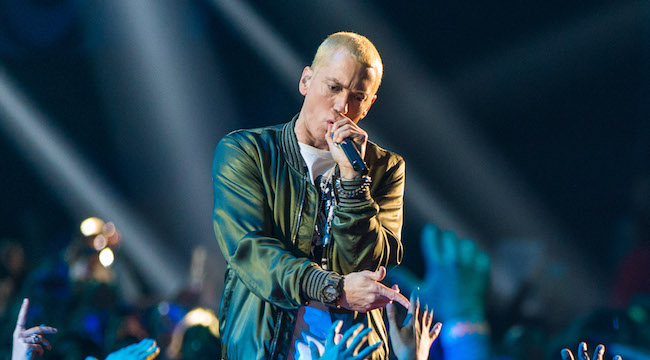 It's one of the strangest lawsuits in recent memory, but Eminem may have earned himself almost half a million dollars after a New Zealand court ruled that his copyrights were infringed upon by the New Zealand National Party back in 2014. The High Court of New Zealand made the ruling this week and ordered the party to fork over the New Zealand equivalent of $413,000 American dollars for their violation when using the song, or a sound-alike, for the political ad below.
Now, Eminem has ten No. 1 albums and has sold 172 million records worldwide, he's not exactly hurting for cash, so he's going to do something admirable with the proceeds from the lawsuit: donate them to Hurricane Relief efforts after hurricanes ravaged cities all over the Americas earlier this year. According to Fader, an Eminem rep confirmed that the 45-year-old rapper wasn't even part of the lawsuit, but he'll be donating the proceeds regardless.
CNN reports its Detroit based Eight Mile Style, the publishing company which holds the copyright to "Lose Yourself," that filed the lawsuit, so it's not clear if the money will be Eminem's to donate anyway once everything is said and done. If he does see some of the cash though, at least it will be going to a great cause.