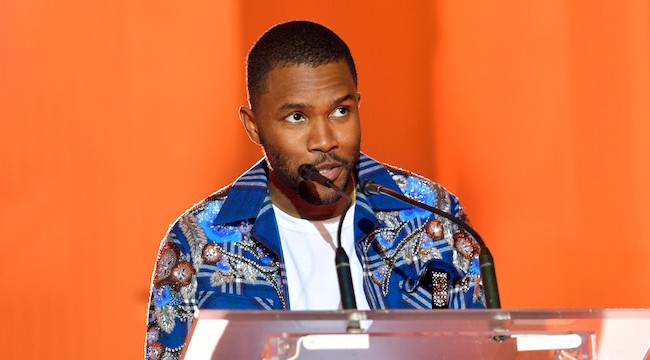 Update (9/17): Both artists have publicly addressed the cease and desist, and it appears the situation has been resolved. Ocean wrote in a Tumblr post, "I think the song sounds cool, I did it in like 20 minutes and the mix sounds the way Travis wanted it to sound for his record. I also approved it before it came out so the cease and desist wasn't about [speaker emoij] it was about [rainbow flag emoji]. Me and Travis resolved it amongst ourselves weeks ago." Scott also posted a photo of some Ocean merch on Instagram and captioned it, "Someone I call family and always will. Has taught me a ton. And a true inspiration in an out of the Stu."
The original post is below.
—
Travis Scott's new album Astroworld may by an undisputed success, considering it topped the charts, but that doesn't mean there isn't any drama at play. In fact, Frank Ocean's involvement with the album has gotten so contentious that the singer is reportedly taking legal action against Scott, according to TMZ.
Ocean is featured on "Carousel," and his vocals can be heard during the chorus and third verse. Ocean took exception to how his vocals were produced and edited, so much so that he reportedly was up in arms about it with Scott leading up to the album's release. Ocean has reportedly been demanding that Scott take his vocals off the song, a request that Scott has repeatedly refused. Ocean is apparently pretty serious and has reportedly brought lawyers into the equation by sending a cease and desist to Scott. It appears that Scott isn't budging, though, as he apparently has no plans to change "Carousel" to appease Ocean.
Ocean is one of many collaborators on the album, which also features guest appearances from Kid Cudi, Drake, The Weeknd, James Blake, Swae Lee, 21 Savage, Quavo, Takeoff, and others, as well as production from Mike Dean, Tame Impala, Frank Dukes, Sonny Digital, Thundercat, and more.
Listen to "Carousel" above, and revisit our review of Astroworld here.
Astroworld is out now via Epic Records. Get it here.