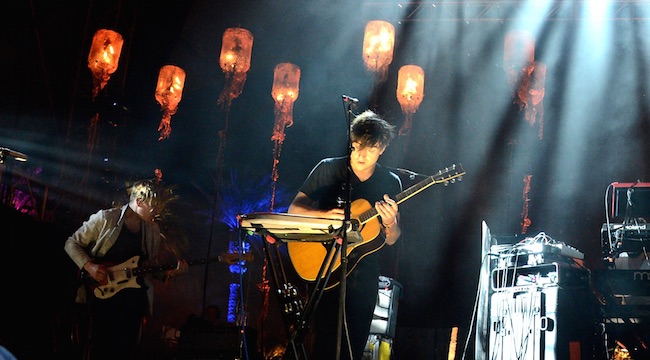 Grizzly Bear hosted a Reddit AMA today to talk about their new album Painted Ruins. But as is always the case with these things, what the band wanted to talk about wasn't necessarily what the internet wanted to talk about. One of the first questions posed to the band was a query that has been burning up the indie world since the band first broke onto the scene as a full band with Yellow House.
Unfortunately, the question went unanswered in favor of the fans who had serious q's about the new album and the band's career. Not to say that those answers aren't interesting, but it is a bit of a let-down — let's not forget, esteemed EDM duo The Chainsmokers answered this question by giving us their combined dick size. Strange that Grizzly Bear isn't following their lead. Instead the band talked about what it's like to be indie famous, their new record and their favorite songs to play live. They also showered love on acts like Kendrick Lamar, Feist and Rostam. Check out a few of their answers below:
On their favorite songs to play:
"Colorado" and "Sun In Your Eyes." — Ed Droste
"Sleeping Ute" and really looking forward to playing "Aquarian." — Chris Bear
"I always find playing 'What's Wrong' as a fun challenge to play. When it works well it's really fun." — Chris Taylor
On the sound of their new album:
"I think you'll be pleasantly surprised with all the places the record goes and per usual with us, the songs make the best sense in the context of the album. If you don't like X song, it might make more sense nestled between two heavier jams with various lead vocals. Sonically, it's the most amazing production CT has ever done and I'm in awe of his production on it, and we did enjoy some extra synth moments" — Droste
On the inspiration behind their new single "Three Rings":
"[We wanted] to make a landscape that felt dense and snow covered. Sparkling and strange, nearly uncomfortable yet comforting." — Taylor
On whether or not they are famous enough to get recognized:
"Generally speaking. I'd say we live in anonymity with an occasional recognition. I mean I have a huge nose, so I'm a dead give away haha. It's nice though, the only times we do get recognized, it's always just people being so kind and saying hi!" — Droste
While the band didn't wade down in the muck to answer the wiener question, they did answer the old standby about whether they would want to fight 100 duck-sized horses or one horse-sized duck.
"We have questions," they said. "I mean, it truly depends on the terrain. What weaponry are we allowed? Can we hide behind a tree and surprise the duck? Is there water nearby? Guns seem violent, but are they in play? Let's pretend they are not because we aren't into hunting small horses or a big duck, and we don't like guns, so let's just say it's a battle of the wits and all we have is our feet and fists. Naturally, if a cliff was around I think luring a duck over the edge would be easy with some bread or something, but again, let's just assume it's a field. Personally I'm going to say the small horses and I'd kick them? Ugh, sounds horrible. Maybe I'd snuggle them all actually and keep them as pets. Yeah we all thought it through and we'll keep the horses and help the duck find a chill home in a giant lake."
It's not the answer that the world wants, but it's not nothing.