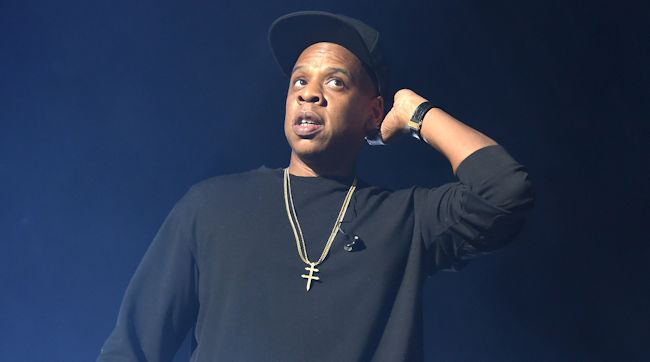 There's myriad factors that go into creating a hip-hop masterpiece — subject matter, cadence and rhyme structure, production values, and, of course, swagger. Jay Z's The Blueprint boasts boatloads of greatness in all of these areas. Half a decade into the rap game by this time, Hova was reaching the peak of his powers in 2001, and The Blueprint was the magnum opus fans were craving. Choosing only one lyrical dance partner — the red-hot rapper Eminem — Jay went in on The Blueprint, spinning tales of wealth, street savvy, love, infatuation, drugs, and even familial bonds.
Not one song is bad on this album, and the quality is a monument to Jigga's obsession with high standards; it's hard to rank these tracks in order. But this year The Blueprint turns 15, so let's look back at the seminal classic and rank each song according to the content and impact.
14) "The Ruler's Back"
This intro track was meant to lay down the concrete on which the sonic bricks would be laid upon, and it did just that. While not incredibly lyrical, like "Breathe Easy," it's a nice respite before Jay infects us with his brand of musical malady on the rest of the album.
13) "All I Need"
If Jay Z were sitting on a mountain of jewels, platinum records, and wads of cash, this would likely be the song that he raps from atop it. With lines like, "Young n*ggas y'all can't hurt me/ Better watch and observe me/ And learn how to earn better I burn cheddar/ And set fire to your empire," Jigga established that he was the best in the game and few could outmaneuver him.
12) "Hola' Hovito"
Whenever Timbaland and Hova get together they usually create a tantalizing tapestry of sound that's worth playing more than once. "Hola' Hovito" is one of those tracks, and with Timbo's bumping drum sounds, a jazzy bass, synths laid over some devastating piano strikes, and Jay's flossy rhymes, this remains a standout in the catalog of Jigga's tunnel bangers.
11) "U Don't Know"
Just Blaze keeps his drum programming simple on "U Don't Know," but his sample chopping? Epic. Jay uses Blaze's samples to brag about his proficiency in marketing, sales, and music, rapping: "That's another difference that's between me and them/ I smarten up, Open the market up." Jay predicted that he'd be a very wealthy man, and he was right.
10) "Jigga That N*gga"
This is another swaggy dance track with Jay imagining himself on a boat with six models while he chills in his Hermes shoes. Besides spitting street tales of drugs and thugs, Jigga is a gem when is comes to providing a vicarious, money-laden outlet for you to plug yourself into and this track is no different.
9) "Izzo (H.O.V.A.)"
The first single to be released off The Blueprint, Jay combines his struggles within his first profession — drug-dealing — with tales of coming up in the music industry. He caps it all off in the third verse by professing his impact on the listeners of his music.
8) "Girls, Girls, Girls"/"Girls, Girls, Girls (Part 2)"
This track and it's hidden remix provided males fans of Jigga the anthem they needed when they walk down the New York City streets in the summer and see a beautiful cavalcade of women passing them by.
7) "Blueprint (Momma Loves Me)"
As fascinating as his bouncy tracks are, Jay is usually at his best when he's weaving together the threads of his life on wax. "Blueprint" is a song that sees Jay give his thanks to all of the people — namely his family — that have had an impact on his career and character. It's a touching piece of music, and shows the range that Hova is capable of.
6) "Never Change"
If Jay were to climb down the aforementioned mountain of riches, and begin a farewell speech with champaign in hand, "Never Change" would play something like that speech. The song is about hustling no matter what the playing field informs, but it's more than that, with Jay spitting adages of perseverance and living a better life in light of his previous drug-dealing ways.
5) "Heart of the City (Ain't No Love)"
If there is love in the heart of the city, Jay is not feeling it on this track. Young men in the rap game are out to get him, and along with salvos fired by "sensitive thugs," Young Hov says that this kind of hatred was foretold by his deceased friend The Notorious B.I.G: "My n*gga Big predicted this sh*t exactly."
4) "Renegade"
This Eminem-produced track also features the only feature on the entire album. In it, Jay and Em trade barbs back and forth about being shunned by the PC police and critics who have issues with tearing apart the art from the artist. Em and Jay were arguably at the height of their powers in 2001, and it shows: It's one of the best tandem tracks in hip-hop history.
3) "Breathe Easy (Lyrical Exercise)"
If you forgot that Jay can do more than rap about girls, drugs, and the lavish life, then "Breathe Easy" is your reminder that Jay can do all of that while manifesting a rhyme and lyric structure that few can compete with. There's barely a hook on this song because Jay doesn't need one. It's not meant to be a cohesive narrative — something that Jay excels at — but rather a solidified swank meant to douse all the haters with otherworldly, concentrated content.
2) "Takeover"
The diss-song is something that's dead in the rap game partly because the mainstream feud on wax between Nas and Jay Z is just so damn hard to replicate in both ferocity and quality. Should the rap diss be resurrected back to the limelight, it'll be hard for "Takeover" to ever be dethroned as one of the most potent, eviscerating jewels ever recorded.
1) "Song Cry"
Consider "Girls, Girls, Girls" the prelude to this visceral mediation on relationships, ambition, and the items lost in the fire when forging ahead in a profession. The fourth single off The Blueprint, "Song Cry" is one of Jay's most meaningful raps, and it's a testament to the significance of the track that it's still played on the radio 15 years later. Is it the very best song on The Blueprint? That's for you to decide, but for this writer, it is. That is the beauty in Jay's work, though — his very best song depends on your mood. No matter your temperament, it's likely that Hova has a song for that.