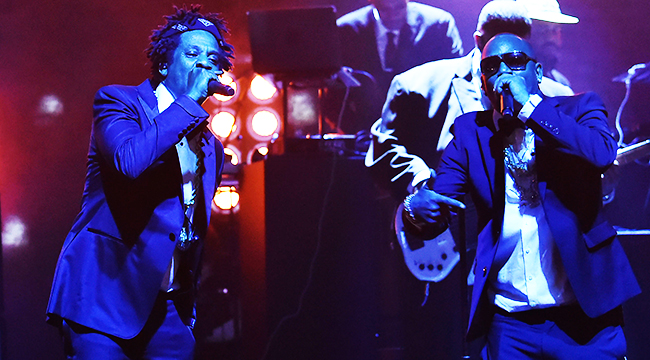 Jay-Z surprised many at last Friday's B-Sides concert by bringing out Cam'ron, a onetime industry foe. The two lyricists traded diss songs and shots in interviews throughout the mid-to-late 2000s, but any negative energy they harbored has clearly dissipated with time. After Cam'ron and Nas (another former foe of both artists) left the stage, Jay reflected, "we should've been doing sh*t like this a long time ago. [They're] not my enemies, they're my brothers." Jay's sentiment was powerful, but one couldn't help but wonder why that mindset didn't prevent them from beefing in the first place. The answer is simple: ego.
Hip-hop is predicated on self-aggrandizing raps, self-given nicknames, and a range of other elements which necessitate a healthy, if not outsized ego. In the late 90s-early 00s especially, a period when Jay and Cam built their legacy, there was no way for a rapper to thrive with low-self esteem and no backbone. Rappers have to flout themselves as the best and defend that affirmation against all comers. The New York hip-hop scene in particular thrived — and splintered — from collective competitive energy to be the best rapper. Artists vied to be viewed as the best since the days of Big Daddy Kane and Rakim and KRS One vs. MC Shan in the '80s, but it was Biggie deeming himself Frank White (the protagonist of The King Of New York movie) that seemingly took the strife into overdrive.
After Biggie's "King Of New York" decree, there was actually a title to aim for. When Biggie was tragically murdered in 1997, every prominent MC in New York was jockeying to be the next king, and jostling with each other in pursuit of the figurative crown, the ultimate ego stroke.
It seems like no rapper in New York liked each other in the 2000s. Jay-Z and Roc-A-Fella were into it with The Lox, DMX, Mobb Deep, Fat Joe, and Nas. Nas was into it with N.O.R.E, Prodigy Of Mobb Deep, Dipset, and 50 Cent. 50 Cent was into with Ja Rule, members of the Wu-Tang Clan, Fat Joe, Jadakiss and Cam'ron. Even the crews that didn't explicitly have beef rarely collaborated or displayed the communal love that artists in cities like Atlanta did (the world needed collaborations from G-Unit, Dipset, Desert Storm and D-Block artists in their heyday). Legendary New York DJ Funkmaster Flex has recalled times where he found it difficult to book shows because of the fluid task of keeping tabs on who had friction. If he tried to invite everyone to a show in say, 2002, it could've ended up like a real-life version of The Office's finger gun standoff — with real guns.
Years later though, the time has healed just about all of those issues. One can Google search almost any two of the aforementioned names and see the artists taking pictures, making music, and doing business with each other today. The reasons for those old beefs don't even matter. Aside from 50 Cent and Ja Rule's eternal quarrel, which involves a stabbing incident and real street beef, the source of these conflicts didn't matter enough to keep the artists from reconciling. It's safe to say that just about all of the issues were ego-based. And on the other side of their career, as olive branches are extended throughout the Big Apple, New York's finest demonstrate the enigma of ego: who knows how great these artists would have been without the chips on their shoulders that spurred beef they all acknowledge shouldn't have happened. These artists all set out on a journey to be the King Of New York, but it turns out that their shared destination is contentment as brothers in a kingdom of kings.
So many of New York's most revered artists triumphed through hardship to achieve the positions that made them legends. Jay-Z famously had to fund his own first album, Reasonable Doubt, after no label wanted to sign him. DMX overcame a rough childhood, homelessness, and drug addiction to kick down the door with two albums in 1998. 50 Cent was shot nine times, dropped from Columbia Records, and basically left for dead in 1999. Fat Joe recalled that after his friend and Terror Squad partner-in-rhyme Big Pun died of a heart attack in 2000, he went through a prolonged depression and overheard someone on the street saying it was "over" for him. Cam'ron's solo career was floundering before he demanded a release from Sony Records in 2000. No one can rise from the lows of grief, trauma, and rejection to achieve the highly competitive, one-in-a-million status as a music star without an iron-willed belief in self.
And, anyone who's read a book about manifestation or positive thinking knows the importance of believing in yourself and the inevitability of your goals on a level that nears delusion. When you're a rapper vying to sell that belief to millions of people, the confidence has to radiate even more intensely. Eventually, it can be difficult for the most ardent self-believers to manage their ego, and it becomes the source for decisions that no longer merely serve them, but cause dissension with others.
As New York's best rappers ascended to a plateau of platinum success, it wasn't enough to just be "on," their egos made them want to be king. To quote Lil Wayne on "Gossip" that ego can make you "graduate from hungry to greedy" real fast. After Jay-Z proved his worth and became a multiplatinum artist, he commenced the Roc-A-Fella Takeover of the early 2000s, when he and the rest of the label traded diss songs with heavyweights like DMX, The Lox, and Nas all at once in a bid for supremacy in the city.
But there were internal problems at the Roc. After going platinum with Come Home With Me, Cam'ron and his Dipset crew became such a big deal that Dame Dash offered him the position of Vice President of the label in 2002. Dipset's Juelz Santana even rhymed, "two more for Cam for taking over the Roc" on "Dipset Anthem" — a take over that co-owner Jay-Z surely wasn't aware of and wasn't about to stand for. That VP gaffe is widely regarded as one of the first moments that pitted Cam and Jay-Z against each other.
50 Cent was billed as the ultimate underdog story during the runup to his Get Rich Or Die Tryin classic, but he ultimately became resented by the public and his rap peers for the same traits that made him loved. His defiant antagonism of Ja Rule and Murder Inc, who he had beef with before being shot in 2000, was understandable, if not relatable. Most people wouldn't mind rubbing their comeback in the noses of an enemy who thought they were done. But he arguably went too far with songs like "Piggy Bank," where he picked at Fat Joe and Jadakiss for merely collaborating with Ja Rule, and started strife with Mobb Deep and AZ for seemingly no reason. Fabolous even publicly blamed him for influencing New York to become "isolated and crumbled."
But for the most part, he's been able to mend his issues. At a 2009 ThisIs50 Music Festival on Governor's Island, 50 sought to unite the New York rap scene, inviting Jadakiss and others he's had issues with to perform. He told MTV at the time that, "they say New York City, we don't actually get along, that's not true. We could work together and get more money than we can get apart." In recent years, so many of New York's veteran artists have realized this and reconciled, right as they're settling into positions as the elder statesmen of hip-hop. The fire that helped them ascend is no longer needed, and the energy that led artists to push each other out of the way has turned into lifting each other up. In recent years, Jay-Z has squashed his issues with nearly everyone he's had a problem with — he even met up with Dame Dash in 2013.
For all the ego, bluster and tough talk that sustained their acrimony and self-fulfilling prophecies as invulnerable rap superheroes, most of these artists have squashed their issues in mundane manners. Cam'ron and Nas saw each other in a Las Vegas airport and simply started talking. 50 Cent dapped up Fat Joe at the 2012 BET Awards out of respect for their shared manager, the late Chris Lighty. Nas said that the first thing he and Jay-Z did when they got in a room together after their epic beef was laugh.
It probably is humorous for artists to retrospectively realize that they've cursed, threatened and held gripes with their peers for years over issues that could likely have been solved with a simple conversation. In the heat of their rap primes, while they were still vying for the crown, there was no room for peacemaking, because that was too close to weakness. But with the wisdom of maturity, and the security that their musical and cultural legacies are set, the egos are quelled, and there's no reason not to celebrate the spoils of greatness together as brothers and fellow survivors of New York's '80s and '90s, one of the roughest eras for the city. As Jay-Z noted on 4:44's "Family Feud," "nobody wins when the family feuds."
In a manner similar — but not nearly as consequential — to opposing war veterans who speak on their combat experiences from the tranquility of old age, New York's rap veterans are now coming together as beacons of a time and era that's little more than memory, nostalgia and #ThrowbackThursday fodder. The ego and emotion that fueled unbelievable rises, classic disses and unforgettable moments have long evaporated, leaving nothing but a hallowed musical canon and dozens of examples of how honing and overcoming your ego is a lifelong process.