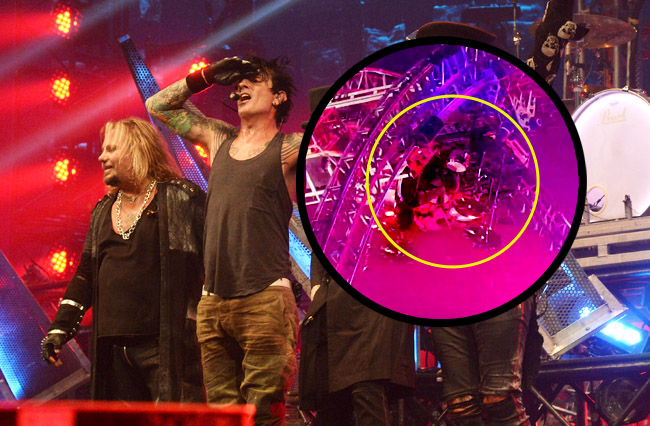 Prepare yourselves, Crue fans, your Flag Day just got a lot more awesome.
On Tuesday, June 14, Motley Crue: The End will be hitting theaters for one night only, presented by Fathom Events. The documentary film will focus on Motley Crue's final tour, which took place last year. The film will feature behind the scenes footage and interviews, along with performances from the band's final performance, which occurred at the Staples Center in Los Angeles this past New Year's Eve.
[protected-iframe id="1efea52e9966891c01290059a5ae5536-60970621-66206423″ info="https://www.facebook.com/plugins/video.php?href=https%3A%2F%2Fwww.facebook.com%2FMotleyCrue%2Fvideos%2Fvb.9721897972%2F10154140389282973%2F%3Ftype%3D3&show_text=0&width=560″ width="560″ height="315″ frameborder="0″ scrolling="no"]
One can only hope that the Crue have a sense of humor about themselves, and they'll show some of the more light-hearted moments, like the time Tommy Lee got stuck in his drum coaster.
Will the Staples Center concert featured in this film really prove to be the final show the Crue ever plays? Well, plenty of artists have said they were calling it quits for good only to reunite, from The Eagles to LCD Soundsystem to Cher. Still, diehard fans of the Crue might not be willing to take that chance, and this might be their last chance to pay respects to their beloved hair band heroes.
(Via Motley Crue)