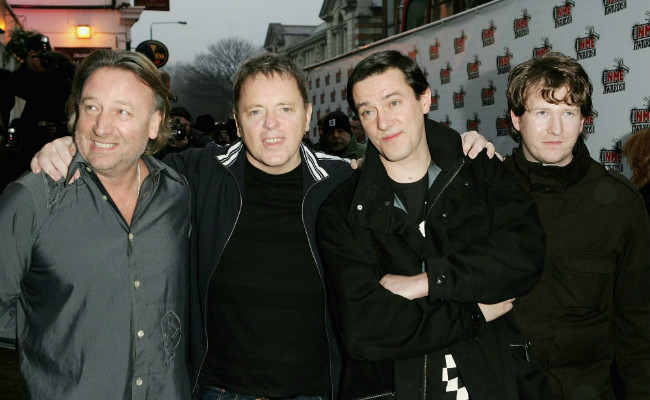 In 1980, the music world was stunned by the suicide of Ian Curtis. With Joy Division, he had made two brilliant albums, in addition to several incredible singles. He seemed to have a wonderful future ahead of him, and then, he was gone, with his suicide too tragic to imagine. After his death, however, his bandmates made the brave decision to carry on, and continue to make music under the name New Order.
Guitarist Bernard Sumner took over on vocals, while former punk musician and friend of Joy Division Gillian Gilbert came on as the keyboardist. Roughly 18 months after Curtis' suicide, New Order would release their debut, Movement, an appropriately dreary album that was similar in tone to his own writing, while also carrying the added weight of his death.
While Movement is a solid album definitely worth your time, it feels like New Order's second album, Power, Corruption & Lies represents their true beginning. While their debut often felt like a Joy Division album with Bernard Sumner on vocals, this was where New Order truly defined their sound. You can hear it from the opening notes of "Age Of Consent," one of their signature songs. The song is so… well… joyful, in a way that Joy Division never could be. The same goes for "The Village," a celebration of new romance that has also endured over the years. The only thing that resembles the misery of Joy Division might be the immortal "Blue Monday," and even then, dark lyrics are masked by a beat that made it one of the best dance songs of its era. With Power, Corruption & Lies, New Order had truly emerged from the death of Ian Curtis, and they were happier than ever.
Throughout the 1980s, New Order further refined their sound by releasing a string of classic albums. The 1-2 punch of Low-life and Brotherhood kept the good times rolling, as the band quickly became a singles machine. Tracks like "Love Vigilantes," "The Perfect Kiss," and "Bizarre Love Triangle" became their most enduring numbers from this period. The band ended their strong '80s run on a high note by switching their sound up with Technique, an album that embraced more modern dance sounds. "Fine Time," the record's best-known track, contains the line "you're much too young/to be a part of me." That phrase pretty much sticks in your head forever after a single listen.
After 1993's Republic, the band went through a break-up that would last for about five years. It would be in 2001 that they would finally hit the studio again and give us Get Ready. The album is perhaps best known for the single "Crystal," whose video featured a fictional band called The Killers — which is where the actual Killers took their name. These albums were less popular than the ones released in their '80s heyday, but they were still a strong presence on the dance charts, and "Crystal" is often hailed as one of the band's best singles, on par with their prime.
Unfortunately, New Order's continuity ran out in the late 2000s, when the band went through a seemingly endless number of lineup changes. Gillian Gilbert left for awhile only to rejoin, while bassist Peter Hook left the group altogether. In the time since, the animosity between Hook and his former bandmates has only grown, as he has taken to criticizing them directly. Hook recently commented that if his son were to join New Order, the bass playing would be superior to what it is now. One can only assume that this didn't sit well with Tom Chapman, who has replaced Hook on bass, and played on the band's new album, 2015's Music Complete.
Perhaps more importantly, he also sued his former bandmates, arguing that they "pillaged" the group's name, and robbed him of money by forming a new company without his knowledge. Hook would appear to be challenging the band directly; while the current New Order lineup is touring in support of their new album, Hook has embarked on a tour of his own, with a band known as Peter Hook and The Light, in which he and his band will be playing sets of classic tracks by New Order and Joy Division. One can logically expect something of a split between fans on which act they would rather support.
It's a conflicting time for fans of New Order. On one hand, the band is still operating with most of its original members, and despite Hook's criticisms, Music Complete was released to largely positive reviews. Still, the whole situation is a bit of a shame. Hook's innovative bass playing was a key element in developing the sounds of New Order and Joy Division, and it's unfortunate to see him no longer a part of the band, which is mired in legal turmoil.
Still, there's certainly hope for a reconciliation. After all, New Order's very origin story proves that they can survive just about anything.