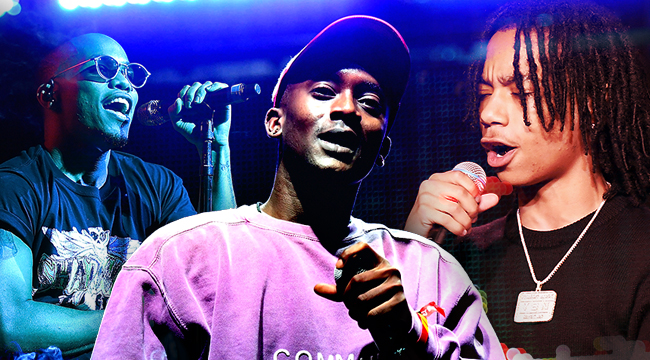 Hip-hop is moving as fast as ever. Luckily, we're doing the work to compile the best singles of the past week and highlight them in one space for you. Scorpion was last week, but it still feels like this week's list has Drake's footprints all over it. From Smino's "In My Feelings" remix, to a Murda Beatz "Fortnite" track inspired by the Toronto rapper's epic Twitch session, to a Juice WRLD track vying to take the top spot ahead of Drake's absurd seven Billboard top ten entries, his impact is undeniable. That said, there were other new releases from acts prepping projects like Buddy, Chief Keef, Anderson Paak, Busta Rhymes, and The Internet.
Anderson Paak Feat. Busta Rhymes, "Bubblin Remix"
Anderson Paak's "Bubblin" is one of the year's most beloved songs, and instead of treating his fans to a new single from his upcoming Oxnard Ventura album, he's running it back with a little help from Bussa Buss, who's cooking up his own heat according to 9th Wonder. The two sound like they met at the peak of their creativity, as Busta blazes the energetic banger with a dizzying verse that shows why he's been a rap monument for over 25 years.
The Internet, "La Di Da"
Hive Mind is coming a week from today. In the meantime, just sing "La Di Da" along with Steve Lacy, who croons on the smooth, funky offering along with Syd. The track is fit for all ages and demographics, with stellar, worldly instrumentation melding together to form a two-step worthy groove and showcase the amazingly talented hip-hop-fusion band's versatility.
Juice WRLD ft. Lil Uzi Vert, "Wasted"
Drake's Scorpion singles have a stranglehold on the Billboard and Spotify charts, but with "Wasted," rising star Juice WRLD may have concocted the ideal track to eventually supplant Drizzy and make his mark on the game in grand fashion ala Cardi B in 2017. Juice WRLD got with Lil Uzi Vert to harmonize about the perfect high over idyllic, thumping soundscape.
Chief Keef ft. Playboi Carti, "Uh Uh"
Playboi Carti and Chief Keef recently collaborated on Die Lit's "Mileage," and now the duo is looking to keep the lituation going on "Uh Uh," a track from Keef's new Mansion Musick project. Over a murky, immersive soundscape, the two artists do what they're best known for: Carti does his free trap routine on the chorus with quick, in-the-zone exhortations while Chief Keef rhymes melodiously about being "higher than the airfield."
YBN Nahmir, "Automatic"
At face value, the title "Automatic" could simply be referring to XXL Freshman YBN Nahmir and his crew's hitmaking ability at this point. The young, Alabama based crew is making a name for themselves, in part because of Nahmir's recently released, subtly Dancehall-inspired trap banger in which he lets it be known that he and his team is down for all types of Grand Theft Auto-esque action.
Murda Beatz Feat. Yung Bans, Lil Yachty & Ski Mask The Slump God, "Fortnite"
Months later, hip-hop is still getting the benefits from Drake's epic Fortnite session. Just days after the session, his Toronto brethren — and frequent collaborator — Murda Beatz decided to sample music from the game and stoke anticipation for the beat eventually being used for a track. Though Drake isn't on "Fortnite," we got more than a consolation with Lil Yachty, XXL Freshman Ski Mask The Slump God, and Yung Bans taking turns showing out on the epic track.
Buddy Feat. Khalid, "Trippin'"
This week, Compton rapper Buddy dropped the latest single from his long-awaited Harlan & Alondra album with "Trippin," a pensive collaboration with burgeoning hook god Khalid. Buddy launches into an impressive double-time flow on the track, venting his frustrations and lamenting that "life got me trippin' out." The ever-relatable track follows Buddy's "Trouble On Central" track to whet his fans' appetite for new music.
Smino, "In My Chillin" ("In My Feelings" Remix)
It doesn't even matter if you're living under a rock, they're probably playing Drake's "In My Feelings" there too. The Scorpion smash's ubiquity has been intensified by the #InMyFeelings challenge, started by social media personality Shiggy and emulated by a who's who of celebrities, including Will Smith. Smino decided not to merely do a challenge and released a fun freestyle over the track, switching up Drake's pristine vocals for a twangy, flavorful twist on the summer smash.
Dave East & Tray Pizzy Diss Tracks
Dave East isn't signed under Nas for no reason. You may not know much about the Harlem rapper, or Bronx MC Tray Pizzy for that matter, but just know that neither plays when it comes to diss tracks. After Pizzy got at East on "Retribution," East went right back at him on "I'm Good Cuz, Enjoy," in which the usually reserved rapper sounded as fiery as ever while defending his spot among the "New New York" hierarchy. Not to be outdone, Tray Pizzy dropped another diss with "Build A Loc." Hopefully, the beef stays on the microphone, because as it is now, it's looking like an impressive lyrical exchange between two hungry artists with a bit of bad blood.