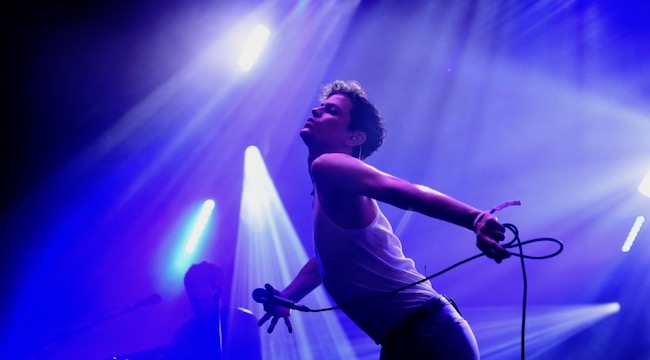 When he isn't lighting up stages across the country or spoiling for a fight with Eminem at Coachella, Perfume Genius aka Mike Hadreas, is holding it down as one of the best indie pop auteurs of the modern era. In 2017, he gifted us with one of the best and most powerful albums of the year No Shape, and over the last week, demonstrated that his string of creativity has no end by quietly uploading three new songs to his YouTube channel.
Beginning with a track called "Jory" at the end of last week, Perfume Genius added another pair of cuts called "Lulla" yesterday and "Onscreen" this morning. All three of the new songs are far more ambient in nature from the material we last heard on No Shape, with lyrics that are at times difficult to make out. They are almost Bon Iver-like, honestly and incredibly compelling to say the least. As are the visuals that Perfume Genius used to accompany them. "Jory" for instance, features a scantially-clad muscle-bound dude straddling a motorcycle, while "Lulla" concludes with a semi-naked in black leather woman blowing on a saxophone.
You can check out Perfume Genius's latest offerings "Jory," "Lulla" and "Onscreen" below, but just a little head's up, they are NSFW.