Even if you haven't been following Brooklyn rapper Joey Badass' slow, steady rise over the last six years as the leading force of New York's new rap scene — informed by throwback vibes and a foundation built on the hip-hop forebearers who came before him — you've probably heard "Devastated."
Off his most recent album, last year's All Amerikkkan Badass, the woozy, anthemic song starts small, as Joey recalls the long, hard road to success, and then explodes into a triumphant chorus, crackling with victory that works as a wordplay on the despondent lyric.
While he had a cult fanbase since the release of his breakout mixtape in 1999 in 2012, it was "Devastated" that put him and his Pro Era crew on the map in a new way — the song went platinum and racked up over 14 million views on Youtube to date. And it wouldn't exist without the behind-the-boards genius of Powers Pleasant.
Powers is one of the co-founders of the Pro Era crew, along with the now fallen Capital Steez, who tragically committed suicide in 2012. He serves as Joey's DJ on tour, and has produced and collaborated on a number of the songs that helped turn Joey into a star. Now, he's stepping into the spotlight too. Powers is prepping the release of his own solo material, starting with an initial EP that comes on the heels of his signing to Commission Music (Lil Dicky, Madeintyo, Derez De'Shon, IDK), and the release of an initial collab, "Pull Up" featuring Joey and ASAP Ferg.
The song's video game-inspired beat is immediately addictive, and so is the simple, clever hook — more proof that Powers knows his way around a hook, solidifying him as a defining force in Pro Era's movement. Currently out on tour with Joey while prepping the drop of his own EP, Powers found the time to answer some of my questions about his background growing up in Fort Greene, his process for producing hits like "Devastated," and what we can expect from his continued evolution as a solo artist.
Tell me a little bit about what it was like growing up in Brooklyn, I read that your dad was a jazz drummer and you were surrounded by music at all times.
Before I started in the music industry I was always surrounded by music because of my dad. I'd always go to his shows. I'm from Fort Greene which is just a pro-arts, pro-Black community. It's awesome, I can't compare it to anything else.
You founded Pro Era with Joey and Capital Steez, can you talk about the impetus behind forming a rap collective, particularly at such a young age?
We were just all similar thinking people. I had the music department on lock so I had access to all the instruments, equipment so we used to cut class and make music together in the auditorium. We just had mutual goals and outlook on life so we thought why not just come together and do something.
I know you lost Capital Steez recently, as a co-founder and close friend. How did grieving that loss shape or change your vision for your own future and the future of Pro Era?
It never changed the vision, it just made want to go harder. And it makes me feel like I'm always protected, like I have Steez watching over. It's just sad because I felt like he was such a large impact and its a major loss to the world, it's unfortunate.
Joey's status has risen considerably over the last few years, particularly on his latest album, can you talk a little bit about watching that trajectory, and how it feels to see his success?
It's f*cking awesome. I've been right here the whole time, I've seen everything from day one so it's amazing to see how far he's come. He's always been talented so now the world is seeing him evolve and recognizing his talent, and not trying to box him in.
One of his biggest success stories is the single "Devastated," which you produced, can you walk me through how you work through production on a particular track or beat? And did you know from the beginning that song was special or did it come as a sleeper hit?
Me, Kirk, and Adam were in the studio every night making songs, working on the album. Actually "Temptation" and "Devastated" came from the same session, same night. We made it and thought it was dope, then we just kept listening to it over and over after we left the studio and were like 'wow, this sh*t is actually like really fire.' Joey said he knew off the rip, I just thought it was another dope song, but after we kept listening to it we were like 'wow this sh*t could actually go.'
My process for production is usually coming up with a fire melody, then produce the drums and everything else around it.
You're serving as Joey's official DJ on tour, what is that role like?
You gotta be on your toes. Joey loves to throw curve balls. I love it, wouldn't want to DJ for anyone else. That's my day one bro so we've got that chemistry on stage that's just crazy.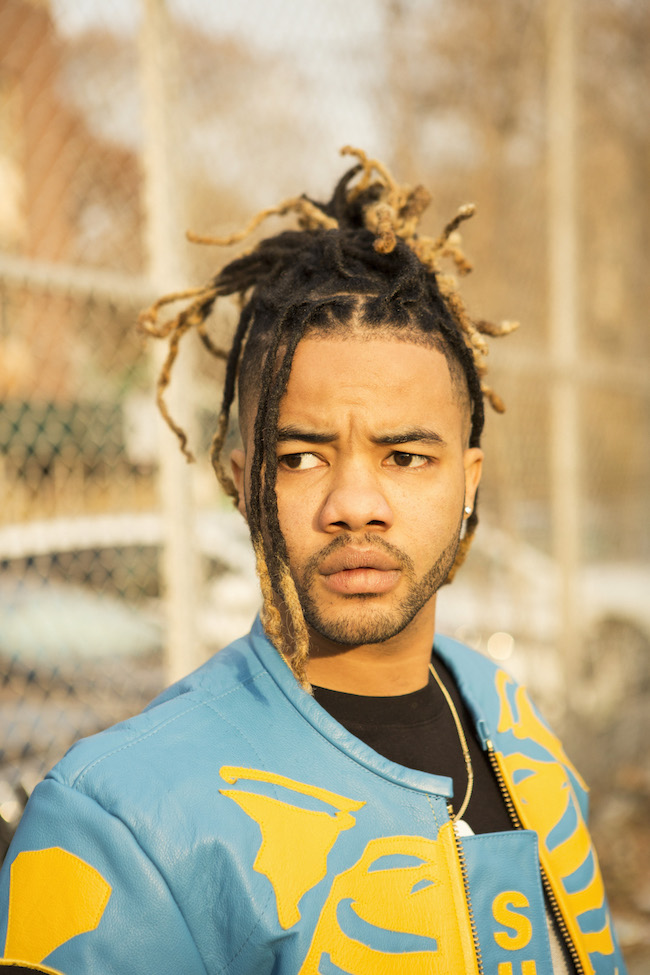 You're now introducing yourself as a solo artist and not just Joey's DJ or a producer, how does shifting into that role feel different, and how is it the same as what you've already been building?
It's the same sh*t I've been doing my whole life, nothing's really changed I'm just creating. Now there's just more eyes and ears.
Tell me a little bit about the project you're working on, it's your official debut correct?
It's an EP so its the first doors opened to my crazy mind. There's some really dope artists on it that I've worked with, dope sounds so people will really get the first taste of what I'm all about. I'm excited.
I read that The Neptunes are a big influence on your style. What other producers or influences would you cite and how would you characterize your sound?
Timbaland, Kanye, and The Neptunes are my favorite producers. But you know like Kanye, he's got hits under his belt but not every song sounds like a Kanye West song so I like to always try and reinvent myself, so it's hard to characterize.
What do you most wish people knew about you as a solo artist?
That my birth name is Powers Pleasant.
The emphasis on region and era within hip-hop has shifted a lot since the rise of the internet, what do you think is the most important or notable thing about New York rap specifically in this moment?
That we are here to stay and there's no box, we are gonna do whatever the f*ck we want. I hate the stigma that New York rap has to sound a certain way and it's always the old OGs saying that. Anything that doesn't evolve is gonna die. New York is evolving. We aren't gonna sound the same way it has traditionally. Of course, it's gonna have that ego, cockiness, and aggression because we are from New York and that's just natural. We're gonna make music the way we want to.