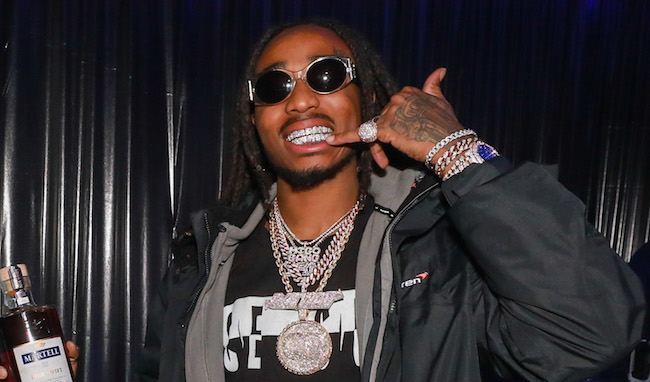 Joe Budden has experienced his share of growth, the formally troubled rapper has moved on from struggles with addiction and toxic relationships and now seems to be living his best life. He has a nice gig hosting Everyday Struggle, he's completely independent musically, has rekindled his relationship with his teenage son and even has a new baby on the way. Still, even with all that growth Joey is known to ruffle feathers even now, and while his much-publicized feuds with the likes of Russ and Lil Yachty have been interesting, no current Budden beef is more amusing than his squabble with Migos.
As you probably remember, it all began at the BET Awards this year when an interview with Migos went hilariously awry, and Budden walked off the set, upsetting all three members of Migos. Words were exchanged, and both parties had to be separated, but now, months later, Quavo from Migos is back sending biting words Budden's way. On a preview for the new Quality Control mixtape Control The Streets Vol. 1, set to drop thsi Friday, Quavo kept it short and sweet, rapping "If a n—a hating, call him Joe Budden." before yelling out the adlib "P*ssy."
C O N T R O L T H A S T R E E T S
12.8.17 pic.twitter.com/wvL0tkDcSI

— QuavoYRN (@QuavoStuntin) December 6, 2017
Quavo tweeted out the video, and because Budden is always in tune with online goings on, he was quick to notice and respond. "Quavo want smoke?" he asked in one tweet while laughing. "Soon as it's all peace he decides to unleash this lyrical venom in my direction… that's crazy smh," he added in another.
Since Quavo retweeted the first tweet, it can be assumed that yes, he does indeed want smoke with Joe, but with the fury Joe has unleashed on wax before that might not be such a great idea. Still, Joe is retired so it remains to be seen if he ever even entertains the beef. Only time will tell.