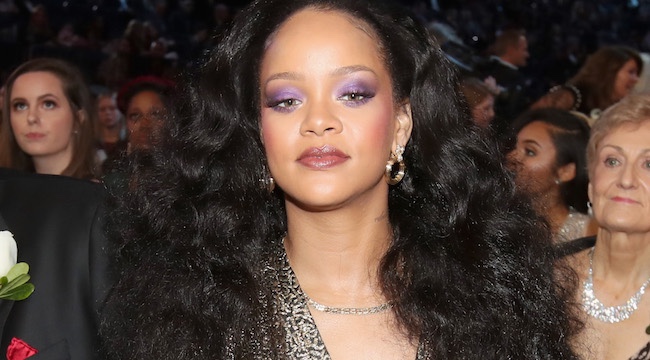 This year's Super Bowl in Atlanta will feature Maroon 5 performing the iconic halftime show. And while this booking has received a fair share of push-back from fans and critics alike, one just has to look at the current Billboard Hot 100, where they currently sit at the top, to see how their appearance makes some sense. Still, it comes to no surprise to find out that they weren't the first ones approached with the gig.
In an exclusive report from US Weekly, Rihanna it turns out was approached with the possibility of performing at the largest television event in the world, but decided against it. Her reasoning is the same that Jay-Z reportedly used last year: a support of blackballed NFL quarterback Colin Kaepernick. "The NFL and CBS really wanted Rihanna to be next year's performer in Atlanta," an insider told the magazine. "They offered it to her, but she said no because of the kneeling controversy. She doesn't agree with the NFL's stance."
Kaepernick has been out of the NFL for the last two seasons after famously taking a knee during the national anthem in protest of injustices against Black people and other people of color. He currently has a grievance filed against the NFL for colluding against him. Kaepernick recently caused a sensation by becoming the face of Nike's latest ad campaign, with the shoe company revealing that they'd never ended their relationship with the quarterback.
One bright spot that everyone can agree on is that Maroon 5's set will reportedly feature Cardi B performing more than just her Maroon 5 collaboration.