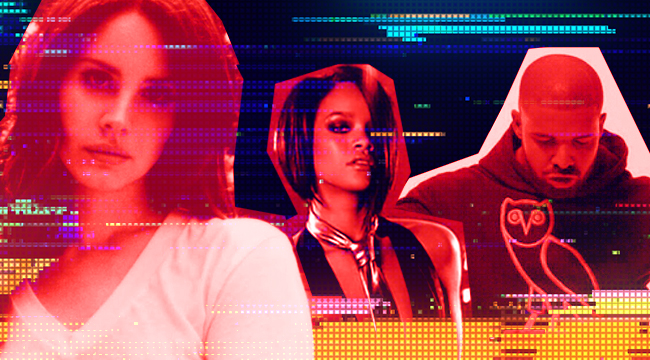 What is the song of the summer? It's a question that's practically been in the air since the radio was invented — even if it wasn't always asked so directly, so annually, and so often. There's a reason why people are constantly enamored with pinpointing which big tune will soundtrack barbecues, poolside hangs, beach-blanket blasts, and beyond: more so than any other season, summer is very superficially associated with Good Times, and more often than not there happens to be One Big Song that's inescapable during its three-month duration. Whether you hear it blasting from passing cars, humming on the radio amidst the melted candy of your local corner store, or pulsing from a listening device of some sort while soundtracking low-level sidewalk revelry, there's always a song of the summer, whether you like it or not.
In recent years, predicting the song of the summer has gone well beyond skipping around the FM dial or scanning the pop charts to get an idea of certain singles' overall trajectories. Along with compiling year-end lists, middle-of-the-year lists, award-show predictions, and artists-to-watch roundups, attempting to guess what the song of the summer will be has become part and parcel of digital music writing. The theoretical online equivalent of Punxsutawney Phil, it's arguable that summer doesn't actually begin until song-of-the-summer debates start cropping up.
As with most internet discussion-flashpoint phenomena, song-of-the-summer debates tend to annoy people. Some have identified this bugbear commonality and managed to get a laugh or two out of it; since the release of Daft Punk's Pharrell-featuring single "Get Lucky" in 2013, British comedian Brian "Limmy" Limond has made great hay out of regularly Tweeting recommendations of the song, proclaiming it to be the "sound of the summer" (even in the dead of October). Otherwise, there's a measure of understanding as to why song-of-the-summer discussion gets under peoples' skin. More than anything else, the discussion typically tends to center around widely beloved pop, and since the act of listening to music is in itself one that's reliant on personal taste, one person's song of the summer might simply be annoyingly ubiquitous to another.
With that in mind, we're shaking things up a bit by taking a trip through the last 20 years of popular music not only to identify the song of every summer, but to present an alternate suggestion — a what-could've-been for those sweaty months of every year, whether it be a slightly-less-popular song that narrowly missed its window or an underground favorite that deserved more time in the theoretical and literal sun. And, yes, in case you were wondering, we took a stab at this year's too — would it be summer, after all, without us trying to predict this year's song of the summer as well?
2000
Song Of The Summer: Santana — "Maria Maria" Feat. the Product G&B
Alternate Choice: Queens Of The Stone Age — "Feel Good Hit Of The Summer"
I can't believe it's not "Smooth"! Seriously, though: the infamous Supernatural single that featured the now-iconic line "It's a hot one" was neither the song of the summer of 2000 or the previous year; it topped the charts near the end of 1999, narrowly missing the song-of-the-summer window for that year. But it's more impressive that, more than a year after Supernatural's release, the sweltering "Maria Maria" reigned supreme for a whopping ten weeks on the Billboard Hot 100, all but ensuring an overall dominance of the airwaves in the months to come. But what doesn't scream "sweltering, sticky heat" like desert-rockers QOTSA's titular paean to the season itself? An overreliance on pharmacology aside, even Carlos Santana himself would approve of the riffage that Josh Homme and Co. brought to this one.
2001
Song Of The Summer: Christina Aguilera, Lil' Kim, Mya, and Pink — "Lady Marmalade"
Alternate Choice: Herbert — "It's Only"
In 2019, "Lady Marmalade" truly seems like the stuff of the ancient past: a star-studded single promoting Baz Luhrmann's latest another-goddamn-circus movie Moulin Rouge, most memorable not only due to its flashy MTV music video (remember the Making The Video episode behind this one?) and larger-than-life awards-show performances. (It's pre-9/11, both figuratively and literally; in the former sense, popular culture was simply flattened for the rest of the decade and beyond to allow for such needlessly ostentatious spectacle.) "It's Only," from Matthew Herbert's glorious microhouse classic Bodily Functions, is pretty much the exact opposite of "Lady Marmalade"; it percolates and simmers, with whirring clicks and lovely woodwinds orbiting Dani Siciliano's subtle, jazzy vocals. But caught in the right light, it's exactly what you'd want to hear in the waning hours of a hot summer day, when night falls and the air becomes just clear enough to luxuriate in your own surroundings.
2002
Song Of The Summer: Nelly — "Hot in Herre"
Alternate Choice: Red Hot Chili Peppers — "By The Way"
Nelly dominated the entire summer of 2002, no question. Between "Hot in Herre" and "Dilemma," both taken from his megahit album Nellyville, the St. Louis rapper spent most of the summer and fall on top of the charts, and "Hot in Herre" was particularly inescapable when the temperature was rising. With blistering production from the Neptunes — who, in 2002, were close to operating at their peak — "Hot in Herre" was and still is a fantastic song, albeit one sullied greatly by the multiple sexual assault accusations he's faced in recent years. The summer of 2002 also saw the release of Red Hot Chili Peppers' By The Way, the follow-up to the surprisingly strong 1999 comeback album Californication; honeyed, melodic, and unexpectedly lovely at points, By The Way sounds as summer-y as a popsicle, and its title track (slap-bass section aside) still feels like a cool, dusky breeze you never quite expect but are always thankful for.
2003
Song Of The Summer: Beyoncé — "Crazy In Love" Feat. Jay-Z
Alternate Choice: TV on the Radio — "Staring At The Sun"
Beyoncé… never heard of her. Kidding, kidding! Looking back at "Crazy In Love" and its accompanying album Dangerously In Love, the summer of 2003 was the exact moment that the literal biggest pop star in the world right now stepped out from the shadows of Destiny's Child and became a solo star in her own right, her debut single featuring an artist she'd later marry and center one of her most critically beloved works around their infidelity. Wild stuff — and "Crazy In Love" is one of those songs of the summer that kind of feels like the song of every summer, the kind of aggressively enjoyable pop song that practically sets off car alarms from its opening seconds on. Brooklyn rock heroes TV on the Radio also stepped out that summer with their indelible Young Liars EP, and the slow-crawl build of "Staring At The Sun" felt like the flipside to "Crazy in Love"'s instant party-hardy vibe — a controlled detonation instead of a Molotov cocktail, packing just as much firepower.
2004
Song Of The Summer: Usher — "Yeah!" Feat. Lil Jon
Alternate Choice: The Killers — "Mr. Brightside"
2004 was, undoubtedly, the summer of Usher: various singles from his Confessions took turns at the top of the charts, and although the Hot 100 reign of "Yeah!" ended just before the summer truly started, the song had nevertheless wormed its way into the general consciousness to the point where it was increasingly inescapable as the months got hotter. (You could also argue that this was an equally big moment for Lil Jon, whose own amplified production approach was introduced to the mainstream through "Yeah!" and would pop in and out of view for years to come.) A little album called Hot Fuss from a fledgling Las Vegas rock group called The Killers dropped that summer, too, and — well, does "Mr. Brightside" not speak for itself at this point? "There's 'Happy Birthday,' and then there's 'Mr. Brightside,'" drummer Ronnie Vannuci, Jr. told me in 2017. Indeed.
2005
Song Of The Summer: Mariah Carey — "We Belong Together"
Alternate Choice: Röyksopp — "What Else Is There?" Feat. Karin Dreijer
"We Belong Together" was everywhere in the summer of 2005, and beyond; I distinctly remember getting pizza in the West Village as the months were finally cooling down and hearing it blare from the boombox behind the ovens. It marked a smooth and easy comeback for Mariah Carey, who'd struggled mightily in the early 2000s surrounding the disastrous release of her film and album Glitter, and like much of Mariah's output over the last fifteen years, it was very easy to enjoy. "What Else Is There?," from Norwegian electronic duo Röyksopp's excellent 2005 album The Understanding, carries a similar midtempo gait — but with a much darker edge, topped off by hair-raising vocals from The Knife and Fever Ray godhead Karin Dreijer. If "We Belong Together" is for sunny days, "What Else Is There?" is for those late afternoons when the humidity breaks, and the thunderstorms thankfully roll in.
2006
Song Of The Summer: Nelly Furtado — "Promiscuous" Feat. Timbaland
Alternate Choice: Camera Obscura — "Hey Lloyd, I'm Ready To Be Heartbroken"
About ten years before the notion of pop stars changing it up era-by-era took hold in the general confines of popular culture, Canadian pop singer Nelly Furtado shook off the crunchy hippie vibes of her previous work, got in the 'stu with Timbaland, and delivered this club anthem that was just raunchy and radical enough to revitalize both of their careers. If you weren't in the mood for grinding that year, though, there's a solid chance you had Scottish indie-pop troupe Camera Obscura's lovely second album Underachievers Please Try Harder on repeat, as good of a summer-sulk album as any. If "Promiscuous" is all about the push-and-pull of sexual tension, "Hey Lloyd, I'm Ready To Be Heartbroken" is about… well, it's all there in the title, really. It's an anthem for fatalists, as well as a reminder that it's perfectly fine to feel a little miserable in the summer, too.
2007
Song Of The Summer: Rihanna — "Umbrella" Feat. Jay-Z
Alternate Choice: Dizzee Rascal — "Pussyole (Old Skool)"
Rihanna had a few big songs before "Umbrella," but her 2007 single with Jay-Z was her first truly amazing song — on her first truly good album, Good Girl Gone Bad, no less. Besides introducing the world to The-Dream's evocative, mesmerizing R&B songwriting, "Umbrella" also gave us an iconic visual of Rih dancing in exactly the type of downpour one hopes for after a few sweltering days. Over in the UK, a similar storm had broken in the form of Dizzee Rascal's Maths + English, which saw the grime wiz kid finally delivering a proper follow-up to his classic Boy In Da Corner after the overstuffed, overworked Showtime followed it. Album highlight "Pussyole (Old Skool)" was purportedly a pointed diss towards fellow grime stalwart Wiley, but you don't need to know that to easily grab onto Dizzee's wild-eyed intensity and the always-reliable "It Takes Two" sample. If it reached the U.S. in proper form, it could've been huge here, too.
2008
Song Of The Summer: Katy Perry — "I Kissed A Girl"
Alternate Choice: Lil Wayne — "Lollipop" Feat. Static Major
"I Kissed A Girl": a single so terrible that it's honestly shocking that Katy Perry continued to have a sizably successful career afterwards. (If you've been justifiably bothered by ex-Perry nemesis Taylor Swift's recent queerbaiting, and somehow forgot about this song too, feel free to go back and revisit. Or don't.) Despite its inherent awfulness, "I Kissed A Girl" topped the charts for most of the summer, and on a basic level its aggravating catchiness explains its overall dominance. "Lollipop" was a brief chart-topper a few months previous to summer's arrival, but despite its frigid, rockist reception at the time (Auto-Tune—quelle horreur!), it's arguably held up better and perfectly evokes those dead-eyed final weeks of summer, in which you're walking around in a haze regardless of whether it has anything to do with the chemicals in your body.
2009
Song Of The Summer: Black Eyed Peas — "I Gotta Feeling"
Alternate Choice: Dirty Projectors — "Stillness Is The Move"
I had a friend who attended a bachelor party the summer after "I Gotta Feeling"'s unholy dominance and heard it in a club at an Atlantic City casino. He said the experience made him feel alive. That's fine! Unfortunately for him, the casino, and Black Eyed Peas, the song was and still is awful — as well as one-half of BEP's chart dominance that summer, which kicked off with "Boom Boom Pow" ruling the Hot 100 roost right up until July 4 before tagging in "I Gotta Feeling" to land the finishing blow on society as a whole. If you were the type seeking solace from the blaring torpor that "I Gotta Feeling" was both representing and, in terms of the next several years of EDM-ified pop, presaging, then Dirty Projectors' "Stillness Is The Move" was and still is the antidote. The album it's from, Bitte Orca, is a confusing and knotty indie-pop album that's inscrutable even as it stands as the band's breakout, but there's no mistaking the appeal of "Stillness Is The Move," a lithe R&B tune bolstered by the expressive vocals of former member Amber Coffman.
2010
Song Of The Summer:Katy Perry — "California Gurls" Feat. Snoop Dogg
Alternate Choice: Drake — "Miss Me" Feat. Lil Wayne
It feels weird to present Drake as an underdog in respect to anything in 2019 — but hey, that's just how much popular culture's changed in the past ten years. Katy might be struggling to attain a chart-topper this year against meme machine Lil Nas X's unstoppable "Old Town Road," but in 2010 "California Gurls" marked the second time in three years she'd easily taken the song-of-the-summer crown. It's not the best song off of the mega-popular Teenage Dream, but it's a hell of a lot more palatable than "I Kissed A Girl." And yet, go back and revisit Drake's just-fine debut album Thank Me Later and try not to envision the titanic "Miss Me," with a loopy Lil Wayne verse and massive production from Drake associates Boi-1da and Noah "40" Shebib, as the type of tune that would've flattened entire city blocks if he'd been an eighth as popular then as he is now.
2011
Song Of The Summer: LMFAO — "Party Rock Anthem" Feat. Lauren Bennett and GoonRock
Alternate Choice: Arctic Monkeys — "That's Where You're Wrong"
Fine, I'll admit it: there's no way a song that sounds like and is titled "Party Rock Anthem" wouldn't be the song of the summer. It doesn't matter that we've basically never heard from any of the people involved in making this song (Lauren Bennett? GoonRock?!?) ever again — if you were half-conscious around the time of this song's reign and you hear two out of three of the words "party," rock," or "anthem" said in the same sentence, "Party Rock Anthem" will be stuck in your head for the next several hours, or even days. It's profoundly annoying and infectious, two elements that, when combined, are more potent for song-of-the-summer material than that scene in Mission: Impossible when Tom Cruise smushes the two-colored gum together and blows up the aquarium. "That's Where You're Wrong," from the Arctic Monkeys' underappreciated 2011 album Suck It And See, is a little more subtle (how could it not be?) but not by much: it's a widescreen, Oasis-esque anthem that reflects the West Coast decamping that frontman Alex Turner undertook around this time. If the weather's nice, you can listen to it with your windows down — and unlike "Party Rock Anthem," you don't have to be embarrassed while doing so.
2012
Song Of The Summer: Carly Rae Jepsen — "Call Me Maybe"
Alternate Choice: Frank Ocean — "Sweet Life"
Look, you're not gonna catch me talking smack about Carly Rae. Partially because her fans are passionate and fervent, but also because "Call Me Maybe" was and still is, as the kids say, a bop — a fizzy, undulating piece of carnival-pop that's infectious by design, the kind of concoction so sugary-sweet that you go into diabetic shock from first contact with it. The song of the summer runner-up from this year, Australian indie-pop auteur Gotye's "Somebody I Used to Know," was much more subtle — as is the alternate choice presented here. "Sweet Life" is one of the more straightforward songs off of Channel Orange, an album that's also comparably straightforward considering what Ocean's done since; but it evokes shimmery, summery weather in every sense, right down to the namechecking of "mangoes, peaches, and lime." After all, summer was made for fresh fruit.
2013
Song Of The Summer: Robin Thicke — "Blurred Lines" Feat. Pharrell and T.I.
Alternate Choice: Ciara — "Body Party"
The O.J. trial of pop music, "Blurred Lines" left no stone untouched in terms of its legacy on popular music at large. It sparked a legal battle that Thicke, Pharrell, and T.I. will likely spend the remainder of their careers trying to pay out the damages from; it sparked the conversation about consent and misogyny in pop music several years before those concerns finally took greater hold in culture at large; it represented the last true success of Thicke's career, which has since been mired in failed marriages, failed breakup albums, and The Masked Singer. It's also an indelible wedding song and a classic pop jam in general, albeit one that heavily borrows from the past. So does Ciara's Future-assisted "Body Party," a clever interpolation of Ghost Town DJ's "My Boo" — but rather than coming across as a ripoff, the song is pure knowing homage, the type of soft and sensual R&B jam that sounds great at the beach but even better when finding a chance to cool off in the A/C.
2014
Song Of The Summer: Iggy Azalea — "Fancy" Feat. Charli XCX
Alternate Choice: Lana Del Rey — "Brooklyn Baby"
Arguably, there were two songs of the summer in 2014 — and much like the tagline of Alien vs. Predator, whoever won, we lost. While post-Sublime reggae-pop act Magic!'s "Rude" perpetually wafted through the waning weeks, Iggy Azalea's Charli XCX-featuring "Fancy" dominated most of the season, as well as the rest of the year at large. Neither act would be able to replicate their success in the years to come, with Azalea's career perpetually imploding in fits and starts; meanwhile, Lana Del Rey — who'd proven an Azalea-esque flashpoint for heated discourse a few years before with her debut single "Video Games" and the accompanying album Born To Die — returned with her sophomore effort Ultraviolence, the first step in her gradual critical rehabilitation that culminated with 2016's wonderfully drowsy Lust For Life. Lana's music is perfectly suited for that summer-bummer feel, and "Brooklyn Baby" is one of the most immediate songs off of the gently psychedelic Ultraviolence; whereas "Fancy" bounced with energy, Lana simply luxuriates in the shade here, something anyone looking to beat the heat can relate to.
2015
Song Of The Summer: Wiz Khalifa — "See You Again" Feat. Charlie Puth
Alternate Choice: Major Lazer — "Lean On" Feat. Mø and DJ Snake
It feels cruel to talk trash on "See You Again," a song explicitly written for the purpose of memorializing an actor who died tragically. That said, it was also constructed specifically as a promotional tie-in for one of the biggest action film franchises in existence, so there was a lot of complicated stuff going on behind the scenes when it comes to this deathless, bloodless ballad — including Puth's involvement, who initially co-wrote the tune as a reference track for Sam Smith but ended up singing it himself. "See You Again" provided a hit for a then-slumping Wiz and kicked off Puth's still-blossoming, better-than-expected career; you could arguably say the same for "Lean On," a surprise EDM-fest sensation that ended the cold streak of Diplo's Major Lazer project while also providing Danish singer Mø with her biggest look yet. Whereas "See You Again" is pure torpor, "Lean On" is airy and fun — a poolside jam so potent that, no matter where you hear it, you can practically smell the chlorine.
2016
Song Of The Summer: Drake — "One Dance" Feat. Wizkid and Kyla
Alternate Choice: Tegan And Sara — "U-Turn"
Considering his perpetual upwards ascent throughout the decade, it's a little wild it took this long for Drake to notch a song of the summer for himself. But "One Dance," taken from the turgid blockbuster Views, also marked the point in which Drake's cultural dominance became unstoppable — both in its omnipresence, and in his ability to dip into sounds and styles from other pop subgenres for his own benefit. (In this case, "One Dance" was the second dancehall-adjacent chart-topper he was involved in from this year; the first was his feature on Rihanna's far-superior "Work.") Even as Drake had established an identifiable mood that was all his own at this point, "One Dance" was proof that he was also capable of slight reinventions for the sake of greater success — and the same goes for Tegan and Sara's 2016 album Love You To Death, the second entry in their creative shift from dusky emo to sharp, tangy synth-pop. "U-Turn" is perhaps the most satisfying single from this album, a bright and beaming slice of effervescent pop with big-deal production wizard Greg Kurstin behind the boards — a song for sunny days that stands in opposition to "One Dance"'s club-specific vibes.
2017
Song Of The Summer:Luis Fonsi and Daddy Yankee — "Despacito" Feat. Justin Bieber
Alternate Choice: SZA — "Love Galore" Feat. Travis Scott
For the second summer in a row, a titanically famous pop star glommed onto a genre that they previously never worked in, notching their own song of the summer in the process. "Despacito" didn't really need Justin Bieber — inarguably, the essence of the song itself belongs to Luis Fonsi and Daddy Yankee, who crafted a Latin pop classic on their own. But Bieber's involvement undoubtedly contributed to its astounding summer-long chart domination, sadly proven by the fact that Latin pop at large hasn't really taken hold in the charts since. If "Despacito" was pure, throbbing 8 p.m. intensity, SZA and Travis Scott's "Love Galore" is perfectly suited for summer's late nights, when the breeze floats through the curtains and there's a sense of overall peace in the air (arguably, the perfect compliment to "Despacito" — hey, why can't there be two songs of the summer?).
2018
Song Of The Summer: Drake — "In My Feelings"
Alternate Choice: Rico Nasty — "Ice Cream"
If Drake earned song of the summer in 2016 through genre-hopping wizardry, in 2018 he took a different—although similarly suspect—path. "In My Feelings" sat at the top of the charts for most of the summer following the release of his overlong double-album Scorpion, primarily due to a dance challenge that lit up Youtube like a thousand firecrackers. It was Drake's third No. 1 hit that year, after fellow Scorpion tracks "God's Plan" and "Nice For What," and his overall chart dominance pointed to a general, ongoing, and unfortunate trend of hip-hop's measure of success becoming narrower and harder to attain in terms of mainstream visibility. It's an unfortunate truth for artists like Baltimore phenom Rico Nasty, whose Nasty dropped at the top of the summer and certainly deserved to dominate the air as much as Drake did. There's potential hits aplenty to choose from on Nasty, but "Ice Cream" feels summery beyond the title, a brash and funny slice of braggadocio with attitude so scorching that it melts the last scoop right off the cone.
2019
Song Of The Summer: Lil Nas X — "Old Town Road"
Alternate Choice: Lil Nas X — "Old Town Road"
I can't even front — Lil Nas X's meta-troll maneuver of blocking pretty much every pop megastar from attaining a No. 1 hit this year has been one of the most fascinating and purely pleasurable phenomena to witness in the last several years of pop music. I don't think any other song deserves to be the song of the summer, in 2019 or any other year. Long live Lil Nas X, and viva la "Old Town Road" — and let us always have our horses in the back until the end of time.
Some artists covered here are Warner Music artists. Uproxx is an independent subsidiary of Warner Music Group.