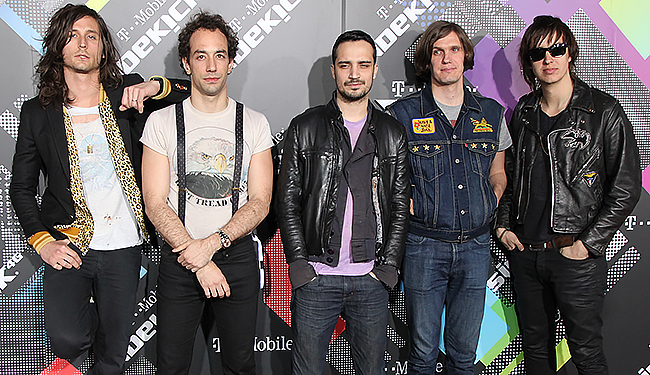 Is This It by the Strokes is one of the most important albums of the 2000s. Not only did it introduce the world to a great band, it begat a sea change in the rock world, as nu-metal and post grunge were blown away by old-school oriented rock bands like The White Stripes and The Hives. Considering its grand influence, Is This It would have to be considered one of the most important albums of the era.
It's also the Strokes' second-best album. That's right, I'm going there: Room On Fire is better than Is This It.
Okay, let's be clear, I'm not saying Room On Fire straight up blows Is This It out of the water; no, it's a pretty close battle, as there's not a single track that could really be considered "bad" on either album. But taking everything into consideration, The Strokes' second effort narrowly beats out their first, in my mind.
If this seems blasphemous to you, I'd recommend giving Room On Fire another run through, because there are a ton of memorable songs here. Right off the bat, "What Ever Happened" grabs our attention with Julian Casablancas's opening wail of "I wanna be forgotten / and I don't wanna be reminded," which should be on the short list for best opening lyrics from any album ever.
From there, we go onto to lead single "Reptilia," a well-deserved Strokes classic with what might be their finest chorus ("I said please don't slow me down if I'm going too faaaaaaaaaaaaast!"), followed by the bittersweet "Automatic Stop," which displays a range of emotion we didn't really see on Is This It. After that is "12:51," another hit single with a really cool guitar tone which will likely go down as the best song Ric Ocasek never wrote. Four songs in, and everything has been a direct hit.
Things don't slow down in the second half. "Under Control" shows the surprisingly sensitive side of a band that was known for being aloof and detached. "Meet Me In The Bathroom" is best known for allegedly being about Courtney Love (the rumors were so prevalent that she eventually wrote a response to it), but if you ignore that aspect of it, it's one of the best rockers on an album full of them. Finally, "The End Has No End" has a fascinating dynamic; its two verses are identical, but the first one is sung gently while the second one is shouted. The different ways of approaching the same lyrics illustrate that how we interpret lyrics has a lot to do with how they are delivered. The same words can seem kind or angry based the vocalist's choices.
Okay, so all of this explains why Room On Fire is really good, but does any of it prove that it's a stronger record than Is This It? Well, that's in the eye of the beholder, and obviously they're both great albums, but what gives Room On Fire the edge for me is that small evolution that critics seemed to miss. "Under Control" features an emotional maturity we were unlikely to see on Is This It, while the verse structure on "The End Has No End," illustrates a new-found sense of experimentation for the band.
While Room On Fire is hardly hated by critics, the most prominent critique lobbied at it is that it sounds too similar to its predecessor. This has never made sense to me. For one thing, the first four Ramones albums all sound remarkably similar to each other (not to mention every record they made after that), and no one ever trashes Leave Home. Secondly, while the two albums do certainly share some traits, Room On Fire marked a much greater growth in the band's songwriting than many critics give it credit for.
If you view Room On Fire to be nothing more than an inferior successor to the much-beloved Is This It, I'd strongly encourage you to give it another listen. It features all of the exhilarating rock n' roll of the original, along with a few surprising moments of maturity. Room On Fire didn't have the chance to blow our minds the way Is This It did, because at that point we already knew what The Strokes were and could no longer be stunned by their greatness. With that said, when you ignore the historical importance of Is This It and simply view the first two Strokes albums as individual statements, the fight becomes a lot closer, and with all things considered, Room On Fire just barely comes out on top for me.