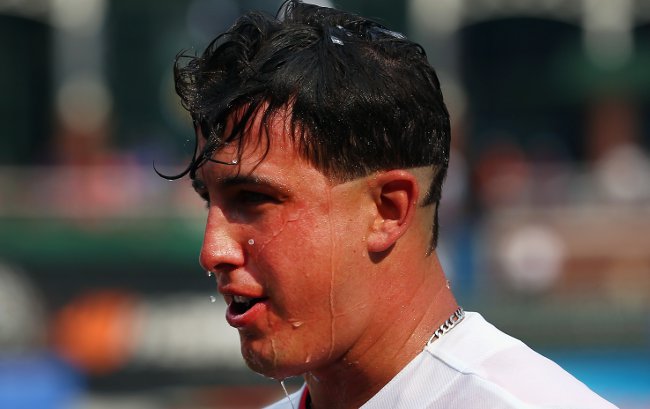 Texas Rangers pitcher Derek Holland has been sporting a Rick Vaughn "Wild Thing" haircut for the past few weeks, and Charlie Sheen has taken notice. The Major League actor stopped by the Rangers' clubhouse on Saturday after their game against the Angels to get a firsthand look at Holland's 'do.
Judging from this image Holland posted to Instagram, Sheen seems pretty pleased:
https://instagram.com/p/7Rs7xzvUUO/
In an interview with the Dallas Morning News, Holland explained where he got the idea for the hairdo:
"It was one of my friends actually. They came up with it and we had actually talked about this a long time ago. He said, 'When you come back, that's what you need to come back with.' And I was like, 'Nah. I don't know if I could do it.' They finally talked me into it. Obviously a few drinks got into me and that's why I did it. I definitely did the haircut to change it up. I got to enjoy myself. That's what it's all about."
Holland has no plans on changing his "Wild Thing" haircut anytime soon, and wants to keep it for the rest of the year, according to the Dallas Morning News.
If Lou Brown from Major League were manager of the Rangers, he'd probably say,"Nice haircut, Holland. Never f*ckin' do it again."