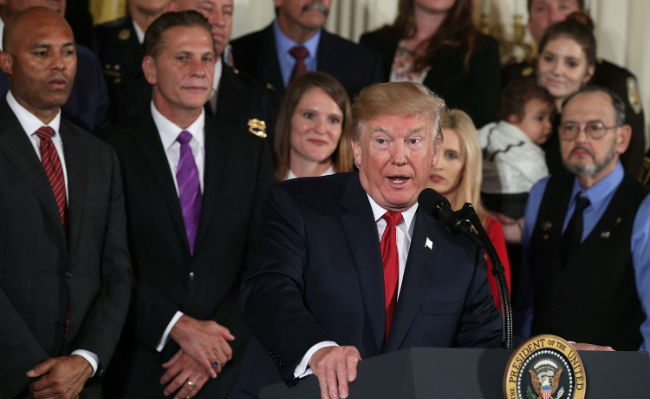 Before he ran for president, Donald Trump tried to buy the Buffalo Bills. And he was serious about the bid, signing paperwork and submitting a bid for close to $1 billion for the team.
Trump was so serious, in fact, that according to GQ he funded a fan group to stir anti-Bon Jovi sentiment in Western New York during the bidding process. If that sounds insane, it's because both Trump and Bon Jovi were trying to buy the team at the time.
After Bills owner Ralph Wilson died in 2014, the team went up for sale. Bon Jovi was leading a Toronto-based ownership group that was interested in buying the team. But many in Buffalo worried they would move the Bills to Toronto, and though the group promised they would keep the team in Buffalo many remained wary.

That's when a "fan group" called the "12th Man Thunder" cropped up out of nowhere and began handing out signs at bars declaring them Bon Jovi Free Zones. The group seemingly had come out of nowhere. That's because it has a very specific purpose: to stop Bon Jovi from buying the team.
But what almost nobody knew—until now—is that the whole thing was pulled together by the then-future president of the United States. In the spring of 2014, Trump hired veteran Republican operative and Buffalo resident Michael Caputo—a close associate of Paul Manafort and Roger Stone. Caputo had worked with Ollie North during the Reagan years and then helped boost the careers of Boris Yeltsin and Vladimir Putin as a political consultant in Russia—now he was enlisted to create a group that would scuttle Bon Jovi's NFL chances.

"Trump knew he couldn't outbid the Canadians," Caputo recounted to me recently. Instead, Caputo explained, he would scare them off by turning Buffalo against them.
The whole piece is fascinating, but the kicker is that Trump couldn't stop the actual winning bid from happening. No one could out-bid hydrofracking billionaire Terry Pegula, who bought the team for $1.4 billion. The Bills are still in Buffalo, Trump's the president of the United States and people play Bon Jovi in Buffalo bars again.
You win some, you lose some I guess.