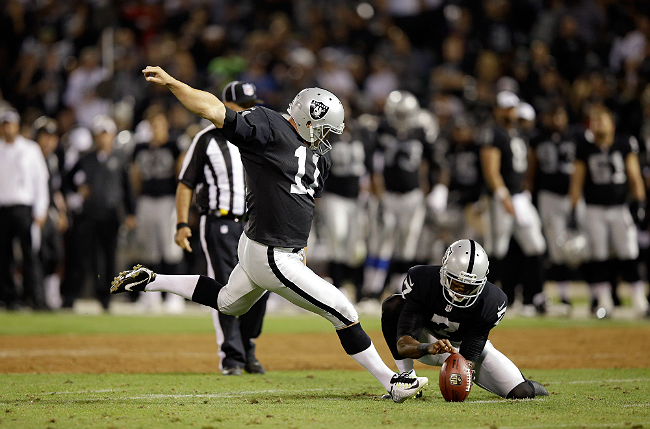 Special teams can often be the difference between winning and losing in football, but fans are seldom excited to see their team spend a high draft pick on a kicker or punter. While it doesn't happen often, occasionally an exceptional talent comes along in the kicking game and a team will use a pick in the first two rounds on them. Today, we look at the 19 times that a kicker or punter has been selected in the first two rounds of the NFL Draft.
2005 – Mike Nugent, kicker, 2nd round (47th overall), New York Jets
The most recent came a decade ago when the Jets took the kicker out of the Ohio State in the second round after their previous kicker, Doug Brien, had a bit of a playoff meltdown in what should have been a playoff upset win in Pittsburgh. Since the Jets traded away their first round pick that year, Nugent was actually the first member of their '05 draft class. He only lasted four years in New York and went 3-9 in field goals of 50 yards or longer. That's bad enough that some Jets fans called him one of their biggest draft disappointments ever. And this is going by Jets letdown standards, which are tougher than most.
2000 – Sebastian Janikowski, kicker, 1st round (17th overall), Oakland Raiders
Seabass! Fifteen years later and Janikowski is still the Raiders kicker. He also remains the only kicker taken in the first round in more than 30 drafts. In 2011, he made a 63-yard field goal to tie the NFL record also held by Jason Elam and Tom Dempsey, though Matt Prater eclipsed that mark by a yard in 2013. Janikowski does, however, hold the record for the longest field goal attempted, a 76-yarder in 2008 that fell well short.
1995 – Todd Sauerbrun, punter, 2nd round (56th overall), Chicago Bears
It takes 20 years to find our most recent punter taken in the first two round of the draft. Todd Sauerbrun has his place in NFL history firmly secured as being the cockiest punter in the league. The year he was drafted, Sauerbrun showed up to Bears camp in a car with a personalized license plate that read "HANGTIME." While Sauerbrun made the Pro Bowl three times and was the first player since the merger to lead a conference in punting average for three straight seasons, his career was marked by a DWI arrest and being implicated a report that said he had steroid prescriptions. He was also suspended for the first month of the 2006 season for reportedly testing positive for ephedra.
1992 – Jason Hanson, kicker, 2nd round (56th overall), Detroit Lions
Hard to argue that the Lions didn't get the most out of this pick, as Hanson hung around Detroit for 21 seasons — playing more games with one team than any other player in NFL history — making two Pro Bowls and becoming the all-time franchise scoring leader. He holds just about every Lions kicking record, though is tied with Garo Yepremian for the team record of most field goals made in a single game with six.
1988 – Chip Lohmiller, kicker, 2nd round (55th overall), Washington Redskins
Six years after having the only kicker to win MVP in NFL history, Washington spent their second-round pick on the kicker out of Minnesota. Lohmiller spent seven seasons with the Redskins and was the kicker on their last Super Bowl team. In that 1991 season, Lohmiller made four field goals from further than 45 yards in a comeback victory over the Cowboys. He led the NFL in field goals made that year, as well as the following season.
1986 – John Lee, kicker, 2nd round (32nd overall), St. Louis Cardinals
The first Korean-born player in NFL history and the first Asian ever selected in the draft, John Lee (real name: Min Jong Lee) came into the league with high expectations as he was an All-American at UCLA and perhaps one of the best college kickers ever. His tenure in the NFL was a brief and curious one; Lee lasted only one season in the league. He struggled in his rookie season, missing three of his first six field goal attempts as well as one of five extra point tries. Lee attributed the struggles to the Cardinals cutting his holder late in the preseason. He was signed by the Raiders in the preseason in 1988 but was cut before the regular season started after missing two of three attempts in preseason games.
1982 – Rohn Stark, punter, 2nd round (34th overall), Baltimore Colts
Stark was part of one of the penultimate draft class of the Baltimore Colts and stayed with the franchise for another 11 seasons after it moved to Indianapolis. Stark made four Pro Bowls in his career, led the NFL in punting average three times and was a member of the 1995 Steelers team that played in Super Bowl XXX.
1979 – Russell Erxleben, 1st round (11th overall), New Orleans Saints
That would be the presently incarcerated Russell Erxleben. The former kicker was sentenced to seven and a half years in prison in 2014 for his involvement in foreign trading scams. It's not even his first prison stint. Erxleben served about five years for conspiracy to commit securities fraud and money laundering. So it's been an interesting post-football life for the former Saints kicker. As for his NFL career, he only lasted six seasons, though did manage to get some chances to take on the role of kicker, making four field goals and seven extra points in his career.
1978 – Steve Little, punter, 1st round (15th overall), St. Louis Cardinals
Little spent his NFL career as both a kicker and a punter and didn't particularly excel in either during his three seasons with the Cardinals. He spent his rookie season handling punting duties and only averaged 38 yards per punt. His role expanded into kicking duties over the next two seasons but only made 48.1 percent of his field goal attempts. Hours after he was cut by the Cardinals in October 1980, Little was involved in a single-car accident that broke his neck and left him quadriplegic who was cared for in hospice by his little brother. Steve died in 1999 at the age of 43.
1978 – Johnny Evans, punter, 2nd round (39th overall), Cleveland Browns
It was a banner year for punters being drafted high with two (2!) going in the first two rounds of the 1978 draft. Unfortunately, neither of the punters drafted went on to have accomplished NFL careers. Evans lasted only three seasons in the NFL and three more in the CFL.
1977 – Tom Skladany, punter, 2nd round (46th overall), Cleveland Browns
Oops, the Browns drafted a punter in the second round two years in a row. Classic Browns. Skladany never actually played a game for Cleveland as he sat out what would have been his rookie season in a contract dispute before being dealt to Detroit. He made one Pro Bowl in his five years with the Lions before another holdout got him dealt to Philadelphia, where he only lasted five games.
1976 – Chris Bahr, kicker, 2nd round (51st overall), Cincinnati Bengals
Lots of kickers have a background in soccer, though Bahr still had success with the sport even while he was a football kicker. He was the first round pick of the Philadelphia Atoms of the North American Soccer League a year before the Cincinnati Bengals took him in the second round of the 1976 NFL Draft. He was also a member of the 1976 U.S. men's national soccer team. Though drafted by the Bengals, Bahr would spend most of his NFL career with the Raiders, being a part of two Super Bowl champion teams and becoming the franchise scoring leader, until he was surpassed by Sebastian Janikowski.
1973 – Ray Guy, punter, 1st round (23rd overall), Oakland Raiders
If you're going to draft a punter in the first round, it might as well be the only one in the Hall of Fame.
1972 – Chester Marcol, kicker, 2nd round (34th overall), Green Bay Packers
Save for a five-game stint with the Oilers during his final year in the NFL, Marcol played his entire nine-year career in Green Bay, making two Pro Bowls and making one of the most insane plays in Packers history, catching his own blocked field goal attempt then running it in for a game-winning touchdown in a 12-6 overtime victory over the Chicago Bears in 1980.
1968 – Jerry DePoyster, kicker/punter, 2nd round (37th overall), Detroit Lions
DePoyster split punting and kicking duties for the Lions in his rookie season. As a punter, he was fine. As a kicker, he didn't fare quite so well, making just three of 15 field goal attempts, missing all nine from beyond 40 yards. That might explain why he wasn't called upon to kick again in his last two years in the NFL spent in Oakland.
1966 – Charlie Gogolak, kicker, 1st round (6th overall), Washington Redskins
Before the Gramaticas, there were the Gogolaks. Indeed, Charlie and his brother Pete were the first family of NFL kickers. The brothers once combined to kick 14 extra points in a single game, a 72-41 'Skins victory over the Giants in 1966. Charlie remains the highest selected kicker in NFL history and the only one to get picked in the top 10 of the draft. Pete wasn't drafted until the 12th round of the 1964 AFL Draft, though for the sake of his brotherly bragging rights, his NFL career did last nearly twice as long as Charlie's.