Sportswear brand Perry Ellis has relaunched its Perry Ellis America line, with their 'New America' campaign that puts youth, diversity, gender, and iconic 90's-indebted flair, at the forefront. Featuring a reimagining of Perry Ellis' most notable pieces — thanks to a few contemporary updates — the line delves deep into the archives, bringing back some of their most recognizable pieces.
In a press statement, Creative Director Michael Maccari said, "The new Perry Ellis America establishes a true casual collection, and helps to reinforce our history and our foundation in the same way that it did for Perry with the first launch."
With its bold color palettes, looser-fit, and use of fleece and mixed fabrics, The New America line is versatile and has a time-capsule quality that we can get behind — pulling off the 90's nostalgia without looking outdated. (Lots of Perry Ellis America throwaway can be found at thrift stores across America, trust us, they don't nearly look this good.)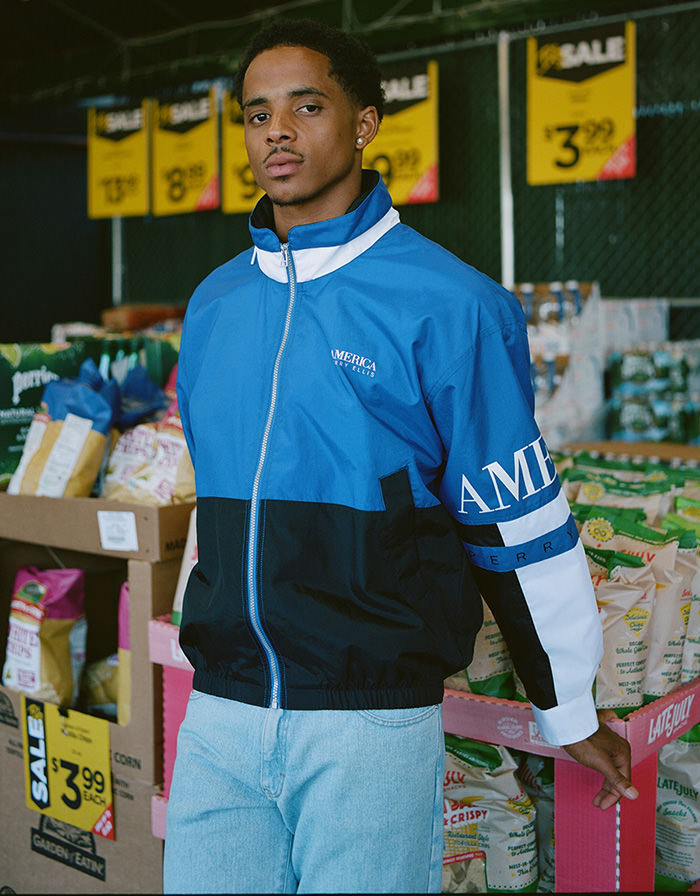 The unisex collection is aiming to capture the look of the America of today, featuring athlete and model — and the son of Snoop Dogg himself — Cordell Broadus (above), as well as a multicultural cast of influencers that ooze youth and style. We gotta say, it's the dopest thing Perry Ellis has done in a long while. The original Perry Ellis America launched in 1984 in collaboration with Levi's.
The full collection will consist of five capsules total, and the first has already dropped featuring a 12-piece mix of activewear, denim, jackets, and pullovers.
You can shop at the Perry Ellis site, or select retailers like HBX, Bloomingdale's, and Ron Robinson at Fred Segal.