Sneaker brands, pull up a chair. We need to discuss something that's been needling at us. It's high time for you to drop all of your big releases in full-size runs. In fact, it's past time.
Look we get it, it's probably not sustainable to drop every single sneaker release in every single size. But the big releases? Your Virgil Abloh Off-White collaborations, the Supreme team-ups, the latest Yeezys, the dopest Air Max and SB Dunk colorways, and the next Cactus Jack launch? Everyone across the gender spectrum wants these.
Hopefully, this doesn't feel like a radical take. Clearly it's being discussed at the big brands and some lines are beginning to toy with the idea. So just take the leap already — commit to more inclusive sizing and celebrate the universality of sneaker culture.
Do it both because it's the right thing to do and because there's plenty of demand to support the move. Do it because streetwear — the clothing style that sneakers generally pair best with — is moving rapidly away from any sort of gender-exclusive aesthetic. And while a certain type of exclusivity certainly drives hype in the shoe world, gender exclusivity isn't what sneakerheads want.
We break down the case for inclusive sizing below:
Women are driving the sneaker industry growth
Women aren't only buying sneakers, they're driving the growth of the market. According to data collected by ForwardPMX in 2019, women's sneaker sales growth greatly outpaced men's in recent years, spiking as much as five times faster between 2016 and 2017 alone. The study also found that female sneaker buyers tended to be more discerning about sneakers, and, on average, have stronger opinions regarding different styles when compared to their same-aged male counterparts.
An uptick in female consumers led to Jordan Brand hitting its first billion-dollar quarter in December of 2020, according to Input Magazine. This boom was driven by hyped-up designs by creators like Aleali May, Yoon Ahn, Melody Ehsani, and Jazerai Allen-Lord, to name a few. Meanwhile, Who What Wear reports that aftermarket sites like GOAT have seen their female user bases grow twice as fast as their male user bases.
While a new spate of sneaker lines created by female celebrities like Rihanna, Solange, Venus Williams, and Beyonce has certainly been part of this boom, the numbers show that much of this new user base at the aftermarket sites are buying sneakers made exclusively in men's sizes more often than designs exclusive to women. In short, people who wear women's sizes are shopping for Yeezys, Air Maxes of all numbers, Jordans, Off-White collaborations, etc. — all the same attention-grabbing drops that people who wear men's sizes shop for.
Aftermarket site GOAT recently launched a feature that allows you to shop according to your personal shoe size in men's and women's styles. Shoe brands can take it a step further by universalizing their sizes altogether.
"Aren't women's and men's shoes are made differently?"
Women's shoes differ from men's in two major ways. Firstly, the shape — women's shoes are typically wider in the forefoot and narrower at the heel, and often have different midsole materials or heel support differences, which can affect the fit and weight of the sneaker. Many brands also take into account what is known as the Q-Angle, which is the angle of the quad muscle relative to the kneecap.
But as we all know, no sizing is ever "fits all." Every major sneaker website has a review section in which customers advise people to size up or down and to consider how narrow or wide a particular sneaker silhouette is. Many have a chart that looks something like what Adidas has on their website,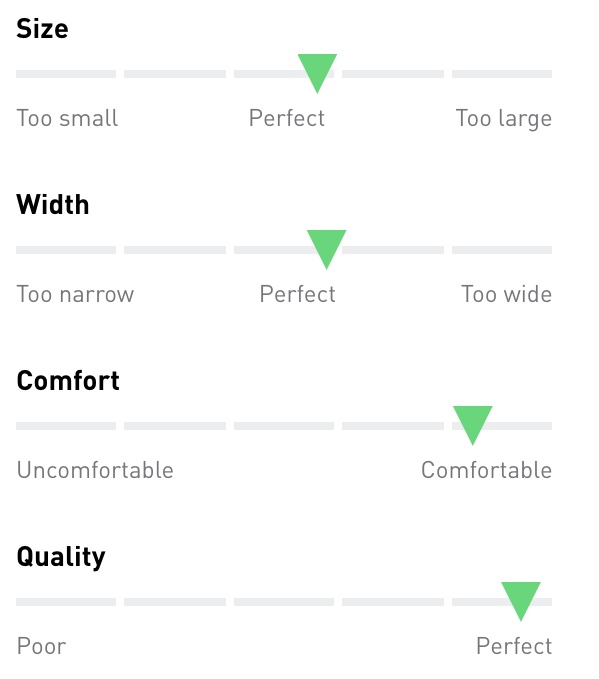 Clearly, the big shoe brands are aware that not every sneaker fits the same, it's why the best way to buy a pair of shoes will always be to try them on to see how they fit. The solution here is to make the shoes in multiple profiles — especially in the thick part of the sizing bell curve, where men's and women's sizes are most likely to overlap.
The argument to make more sizes seems to make good financial sense. Prior to the pandemic, Nike revenue was up 11 percent in the first half of fiscal 2020. That same year, the brand produced the Grateful Dead Dunks, the Off-White Jordan Vs, Travis Scott's Cactus Jack SB Dunk Lows, the Dior Air Jordan 1s, and the aforementioned Off-White Jordan IV Sails only in men's sizes. All of those shoes now sell for above $1000 on aftermarket sites like GOAT and StockX. You know, the sites with a rapidly growing female user bases.
Things are changing for the better, slowly but surely
Thankfully we aren't the only people saying this. We're simply adding our voice to the chorus. Shouts to Tora Northman writing for Hypebae, or Bianca Valle writing for Elite Daily, or Anna Bediones writing for Complex, or Noah Thomas writing for Highsnobiety — the latter of whom wrote a style hack for how men with small feet can open up a whole world of sneaker variety by copping women's sneakers. Clearly, the media is in support of a more egalitarian sneaker world.
Brands for the most part are responding to this criticism, increasing their focus on women's shoes, but they'd be wise to listen to what people are actually saying. Northman writes, "we don't need more shoes that are pink, glittery, and labeled as "women's exclusive" – we really just want what the dudes are getting." Bediones writes "Why should women's color ranges be limited to pinks, purples, and pastels? Female sneakerheads want the same colorways and makeups that every sneakerhead wants," and Valle adds, "In today's fashion sneaker culture, there is no guarantee you're going to find your size. In other words, sneaker culture is not going out of its way to include us. We have to make it make room,"
Creatives concur with this assesment. Titi Finlay, artist, social media manager at Los Angeles sportswear retailer LACED and an Air Max 90 designer wrote to her 10k followers on her Instagram, "We don't need women's exclusives. We need inclusive sizing… I still don't understand why sneaker brands bother with women's exclusives that are sub-par versions of their male counterparts. Just give us inclusive sizing on all regular sneakers jeez."
Amen. Anything less is unacceptable. With more inclusive sizes, we all win, and sneaker culture will feel truly unified.