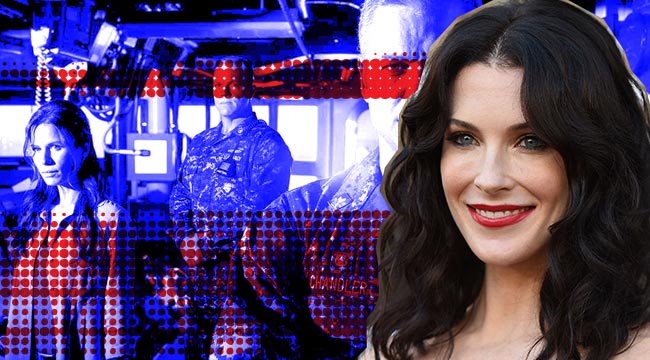 Bridget Regan is an actress perhaps best known for portraying Kahlan Amnell on Legend of the Seeker, Rose on Jane the Virgin, and Dottie Underwood on Agent Carter. You may have also seen her on shows like The Good Wife and Sons of Anarchy, and films like John Wick and The Leisure Class. Currently she stars on TNT's The Last Ship, which returns for its third season this Sunday, June 12.
Bridget was nice enough to take a few minutes out of her busy schedule recently to answer a few questions from us.
1. You walk into a bar. What do you order from the bartender?
A glass of champagne.
2. Who's your favorite person to follow on Twitter and/or Instagram?
Twitter — Lin Manuel Miranda
Instagram — Bodega cats of Instagram
3. What's currently waiting for you on your DVR?
Better Call Saul, New Girl, Jane the Virgin, Outlander, People v. O.J. Simpson, Girlfriend Experience.
4. It's your last meal — what are you going out with?
The hamachi, Uni linguini, lobster roll and fried chicken sandwich from Son of Gun in Los Angeles.
5. What websites do you visit on a regular basis?
Amazon (for everything), the Real Real, Pinterest, Rise Nation to book class.
6. What's the most frequently played song on your mobile device?
Everything Prince.
7. If you could go back and give your 18-year-old self one piece of advice, what would it be?
Relax!
8. What's the last thing you Googled?
Nicolas Cage favorite food. I'm a girl who does her research (see last question). Apparently he doesn't eat pork. Because he doesn't eat animals that don't mate in a dignified manner. Just when you think the man couldn't get more fascinating… He does.
9. Dogs or cats?
I have a cat. But I love dogs. So. Both.
10. Best concert of your life was…?
Bruce Springsteen.
11. What book are you most likely to give as a gift?
The War of Art by Steven Pressfield. I learned this from Andrea Navedo and the cast of Jane the Virgin. They give a signed copy of this book to every guest on the show. They are such an incredible bunch of wonderful people and actors.
12. What's the nicest thing anyone has ever done for you?
I have to say my parents for raising me. They're so incredibly generous and patient and just total sweethearts.
13. South Park or Family Guy?
Simpsons.
14. You have an entire day to do whatever you want. What would you do?
Happy brunch with my hubs and daughter and some friends or family, hike and chat with one of my besties, swim somewhere with the kiddo, eat a fancy dinner with friends, watch an amazing play / musical and then dance all night with friends. There's enough time in a day for that, right?
15. What movie can you not resist watching if it's on?
Jaws, Hannah and her Sisters, Annie Hall, West Side Story, Annie, A Chorus Line, League of Their Own, Working Girl, Troop Beverly Hills, Inside Out, Birdman.
16. The sports team or teams you're most passionate about?
"Passionate" is a stretch, but I will say the All Blacks. Because I like a happy husband.
17. Where did you eat the best meal of your life?
I don't remember the name of the restaurant! Can you believe that? It was in Sienna, and we walked by a crowded place filled with obviously locals and just told our waiter to bring whatever is best. And it was the best.
18. The last movie you saw in a theater?
Deadpool.
19. Who was your first celebrity crush?
Jonathan Brandis. Rest in peace.
20. What would you cook if Nic Cage was coming to your house for dinner?
Not pork! I would ask my husband to cook (because he's way better than me) a nice fresh vegetable pasta dish because it feels like Nic would like that.
PREVIOUSLY: Rooster McConaughey