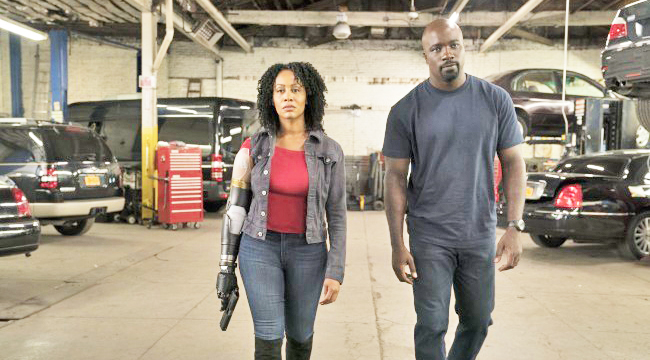 In case you need more of an excuse to stay indoors and avoid the squelching summer heat, Netflix has got you covered with some exciting new additions to its lineup this week. There's everyone's favorite bullet-proof street hero Luke Cage coming back for season two. There's a new film starring Chloe Grace Moretz about a young woman with a mysterious illness. And, of course, there are a ton of new films just waiting to be added to your weekend plans. It can be tough to keep up with what needs to be binged at the moment. That's why we're bringing you a round-up of what's new to Netflix and what's departing this week of June 22nd.
Marvel's Luke Cage, Season 2 (all episodes streaming June 22nd)
One of the more interesting street heroes in Marvel's Netflix TV deal gets his second season. After a couple of disappointing entries with Iron Fist and The Defenders, Luke Cage takes it back to his native Harlem where the bulletproof hero must deal with the notoriety he's earned after saving his city (twice). Some old foes return (Alfre Woodard), but the new big bad is a mand called Bushmaster (Mustafa Shakir) who seems intent on taking out the Queen of Harlem.
Brain on Fire (film streaming June 22nd)
This drama, based on a true story, stars Chloe Grace Moretz as a young woman stricken with a mysterious illness. If you've read the book, you know Moretz is in for a bit of hell in this one. Susannah Cahalan, an up-and-coming journalist at the New York Post had it all before she suddenly became ill. She was diagnosed with everything from bipolar disorder to schizophrenia after she started experiencing seizures, hearing voices, and entering catatonic states. Watching her fall deeper down the medical rabbit hole is tough, but the film is an interesting biography of a woman with one hell of a story to tell.
Here's a full list of what's been added in the last week:
Avail. 6/16/18
Grey's Anatomy: Season 14
In Bruges
Avail. 6/17/18
Club de Cuervos presenta: La balada de Hugo Sánchez– NETFLIX ORIGINAL
Marvel's Agents of S.H.I.E.L.D.: Season 5
Avail. 6/18/18
Encerrados
Avail. 6/19/18
Hannah Gadsby: Nanette – NETFLIX ORIGINAL
Avail. 6/22/18
Brain on Fire – NETFLIX FILM
Cooking on High – NETFLIX ORIGINAL
Derren Brown: Miracle – NETFLIX ORIGINAL
Heavy Rescue: 401: Season 2 – NETFLIX ORIGINAL
Marvel's Luke Cage: Season 2 – NETFLIX ORIGINAL
Us and Them – NETFLIX FILM
And here's what's leaving next week, so it's your last chance:
June 25:
Marvel Studios' Captain America: Civil War
June 26:
Alpha and Omega
June 29:
Bad Grandpa
June 30:
On Golden Pond