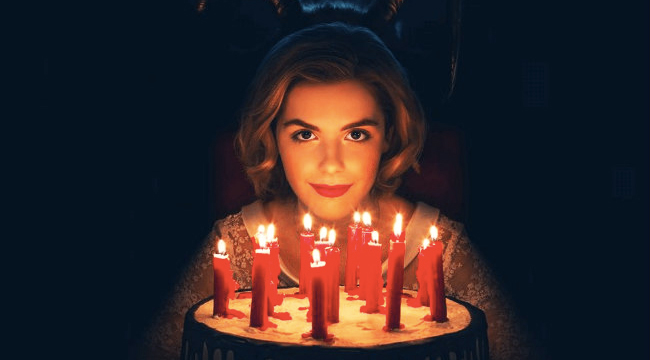 Good if bizarre news for our bizarre but not good times: Remember the Satanists who were suing Warner Bros. because their new show, Chilling Adventures of Sabrina, had used their trademarked deity? Well, the two parties have reached a truce. Deadline is reporting that the lawsuit between WB and the Satanic Temple has been "amicably settled," having begun only in early November.
The Temple was seeking $50 million because the show — which began streaming on Netflix in late October and which stars Mad Men alum Kiernan Shipka as a darker twist on the old comic and TV show Sabrina the Teenage Witch — used a variation on a statue of the historical deity named Baphomet in Sabrina's school, the Academy of Unseen Arts. They charged that they illegally made modifications to a design copyrighted, and therefore owned, by them, the plaintiffs.
Details of the settlement have not been revealed, though Lucien Greaves, co-founder and spokesperson of the Temple, released a statement, saying, "The unique elements of the Satanic Temple's Baphomet with Children statue have been acknowledged in the credits of episodes which have already been filmed."

Greaves celebrated the settlement, sort of, on Twitter, writing, "So ends one of the most overpublicized of copyright claims. Press can now stop pretending this was unique & momentous, or even interesting. So, too, hopefully ends the parade of stupidity from online amateur legal experts."
The Satanic Temple was founded in 2012. It is not to be confused with the Church of Satan, which was established by Anton LaVey in the 1960s, though the two share a lot of similarities. They are non-theistic, and, according to their website, "encourage benevolence and empathy among all people." They have been accused of being an elaborate prank, though in an interview with Vice from 2013, Greaves, when asked if they were Satanic or satirical, replied, "[W]hy can't it be both?"
Meanwhile, Sabrina itself will return mid-December for a holiday "solstice" episode, with this strange but fairly apt episode now a kind of badge of honor.
(Via Deadline)