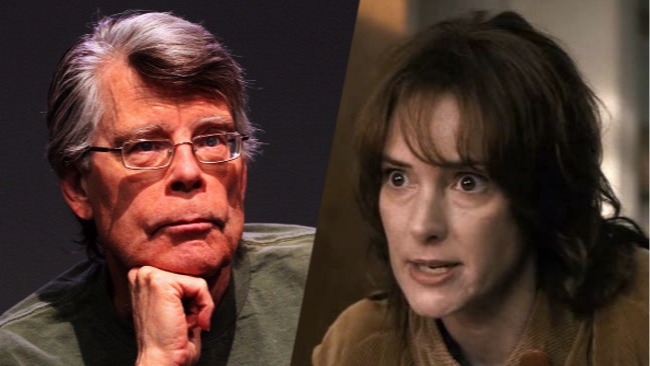 Of all the pre-San Diego Comic-Con surprises Netflix has unveiled this summer, Stranger Things is one of the sweetest. The eight-episode '80s homage blatantly pays its dues to Steven Spielberg and Stephen King, and as Uproxx's Steven Hyden writes, it presses this "nostalgia button" frequently and without shame. As it should, because Stranger Things is so good at pushing these buttons, in just the right way, that one of its heroes took notice.
Co-creators Matt and Ross Duffer name-dropped Spielberg and King often in press materials for the show. Spielberg hasn't publicly acknowledged the effort, but as HitFix points out, King took to Twitter on Sunday to express his appreciation. That, and his newfound love for the series and one of its leads, fellow '80s icon Winona Ryder.
King, author of classic horror novels-turned-films like It and Firestarter, compared watching Stranger Things to reading his "Greatest Hits," something he stressed was "good." Eleven hours later, he lauded the Duffers' show as "pure fun" and praised Ryder's performance throughout.
If the Duffer brothers know about King's tweeted acclaim, then their geeky hearts have probably burst with joy. Yet the greatest compliment they could take from King's two tweets isn't in the 280 characters or less he posted, but in the eleven hours that transpired between the two. Why? Because this suggests King binge-watched all of Stranger Things on Sunday.
(Via HitFix)