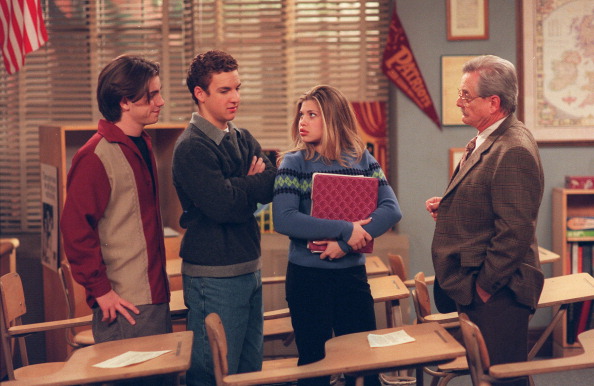 When you were a child of the '90s, teachers and parents may have presided over your life Monday through Friday, but once that clock struck 8 p.m., it was goodbye oppression and hello TGIF sitcom hilarity. No more pencils. No more books. And no more silly limericks, either. Friday nights from 8 to 10 was your time. (And, apparently, it can be again on Hulu with a freshly announced deal to stream some of these shows.)
As any self-respecting child of the '80s or '90s will tell you, the golden age of TGIF was from 1989 to 2000. Sorry, Hope & Faith. No offense, Last Man Standing. You may have inhabited the time slot, but you'll never truly be TGIF. For 12 years, we were blessed with a spate of sitcoms like Full House, Family Matters, and Perfect Strangers that we could rely on, and a bevy of characters we would grow to love. Eventually, that sweet intoxicating elixir of television consistency came to an end.
Sure, we all have questions. Whatever happened to the predictability of TGIF? Will there ever be a second time around? I don't know. All we can really hope for as we wander down this road we call life is to read a bit of good news on the newspaper page.
Wanna have some fun? I'll show you how it's done with this comprehensive ranking of TGIF sitcoms from least impactful to most!
The TGIF One And Dones
Teen Angel, Going Places, Billy, On Our Own, Getting By, Brother's Keeper, Camp Wilder, Where I Live, Muppets Tonight, Hi, Honey. I'm Home!, Aliens in the Family, You Wish, Odd Man Out
For every Full House and Family Matters, there are a half dozen failed sitcoms that melted under the bright, blistering lights of TGIF. One such example is the short-lived 1997 series Teen Angel, which was created by Simpsons writers Al Jean and Mike Reiss. Per IMDb:
"After eating a 6-month-old hamburger, Marty DePolo dies, and God's Cousin Rod appoints him as his best friend's guardian angel."
It's rare that my first thought after watching a pilot is, "Was this series part of an elaborate game of wealthy people truth or dare?" It was not. This was a sitcom that real live humans at ABC decided to broadcast. In exchange for making this decision, these people were rewarded with actual money they could then use to buy goods and services.
Moderately Successful Outside Of TGIF
Making the Band, Two of a Kind, Clueless, Mr. Belvedere, The Hughleys, Sister, Sister
While not long for the TGIF world, these six sitcoms enjoyed varying levels of success outside of ABC's Friday night staple.
While certainly not a Polaroid of perfection, the television adaptation of Clueless was at the very least a Snapchat of sitcom adequacy, but the most egregious TGIF-related scheduling catastrophe was the cancellation of Sister, Sister. Tia and Tamera's twin chicanery would have made the perfect companion for Cory and Shawn's madcap shenanigans, but the Mowry sisters shook up the TGIF family tree by eventually taking their sibling synchronicity to The WB.
If we're talking about pure quality, many of the above sitcoms would have vaulted into the top 10. But these rankings are based on the hallowed Friday night 8 to 10 time slot.
The TGIF We All Know And Love
10. Baby Talk
I recall being very excited about the premiere of the '90s sitcom Baby Talk. Putting aside the fact that the previous sentence may be the most depressing combination of words your eyes have ever seen, the short-lived series initially had a lot going for it.
A sitcom loosely based on Look Who's Talking? The mellifluous voice of Tony Danza? An entire series about a baby?! Interest, consider yourself piqued!
The sitcom, created by future Clueless scribe Amy Heckerling, never gained consistency due to a revolving door of cast changes that included replacing George Clooney with Scott Baio at the beginning of Season 2.
Unfortunately, Clooney's career never recovered.
9. Dinosaurs
While I tip my hat to the gambit, I found myself adopting a "Not the mama" ideology towards this surprisingly edgy sitcom about a family of anthropomorphic dinosaurs. Dinosaurs never quite captured that ever-elusive water fountain buzz TGIF shows needed to survive and thrive, but it did sporadically find its way on to the Friday night schedule from 1991 to 1993 before finally succumbing to extinction in 1994.
8. Just the Ten of Us
Appearing during the first two seasons of TGIF, this Growing Pains spin-off about a gym teacher with eight kids was the utility infielder of ABC. You're not necessarily performing backflips or planning your day around an all new episode of Just the Ten of Us, but if it appeared on your television and your remote was just out of reach you'd be like, "Sure. Why not? I could do a lot worse."
7. Sabrina, the Teenage Witch
You know who's underrated? Melissa Joan Hart, that's who. She's been the eponymous star of three separate, successful sitcoms while basically carrying each series. Who exactly was her best co-star? Ferguson Darling? A talking cat? A pet alligator named Elvis? Joey Lawrence? I'm not saying MJH deserves a Nobel Peace Prize or anything, but let's just throw her on the ballot and see what happens.
Sabrina's bewitching presence was a TGIF mainstay, appearing in the lineup from 1996 to 2000. After four seasons on ABC, Sabrina, the Teenage Witch moved to The WB, accumulating an astonishing 163 episodes along the way.
6. Perfect Strangers
What?! You've never seen Perfect Strangers?! Don't be ridiculous!
From 1988 to 1992, Perfect Strangers (sometimes literally) danced around the TGIF schedule. The adventures of Cousin Larry and his immigrant shepherd cousin Balki — who often served as de facto hosts of TGIF — always performed moderately well for ABC, producing 150 episodes over eight seasons. Their lasting legacy, however, is the Perfect Strangers theme song, which masterfully encapsulates the late '80s sitcom experience.
5. Hangin' with Mr. Cooper
Everybody has their personal favorite TGIF lineup, which is a great first date question, by the way, unless you're dating a monster who doesn't watch television. Mine was the exalted 1994-95 season that featured Family Matters, Boy Meets World, Step by Step, and Hangin' with Mr. Cooper, which featured stand-up comic Mark Curry as a teacher/former basketball player.
Belinda Carlisle was right. Heaven really is a place on earth.
Per Hangin' with Mr. Cooper's Wikipedia:
Mark is a "somewhat suave" single guy with a zany personality; he always gets a few laughs from his friends.
Whoever wrote this should be banned from the internet. My edits:
"Mark is an extremely suave single guy with charisma to spare. He always gets a hardy laugh from his friends because he is the life of the party. I wish he was my dad."
4. Step by Step
TGIF linchpin Step by Step had everything you'd want in a family sitcom… big personalities, a blended family rife with conflict, and a guy living in a van down by the river out in the driveway. Who is also a secret kickboxing master.
Presumably emanating from a five-minute meeting that started and ended with, "So, wanna just redo The Brady Bunch?" Step by Step didn't reinvent the wheel, but it did produce 160 episodes, and it kept Patrick Duffy paid.
3. Family Matters
Ah, Family Matters. The Rickey Henderson of TGIF. Steve Urkel and company batted lead off on Friday nights from 1991 to 1997. One thing I learned upon revisiting Family Matters is that Reginald VelJohnson acted circles around everyone else on the series. I legitimately googled "Reginald VelJohnson Emmy," but VelJohnson's theatrical prowess was no match for the titans of NBC's more polished brand of "Must-See TV."
When the series wasn't attempting to squeeze every last dollar out of "Did I do that?" or The Urkel, it produced a number of genuinely funny moments, mostly by an often exasperated RVJ.
Also, Waldo getting bonked in the head with a basketball during the opening credits will always make me smile.
2. Full House
Full House is the undisputed darling of internet nostalgia. Everywhere you look (everywhere) there's an article extolling the merits of Full House. Listen, I'm not a goblin. I like Full House. I cried when Jesse sang "Forever" to Rebecca. I have a fully functional, beating heart, but have mercy, people! Was Full House really that much better than the Mendoza Line of sitcoms known as Coach, or did it ride the dazzling allure of John Stamos, the inherent adorableness of the Olsen twins, and a catchy theme song to an eight-season run that produced 192 episodes?
1. Boy Meets World
Airing from 1993 to 2000, Boy Meets World was the heart and soul of the TGIF lineup. Many of us grew up with Cory, Shawn, Topanga, and, to a lesser extent, Eric. We may not have been outsmarting Harley Keiner or inexplicably assisting pro wrestler Vader in earning a world title shot, but we all had our own relatable adolescent adventures, nonetheless.
Boy Meets World was the TGIF outlier. Unlike its Friday night brethren, BMW has aged extremely well and can be unironically enjoyed during modern viewing. While most TGIF sitcoms existed solely in the present, Boy Meets World squinted along with its audience setting its sights towards an undeveloped future.
The reason such an impassioned sense of nostalgia is imbued in the Boy Meets World fanbase is because Cory Matthews wasn't the only one who became acquainted with an undiscovered world during the series. We all did.
Except Mr. Feeny, of course. You can't meet something you already conquered.
Thanks for reading. If you disagree, feel free to re-rank in the comments. Now, please stay tuned for 20/20.
This is an updated version of an article that originally ran in June of 2015.