From 2003-2008, HBO's The Wire (which can be streamed on HBO Now) brought an unflinching, and unapologetic, look at multiple aspects of life in Baltimore, Maryland. A show where everyone from a teenager on the corner to a corrupt state senator could be considered a main character, its sense of authenticity was due to co-creators David Simon and Ed Burns, who worked as a crime reporter for the Baltimore Sun and as a Baltimore police detective, respectively, before teaming up to make HBO's The Corner (another heartbreaking and raw look at West Baltimore's streets) and then The Wire. While Simon has stated most characters were composites of cops, dealers and cases he and Burns had encountered over the years, we look at five real-life people and events that specifically helped shape the stories told on one of the most widely-praised and affecting TV shows of all time.
Avon Barksdale 
The head of the criminal empire in season one (and less so in seasons two and three), Avon Barksdale was an amalgamation of a number of people Simon would write about, among them Nathan Barksdale, a West Baltimore drug dealer from the projects with a background in boxing. Barkdale's path first crossed with Simon's during his time at the Baltimore Sun in 1985 while he was writing a series called "Easy Money: Anatomy of a Drug Empire," which focused on "Little" Melvin Williams, who was involved in a Baltimore heroin trafficking ring in the 1970s and '80s. Williams is also said to have influenced the character of Avon, and himself appeared in the show's third and fourth seasons as a church Deacon.
The real Barksdale plays up his influence on the show — there's even a docudrama called The Avon Barksdale Story: Legends of The Unwired that further embellishes his exploits — but Simon has always denied it, stating that no character from The Wire is based on any one person. Although, he refers to the The Barksdale family that "was famous in their day in West Baltimore back in the '80s for their endeavors in the projects," on a season one DVD commentary track and says his use of character's names is a "backhanded homage" to West Baltimore's day-to-day realities.
Martin O'Malley's Mayoral election helped shape Tommy Carcetti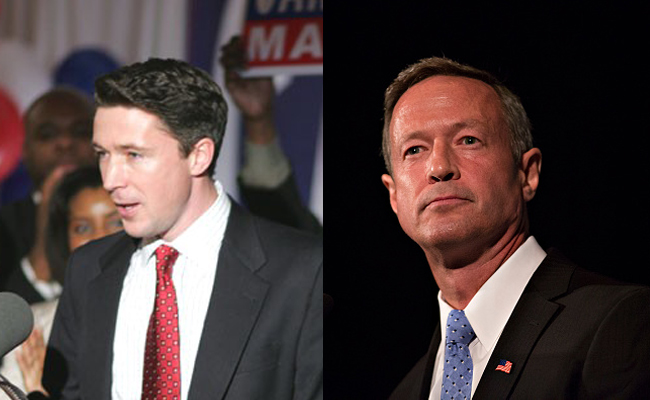 In Simon's reporting days, Martin O'Malley was an ambitious city councilman of Irish descent who, in 1999, won the mayoral race as the lone white candidate in a city with a predominantly black population. While Nathan Barksdale tended to play up his influence to his (allegedly) fictional counterpart, O'Malley would deride anyone who would make the comparison, as he seemed to resent the show for the way it portrayed his city, criticizing its show runner as someone who "came to Baltimore and saw nothing but hopelessness, and he made a lot of money portraying it." Later, Simon would reveal that during a private phone call, O'Malley had threatened the show's ability to continue to film in Baltimore if it wasn't portrayed in a better light.
When running for governor in 2006, he widely touted in his campaign that he'd made good on his promise to reduce crime, which he claimed had decreased 37 percent while he was mayor. His opponent during that election, Douglas Duncan, would contest his figures and accuse his administration of deliberately manipulating them for political gain. This allegation was never proven, though it was pointed out by the Washington Post that it would be difficult to disprove as well. This situation will sound familiar as Carcetti, while preparing a run for governor near the end of the fifth season, would eventually ask that the cops alter the crime statistics in his favor.
O'Malley, who won that 2006 election and served as Maryland governor until this year, is presently running for president.
Hamsterdam wasn't real, but it was publicly discussed for many years
Simon has never minced words about the War on Drugs, calling it a "venal war on our underclass." By the show's third season, he delivered one of his most embellished storylines by having Deputy Chief "Bunny" Colvin create a free-drug zone. Colvin likened it to the brown paper bags used to hide the contents of an alcoholic beverage, a kind of compromise with the dealers of the city. While seemingly idyllic at first as neighborhoods previously wrought with crime began to normalize, those who dwelled within the free drug zone (dubbed "Hamsterdam,") were driven further into into addiction, prostitution, and general desperation.
It's widely assumed that the inspiration for the storyline was former Mayor Kurt Schmoke, who served from 1987 to 1999, as he was one of the earliest and most vocal critics of the War on Drugs. Schmoke called for the legalization of drugs as far back as 1988, when Nancy Reagan's widely popular "Just Say No" campaign was in full swing. His efforts did cause then-president Bill Clinton to revise his national drug policy to include 40 percent of the budget for treatment and addiction. Schmoke himself would appear as a health commissioner in two episodes in The Wire's third season before eventually being regarded as ahead of his time for his approach to the nation's drug epidemic.
A Pulitzer Prize-winning and completely fabricated story
As the final season brought the inner-workings of the Baltimore Sun into the fold, Simon got more personal and vindictive with his "back-handed homages" to the real-life Baltimore. The season-long story involves McNulty manipulating crime scenes to "create" evidence of a serial killer to fund an investigation, thanks in part to the media-driven firestorm the Sun helped to indulge. As the cops then divert that funding into a very real drug sting on the Marlo Stanfield gang, the character of Scott Templeton, a Sun reporter, believes he's made contact with McNulty's fabricated killer, and delves into unsourced, sensationalized journalism that eventually wins him a Pulitzer Prize.
Simon has regularly spoken frankly about three reporters that he worked with, two of whom would regularly add or exaggerate minor details into stories so insignificant that he called it "almost divorced of ambition." The third, according to Simon, would "make up stories wholesale," and even claims to be regularly protected by top editor William Marimow. He event went so far as to create a corrupt cop that shared his last name to drive his point home. The real Marimow went on record with the Washington Post, saying "I deeply resent Simon's dishonest efforts to revise history," before adding that the only pleasant conversation he ever had with him was when he revealed he'd nominated Simon for the Pulitzer Prize. Simon was also criticized for letting his anger at his former employer "get the better of him" in the show's final season.
Five different men inspired everyone's favorite character
Omar Little, everyone's favorite whistling, inner-city Robin Hood, was based on five different stick-up men who specialized in robbing drug dealers in Baltimore from the 1980s all through the early 2000s. Simon has stated he drew inspiration from the likes Shorty Boyd, Ferdinand Harvin, Billy Outlaw, Anthony Hollie, and Donnie Andrews. Of those five, it was Andrews influence that was the most prominent, as his high-minded moral code was an attribute that Omar would embody throughout his run on the show.
Andrews would join the production of The Wire as a member of the writing staff, as his own insight, and his knowledge of Omar's other notable influences proved an invaluable resource. Near the end of season one when Omar is sent in wearing a wire to extract any information on Barksdale from his right-hand man Stringer Bell is lifted directly from his own experience with then-detective Ed Burns. He, along with so many others, would become a member of the cast as well. He was with Omar during an ambush by the Stanfield gang in season five, which ended when Omar escaped by jumping out of a window on the fifth story window. While this particular instance was always considered one of the shows major lapses in its realistic tone, Andrews himself insisted that when it happened to him, he was on the sixth floor.