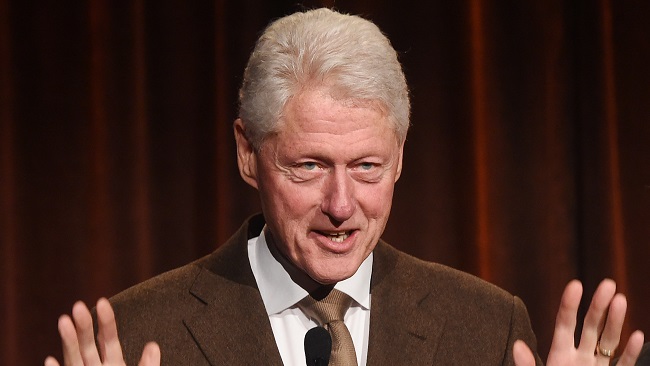 After attending Donald Trump's inauguration in January, former President Bill Clinton has largely stayed out of the limelight. Yes, both he and former Democratic presidential nominee Hillary Clinton have come up in Trump's whiny tweets, and his recent visit with a fresh-out-of-the-hospital George H.W. Bush garnered some attention, but Bill has otherwise kept mum. Now we know why, for according to the Hollywood Reporter, the former president has been busy co-writing his first novel with Zoo author James Patterson. Yes, the same Zoo that produced one of the most thrilling sloth heist-related scenes in television history.
Titled The President Is Missing, little is known about the thriller other than who its co-writers are and that the fictionalized plot involves the disappearance of a sitting U.S. president. What's more, the story somehow involves "a unique amalgam of intrigue, suspense and behind-the-scenes global drama from the highest corridors of power." Clinton and Patterson's respective publishers, Alfred A. Knopf and Hachette, will co-publish the book, which is scheduled for a June 2018 release.
"Working on a book about a sitting President — drawing on what I know about the job, life in the White House, and the way Washington works — has been a lot of fun," Clinton, a known reader of Patterson and similar genre authors, said in a statement. "Working with Jim has been terrific. I've been a fan of his for a very long time." Describing their work as "the highlight of my career," Patterson added, "It's a rare combination — readers will be drawn to the suspense, of course, but they'll also be given an inside look into what it's like to be President."
Like knowing where the sloth(s) is. The President of the United States is bound to know this, right?
(Via the Hollywood Reporter)