Scars leave an indelible mark that can often help to define the look of an actor. Some may hide those scars, while others wear them proudly as reminders of accidents or tragedies that made them the people they are. Every scar, however, tells a different story.
Here are the sad and fascinating backstories behind the scars we see on nine of our favorite actors.

Tommy Flanagan
Flanagan was was attacked with a knife twenty years ago outside a bar in Scotland while he was working as a DJ. He tried to fight back, and his attackers rewarded him with a "Glasgow Smile," which was popular with street gangs at the time. It was a wound designed to make the victim look like he was broadly smiling.

Michael K. Williams
Like Flanagan's scar, the scar on the face of The Wire and Boardwalk Empire actor resulted from a fight, this one on Williams' 25th birthday. A man approached him from behind, as he told NPR. "The dude wiped his hand across his mouth and … smacked me," he says. "What he did was he spit a razor. He was positioning the razor in his mouth to get it between his middle finger and ring finger. And then he swiped me down my face."

Harrison Ford
Ford owes the scar on his chin to a mundane car accident from when he was younger. While driving to his job working in retail, Ford crashed into a telephone pole while fumbling with his seat belt, slamming his face against the steering wheel.

Sean Bean
Speaking of Harrison Ford, he is responsible for the scar on Sean Bean's forehead. While filming Patriot Games, Ford accidentally hit Bean in the head with a boat hook while shooting an action sequence. Bean's scar has actually helped him land film and televisions roles afterwards.
Padma Lakshmi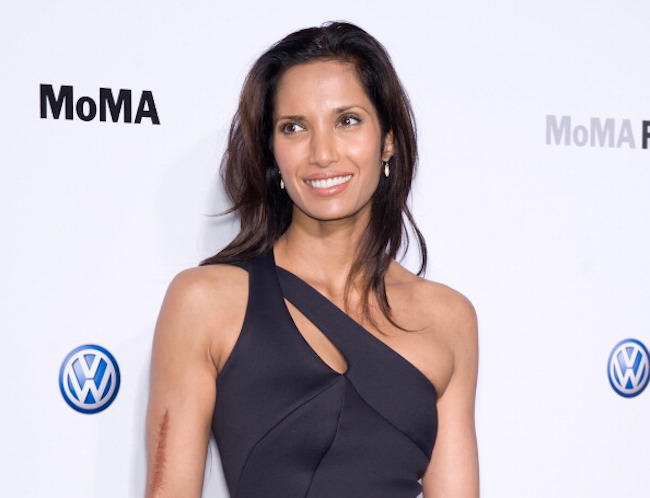 Lakshmi also owes the seven-inch scar on her arm to a car accident. When she was 14, Lakshmi was in her parent's car when it flew off a Malibu highway and 40 feet down an embankment. "An ambulance carried me to the hospital. My right arm had been shattered and my right hip had been fractured. After surgery, I regained the use of both of them but was left with a long scar on my arm. It was half an inch wide and seven inches long."

Tina Fey
When Fey was just five years old, she was playing in her yard when a stranger approached her and cut her face with a knife. Fey rarely talks about it, because she doesn't want to sound like she's exploiting the injury. It did not affect her much as a child. "Because I proceeded unaware of it. I was a very confident little kid. It's really almost like I'm kind of able to forget about it, until I was on-camera, and it became a thing of 'Oh, I guess we should use this side' or whatever. Everybody's got a better side."
Jonah Hill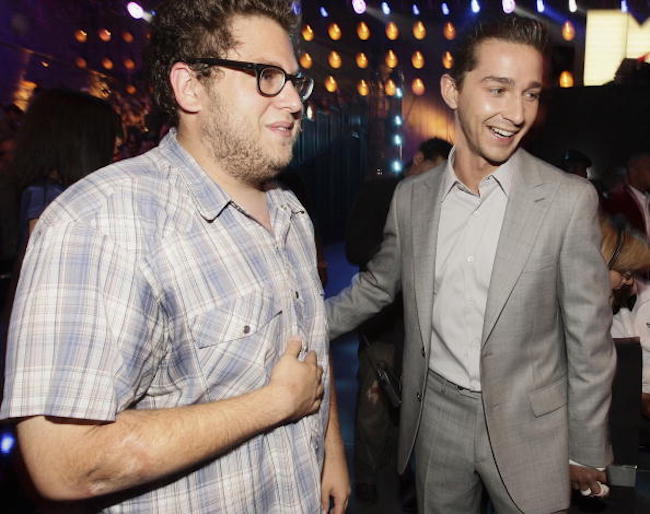 Hill has a big scar on his arm, which makes it look almost as though his arm had been cut off and reattached, which was nearly the case when a car accident when he was 15 nearly led to doctors amputating his arm. At the time, his mother was battling cancer. Hill, acting out, snuck out with a friend and went joy-riding in an SUV, according to Rolling Stone. "Hill stuck his elbow out the open window as they headed into the night, and his friend started turning the wheel back and forth, joking around. The car flipped over, skidded along the road and dragged Hill's arm with it. Hill woke up in the hospital, and he heard two doctors discussing whether or not to amputate his arm."

Chiwetel Ejiofor
The British actor tapped to be in the Marvel film Dr. Strange has a series of scars on his forehead owing to a tragic car accident. He and his father attended a family wedding in Nigeria, and afterwards, the two were involved in a head-on collision with a cargo truck. Ejiofor's father died in the accident, and Chiwetel was left with scars on his forehead. According to Ejiofor's sister, CNN business reporter Zain Asher, everyone else in the car died except for Chiwetel.

Catherine Zeta Jones
Most people probably never knew it existed, but Zeta Jones actually has a tracheotomy scar on her neck. When she was an infant, she contracted a virus that made it difficult for her to breath, so doctors had to perform a tracheotomy, leaving a 1½-inch scar.