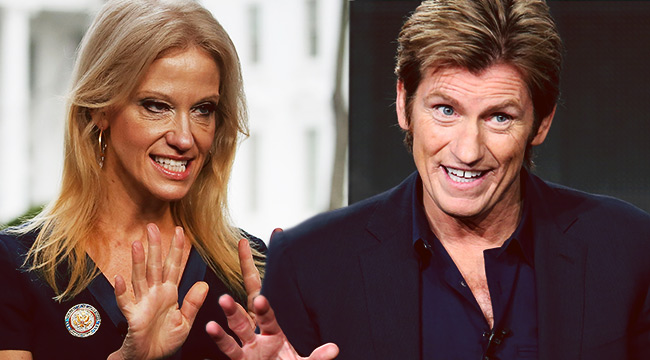 Kellyanne Conway is the former campaign manager and strategist to Donald Trump; now counselor to him as President of the United States (I will never be comfortable typing that), who famously coined the term "alternative facts" to skirt around the fact that the administration she dutifully serves is gaslighting our great nation. Denis Leary on the other hand, is an actor, writer, and standup comedian who started working in comedy in Boston in the early '80s and is known for television and film roles in everything from The Ref to FX's Rescue Me and Sex&Drugs&Rock&Roll.
On paper, these two may not seem like they have much in common (Kellyanne Conway's brief foray into comedy notwithstanding lololololol), except for the fact that, oh, they look exactly alike. You saw the picture up top. That shit is uncanny, right?
The similarity was first pointed out by British comedian David Baddiel on Twitter yesterday, who is convinced that Conway is not even a real person (as many of us have probably suspected), but one of Leary's creations.
Leary responded shortly after, and it seems as though he's in agreement.
Well, if Trump and his cronies manage to not kill us all, perhaps that Academy Award winning performance is waiting for him down the road. We will, after all, need some kind of cinematic documentation of how this mess went down for future generations if we're still here.
(Via The Independent)