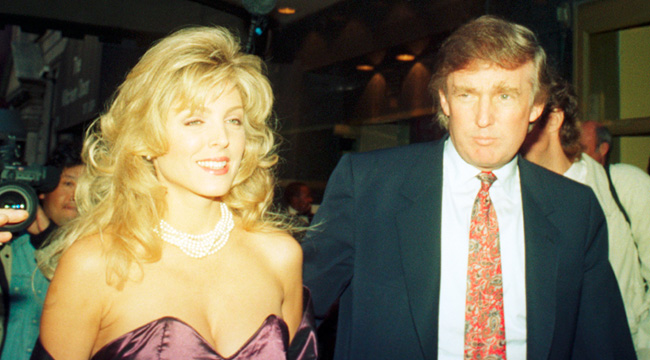 Presumptive Republican nominee Donald Trump regularly phones into cable news shows, so it's always a treat when we hear from other people who know him. Sometimes, he trucks out friendly associates, and they gush while revealing hilarious tidbits. That's not the case with this New York Times profile about Donald Trump, Ladies Man. We already know how Trump feels about women. They are meant to be seen, sometimes heard, and should never breastfeed or use the restroom because bodily functions are "disgusting."
Now the tables have turned. Some might use Trump's favorite word after reading the NY Times piece, which paints a portrait of a creepy opportunist who used money and power to demean ladies. The women that he worked with (even those who did not receive sexual overtures) say that he regularly commented on their bodies, especially if they had the nerve to gain weight. Those women that Trump elevated to managerial positions reveal that he was a master of backhanded compliments. For example, he believed they worked hard only to prove they could hang with men. In an even more shocking twist, he only paid Ivana Trump $1 per year to run his businesses in Atlantic City.
Trump's pattern of demeaning women began early in life. For example, Trump was called "ladies man" in his boarding school yearbook. His classmate, George White, knows why he earned the title at an all-boys school:

"Donald was extremely sensitive to whether or not the women he invited to campus were pretty. For Donald, it's display."
Former Miss Utah, Temple Taggart, remembers how Trump introduced himself to her — and other Miss USA contestants — in 1997:
"He kissed me directly on the lips. I thought, 'Oh my God, gross.' He was married to Marla Maples at the time. I think there were a few other girls that he kissed on the mouth. I was like 'Wow, that's inappropriate.'"
A construction executive, Barbara Res, said Trump would comment on women's bodies (and her own) as they worked:
Out of the blue, she said, Mr. Trump evaluated the fitness of women in Marina del Rey, Calif. "They take care of their asses," he said. Years later, after she had gained a significant amount of weight, Ms. Res endured a stinging workplace observation about her own body from Mr. Trump. "'You like your candy,'" she recalled him telling her. "It was him reminding me that I was overweight."
That Rolling Stone interview where he said questionable things about his daughter, Ivanka, was not an isolated incident, according to former Miss Universe Brook Antoinette Mahealani Lee:
"Don't you think my daughter's hot? She's hot, right?'" Ms. Lee recalled him saying. 'I was like, 'Really?' That's just weird. She was 16. That's creepy."
When the New York Post titled a story about Marla Maples as "Best Sex I've Ever Had," Trump made sure everyone knew about his prowess, said Res:
He absolutely loved that. He waved it around the office. "Did you see this?" Everyone who worked there were kind of horrified. We all thought it made him look bad. He didn't.
Trump threw a party at his Mar-a-Lago estate and had just met Rowanne Brewer Lane when he asked her to put on a bikini for him:
"He suddenly took me by the hand, and he started to show me around the mansion. He asked me if I had a swimsuit with me. I said no. I hadn't intended to swim. He took me into a room and opened drawers and asked me to put on a swimsuit."
He would make humiliate his Miss USA contestants until they cried while inspecting them like a general overseeing his platoon:
Donald Trump looked at Miss Alabama. "Come here," he said. She took one more step forward. "Tell me, who's the most beautiful woman here?" Miss Alabama's eyes swam around. "Besides me?" she said. "Uh, I like Arkansas. She's sweet." "I don't care if she's sweet," Donald Trump said. "Is she hot?"
Res said Trump was the master of sexist shade as she oversaw Trump Tower construction:
He said: "I know you're a woman in a man's world. And while men tend to be better than women, a good woman is better than 10 good men." He thought he was really complimenting me.
During a deposition, Jill Harth revealed that Trump hit on her even as her boyfriend, George Houraney, delivered a presentation. Trump dissed the couple's monogamy, and then this happened:
By the time the three of them were having dinner at the Oak Room of the Plaza Hotel the next night, Mr. Trump's advances had turned physical, Ms. Harth said in the deposition. "Basically he name-dropped throughout that dinner, when he wasn't groping me under the table," she testified. "Let me just say, this was a very traumatic thing working for him."
Well, none of this is terribly shocking information, but it certainly illuminates the pattern of Trump's behavior towards women. As he grows closer to becoming president, stories like these will only further embarrass the Republican party. At this point, they sort of deserve it for not trying to stop Trump until it was too late.
(Via New York Times)