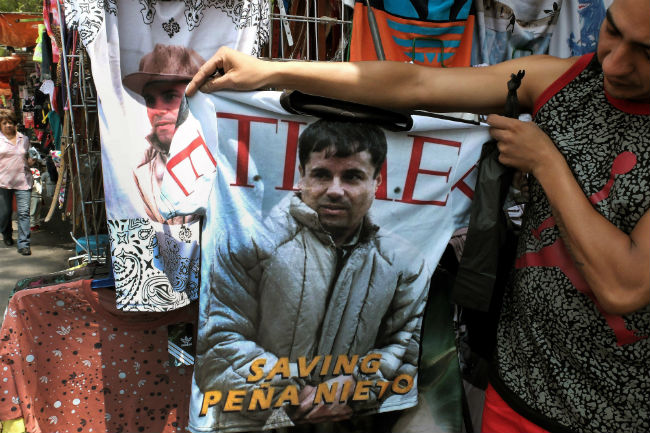 Few people had the courage to try to expose the connections between Mexican government officials and Joaquin "El Chapo" Guzman — the most notorious and successful drug trafficker in the world who recently escaped from prison in grand fashion (again), a man so bad that even Dog the Bounty Hunter wants nothing to do with him  —  but Frank Armenta Espinoza was attempting to do just that. In a video uploaded to YouTube, Espinoza, a former bodyguard for the governor of Sinaloa, described being present for meetings between the drug lord and the governor claiming that the politician was on the Sinaloa cartel's payroll.
There was a reason that people with knowledge of Guzman's connections with high-ranking officials kept quiet on the subject. That reason became apparent on August 9th, 2013, when the beheaded and tortured body of Espinoza was found wrapped in a sheet. The whistleblower wasn't the first to die at the hands of the ruthless Sinaloa cartel; people on both sides of the law have been left dead in the wake of Guzman's rise to prominence in the international drug smuggling trade. Before El Chapo became one of the most feared drug dealers in the world, though, he was just a boy growing up in the mountains of Mexico.
Growing Up Narco
— While his birthdate is disputed, what we do know is that Joaquin "El Chapo" Guzman grew up in the marijuana and poppy fields of La Tuna de Badiraguato, Sinaloa. It was a modest beginning for the soon-to-be drug chieftain, a rough and sparse farmer's life led by his father and grandfather. It's widely believed that El Chapo's father was abusive.
— Keeping his distance from his father, El Chapo gained early employment from his uncle, Pedro Avilés Pérez. Pérez helped establish Mexico as a key distributor of marijuana in the late 1960s and his Avilés organization would become a blueprint for many of today's cartels.
— Guzman started off working in drug production on farms, but he showed an aptitude for the drug trade and its machinations. In the late 70s, a Colombian pipeline of cocaine became prominent in the trade, and Guzman's cousin — Hector Luis Palma Salazar — placed Guzman in charge of distributing drugs from the Sinaloa coastline to the U.S. The kingpin of the Guadalajara Cartel was Miguel Ángel Félix Gallardo, a former police officer who became known as "El Padrino," or, The Godfather. Both he and another prominent member of the cartel — Amado Carrillo Fuentes — took Guzman under their wings and helped him understand the logistics of smuggling drugs.
— In 1984 Enrique "Kiki" Camerena, an undercover DEA agent, became embedded within the Félix Gallardo cartel and he got so close to the top of the organization that Gallardo himself came to trust him. Camarena was an important factor in Mexican authorities finding and destroying Rancho Bufalo, at the time one of the world's biggest marijuana farms. The DEA agent also had begun to expose political ties to the cartel, but on Feb. 7th, 1985, Camarena was kidnapped outside of the U.S. Consulate in Guadalajara. After enduring brutal torture — some of which was captured on audio tape — his body were found bound and gagged 70 miles outside of Guadalajara. The kidnapping, torture, and murder of a DEA agent proved to be a mistake for the Guadalajara Cartel. A massive manhunt ensued for Camerena's killers and Gallardo went off the radar while authorities picked up several of his cohorts. (Side note: the man ultimately convicted of killing Camerena was unexpectedly released from prison in 2013.)
— Towards the latter half of the 80s, Gallardo thought it was best for business to split the Guadalajara Cartel into several factions so the entire organization wouldn't fall under one federal swoop. The Tijuana Cartel, led by the Arellano Félix brothers, and the Sinaloa Cartel, led by El Chapo and his cousin Hector Palma, were born from Gallardo's organization with both cartels taking different areas in the drug trade pipeline. With El Chapo in a powerful new role, he began to show a talent for creatively smuggling contraband. He leased warehouses all over the U.S. to store his merchandise, concealing cocaine in boxes of Mexican soap and chicken wire, and one truck —  which was confiscated trying to cross the U.S.-Mexico border — contained 7.3 tons of cocaine hidden in jalapeño jars.
— In May of 1990, Mexican police officers stormed a home in Agua Prieta, near the U.S./Mexico border, off a tip they received. At first glance, the home looked quiet, but upon further inspection the officers found a tunnel underneath a pool table — activated by a hydraulic lift that was powered by a faucet handle — that extended all the way to a warehouse in the U.S. The tunnel featured air vents, a track for carts to transport drugs, and even a lighting system; it would be the first of many sophisticated tunnels attributed to El Chapo. Some tunnels were as long as a football field, and one in particular ran from Tijuana all the way to San Diego. The discovery of the 1990 tunnel notified authorities that they were dealing with a new kind of criminal, one much smarter and craftier than his predecessors.
A New Breed of Druglord
— By the late 80s to early 90s, Guzman and his cousin Hector Palma had succeeded in making the Sinaloa Cartel one of the most profitable drug organizations in the world. It's reported that they were moving as much as 24 tons of cocaine into the U.S. per month. Still, drug enforcement agencies like the DEA had much of their focus on the Colombian cartels, considering the Mexicans as merely "transporters" of the Colombian product. El Chapo's former associates in the Tijuana/Arellano Felix cartel also took note of the Sinaloa cartel's ascension. In November of 1992, El Chapo's assassins descended upon a party that several Arellano Felix family members were attending, opening fire on the assembled crowd. At least a half dozen people were maimed at the Puerto Vallarta party, but several reports claim that the men who were targeted were able to escape unharmed.
— By 1993, the Sinaloa cartel was starting to become a primary target for authorities, partly because the organization had made a deal with the Colombians to receive half of their payments in cocaine — effectively making them a powerful force in the drug pipeline to the U.S. — and partly due to Pablo Escobar's death. Enemies were popping up on both sides of the law for El Chapo and his organization, and in May of 1993, the Arellano Felix cartel saw an opportunity to strike back at the kingpin. On a quiet spring day at the Guadalajara International airport, a team of Tijuana cartel hit men sprayed bullets into a crowd that they thought included El Chapo. In the chaos, seven people were killed, including Archbishop Juan Jesus Posadas Ocampo. The Archbishop was filled with 14 rounds — apparently he was confused for their target —  while Guzman was able to escape to safety.
— An anti-drug cartel public outcry ensued following the death of the Archbishop, and authorities, many of whom had been cooperative with El Chapo, had no choice but to pursue him; they set a $5 million reward for any information that led to the capture of the cocaine cowboy. Less than a month after the murder of the Archbishop, El Chapo was caught in Guatemala before being turned over to police in Mexico. He was sentenced to 20 years in prison in Puente Grande on charges of conspiracy and drug trafficking among others. The following is one of few existing video recordings of Guzman, taken after his arrest.
— Puente Grande is one of the highest security prisons in Mexico. For the drug kingpin from Sinaloa, though, his stay there almost amounted to an extended vacation. El Chapo is said to have enjoyed luxurious meals, alcohol, prostitutes, access to cell phones, and even parties during his stay at Puente Grande. In PBS' riveting Frontline documentary on the search to find El Chapo, the documentarians spoke to an investigator who went inside to speak with him. What they realized, soon after stepping foot inside the prison, was that El Chapo was running the show when a scheduled interview did not take place until 13 hours after their scheduled interview.
El Chapo calmly explained to me, 'Today I had a conjugal visit, and afterwards I needed to take a bath, with hot steam, to relax myself and wind down. After that I took a little nap to receive you properly." In that moment I realized that the man in charge of that place was El Chapo Guzmán. He was the boss of the prison. And I suddenly felt afraid that my questions would make El Chapo think that I was his enemy.
— The Frontline documentary also reveals the disturbing tale of Zulema Hernandez, one of three women arrested and sentenced to serve time in the all-male prison — likely on the orders of El Chapo. Guzman enjoyed a sexual relationship with Hernandez, but when he was "done" with her, he would hand her over to the other inmates in the prison to do with her what they pleased. Hernandez had two abortions while in the prison, one of which almost caused her to bleed to death. Towards the end of her stay, she had effectively "lost her mind" due to the horrors of the prison and its inmates. Unfortunately, Zulema's story did not have a happy ending: shortly after she was released from the facility, Guzman's enemy — the Los Zetas cartel — kidnapped, tortured, and murdered her. A "Z" was carved into several areas of her naked body.
— Anabel Hernández is a journalist who has followed the exploits of El Chapo despite multiple threats levied against her and her family. Speaking about his time in the prison, she told Frontline that "he became so powerful in Puente Grande that one Christmas, he invited his whole family for a vacation at the 'resort' he had created in the maximum-security prison. His family spent an entire week there."
— On January 19th, 2001, after serving almost eight years inside the facility, El Chapo vanished. The narrative was that he snuck inside a laundry cart, and was wheeled out by an associate. But many believe that he had amassed so much power behind bars, and had paid off so many officials from his vast fortune, that he simply walked out one of the doors. Seventy-one people, including the warden, were brought up on charges. It would take authorities 13 years to catch up with him again.
The King
— El Chapo's penitentiary stay did little to derail he and his cartel's progress. In fact, Guzman was more powerful when he left prison than he was when he went in. His distribution network was fanning out on an international level, reaching as far as Australia and Europe. One Chicago indictment explained how he employed the uses of jets, trucks, cars, boats, and railcars to transport drugs all over the world. Guzman was smart, insulating himself from many parts of his organization and communicating directly with very few. He had also acquired a team of specialists, all with nicknames rivaling Dick Tracy's cadre of badguys.
— El Chino Antrax supervised the armed wing of the Sinaloa cartel named Los Antrax. He was young, and part of a new breed of narcos; flashy cars, women, tweeting pics of guns. Los Antrax provided security for drug shipments.
— A woman known as La Voz (which translates to "the voice") handled El Chapo's personal communications. When you sent a text message to the boss, that message would be run through several intermediaries who were stationed at coffee shops with wifi. Before El Chapo would ever read what you wrote (he's known to be illiterate but he brushed up enough to be able to read text messages), the message would be filtered through these gatekeepers until it reached La Voz, the only person who had direct access to him. The system was hard for authorities to track because El Chapo's men would constantly switch coffee shops and wifi networks.
— El Nariz, aka "The Nose," was a former Mexican special forces officer with a crooked nose as his distinguishing characteristic. He was a part of El Chapo's inner circle, serving as his personal assistant. Felipe de Jesús Corona-Verbera — a Mexican architect who created many of the safe houses, tunnels, and hiding spots to stash guns and drugs — was another key figure in the cartel. In 2003, Mexico handed him over to the U.S., but roughly 90 tunnels are attributed to his work, including the initial one found in Agua Prieta in 1990. Manuel López Osorio, aka "El Picudo" (which translates to "pointy nose"), was another former special-ops officer who had decided to switch sides and join the cartel. Carlos Hoo Ramírez, aka "El Condor," was Guzman's chief of security, following him closely and serving as his lead bodyguard.
— Violence was woven into the fabric of the profession. In 1997, one of Guzman's mentors (Amado Carrillo Fuentes) died following a botched plastic surgery. The death left an opening in the Juarez cartel's leadership that was taken up by Amado's brother, Vicente Carrillo Fuentes. Vicente's group controlled the Ciudad Juarez drug ports, a highly lucrative area that came into contention between the Juarez cartel and the Sinaloa cartel. In 2004, El Chapo ordered the murder of Vicente's brother, Rodolfo Carrillo Fuentes. In response, Vicente ordered the killing El Chapo's brother in prison. The murders set off a blood feud between the two factions that have since resulted in over 10,000 deaths.
— El Chapo's cartel also waged a bloody war against the Zetas cartel, now viewed as the most dangerous of all the drug cartels in existence. In 2005, Guzman's group attempted to wrest away control of Nuevo Laredo from the Zetas to no avail. The Zetas are known as a ruthless gang that uses kidnapping, extortion, and murder as a way of bolstering their bottom line. Things with the Zetas and the Sinaloa cartel became heated once again in 2012 when Guzman's group stuffed 14 butchered members of the Zetas cartel in a van along with a banner supposedly signed by Guzman himself. "I'm going to teach these scum to work Sinaloa style, without kidnapping, without payoffs, without extortion," El Chapo reportedly said.
— The casualties of these drug wars came fast and quick, and not even El Chapo was invulnerable to the horrors of battle. In 2008, his son Edgar was murdered in the parking lot of a shopping center. The death of Edgar spurred El Chapo to push even harder into other cartels' territories as the body count continued to rise in the Mexican streets. Despite the chaos, El Chapo attempted to maintain a level of normalcy — in 2007 he married a young beauty queen with whom he would father twin daughters. His empire had also become a multi-billion dollar entity, and in 2009 he made the Forbes list of wealthiest people in the world. El Chapo's high-profile had also made him the most wanted man in the world, and both the D.E.A., and the Mexican authorities — those which maintained distance from El Chapo's network of corruption — were itching to find and capture him.
The Chase
— Authorities came close on several occasions to capturing the kingpin. In 2004, El Chapo escaped on an ATV from a ranch in Sinaloa just before a group of Mexican soldiers swarmed it. When he married Emma Coronel in 2007, soldiers in helicopters crashed a wedding party but were too late; El Chapo had already fled the scene. He became known as a master of escape with informants almost always notifying him hours before a raid would commence. Authorities were infiltrating El Chapo's circle, though, and after years of chasing him throughout Mexico, they would finally get their big break.
— In February of 2014, a team of Mexican marines, U.S. Marshalls, the Department of Homeland Security, and the D.E.A. descended upon the town of Mazatlán. They had deciphered the Blackberry signal of El Condor, El Chapo's bodyguard. After triangulating the signal to the Hotel Miramar, they found out that two apartments had been rented out the previous day. When a team of six marines approached apartment 401 on the fourth floor, they found El Condor standing outside the door with an AK-47. El Condor submitted quickly, knowing that he was outgunned. Authorities burst through the door and El Chapo scrambled, grabbed a gun, and locked himself in the bathroom. His wife, Emma Coronel screamed at the team of marines to not kill her husband. With the building surrounded, and likely the fear of the marines accidentally shooting and killing his wife and twin daughters running through his head, El Chapo hung his hands outside of the bathroom door in surrender.
— The capture of Guzman was a coup for the many law enforcement agencies that were working tirelessly to put him in a prison cell that would hold him. The U.S. was looking to have Guzman extradited to the states to answer for the many charges he racked up in the decades since he began smuggling drugs into the country. Unfortunately, Guzman's capture would provide little justice for those who sought it. On July 11th, 2015, Guzman slipped into a hole underneath his shower and escaped the prison through a mile-long tunnel. He was gone for 18 minutes before anyone noticed him missing.
— Over 10,000 federal police officers, marines, and soldiers are currently looking for El Chapo Guzman. Jack Riley, the deputy administrator of the U.S. Drug Enforcement Administration, thinks that Guzman is hiding out in the Mexican mountains and valleys that have kept him safe for years.
In situations like this, people tend to be creatures of habit. If he was comfortable there and in control of the surroundings and has warning signals when the good guys are approaching, that's probably what he's going to do. What matters is that he's out, and we've got to get the cuffs back on that guy.
— Law enforcement agencies are trying once again to triangulate communication devices used in the Sinaloa cartel, but if history serves as any indication, it's likely that no one close to El Chapo is using any kind of device that can be traced; he learns from his mistakes. On the run and in hiding once again, it might be even harder for authorities to find and capture El Chapo this time around. Many believe though, that he's right back where he started, back in the craggy mountain villages and ranches of Sinaloa where he once sold oranges, learned to farm marijuana, and devising a new plan to extend the blood-tipped fingers of his cartel to every corner of the world.