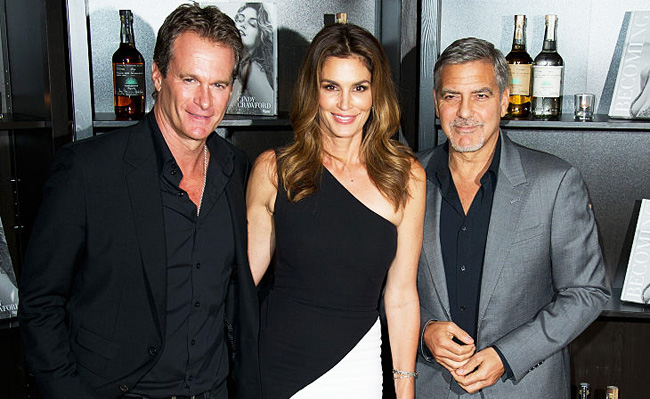 Everything that George Clooney touches (well, almost everything he touches) seems to turn to gold. Just two weeks after welcoming twins with his human rights lawyer wife, Amal (Alamuddin) Clooney, it was announced Wednesday that the Money Monster star (pun intended) is selling his tequila company Casamigos — that he owns with entertainment mogul Rande Gerber (Cindy Crawford's husband) and real estate developer Michael Meldman — to the British alcohol company Diageo for somewhere in the neighborhood of one billion dollars.
Chump change, to these high rollers, am I right?
On the deal, Clooney told CNBC in an email, "If you asked us four years ago if we had a billion dollar company, I don't think we would have said yes. This reflects Diageo's belief in our company and our belief in Diageo. But we're not going anywhere. We'll still be very much a part of Casamigos. Starting with a shot tonight. Maybe two."
Clooney and Gerber originally started Casamigos, which means "house of friends" in Spanish, as a private collection of tequilas strictly for friends and family, but went public with the business in 2013. In hindsight, clearly that was a savvy move on their part!
Shortly after the news broke, "George Clooney" began trending on Twitter as the internet erupted in a mix of jokes and awe at the guy who already had everything before he found himself $1 billion richer.
Sadly, this probably means we won't be getting a much needed update on Booker in the Roseanne revival, if that wasn't already apparent.