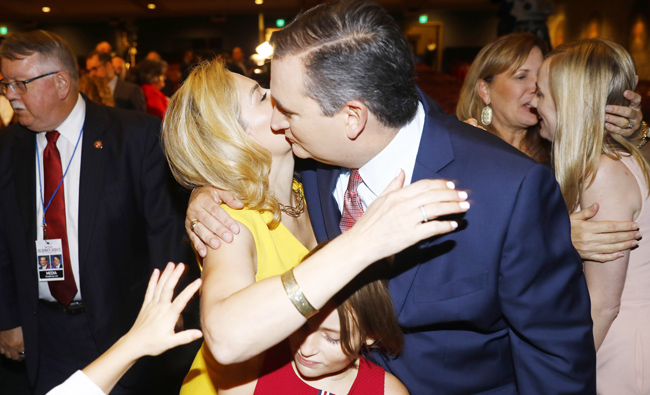 Heidi Cruz, perhaps the most empathized-for spouse in American politics (okay, second most) did a lengthy profile for the Atlantic ahead of the upcoming midterm elections, in which her husband Ted Cruz is being challenged for his Texas Senate seat by Democratic Beto O'Rourke. In the opener to the piece, Cruz recalled planning her wedding to the Soup King in 2001, whom she had met a year earlier working on the presidential campaign for George W. Bush while on Christmas break from Harvard Business School.
At the time, Heidi described Cruz as "super-smart" and "really fun," adding that she thought he resembled a "1950s movie star" — none of which seems true, especially when you skip forward a couple of paragraphs to get an early glimpse of the personal hell that must be Heidi Cruz's life.
Which is how Heidi found herself planning a May wedding to a man who, for all his pretension, insisted they play "A Whole New World," the popular Disney song, at the end of the ceremony. She didn't understand: They had a band, she told him—a violinist, no less! Why on earth would they play a CD? "Because no one can do Aladdin," he said. She relented, and it became a theme of sorts. Or that's how she remembers it, anyway. On a magic carpet ride.
"No one can do Aladdin!" Don't you and I know it. Looking back however, Cruz says she now understands why her dashing beau picked the song he did.
"I would say to younger women: Be intentional about your decisions," she said. "And I do appreciate that Ted started our life together with that song, because there's some truth to it.

"He'll be like, 'It's such a great life! We have so much adventure ahead! It's like our magic-carpet ride,'" she continued. "And sometimes I'm like, 'I hope we don't hit the cement.'"
And what a magical, magical carpet ride it's been! You almost have to envy her.