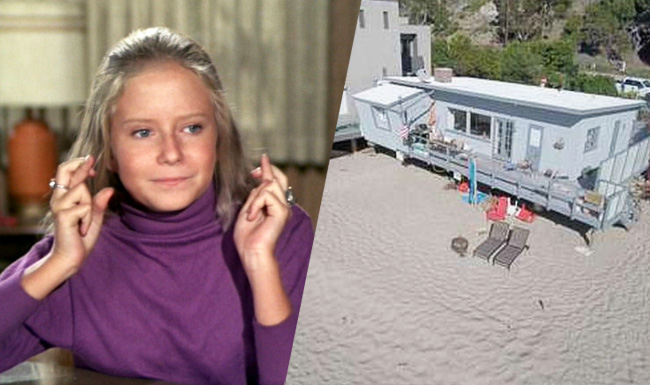 The stretch of the Pacific Coast Highway through Malibu is known for it's scenic beach and mountain views, as well as stunning estates home to some of the biggest celebrities. However, one tiny '50s-style beach bungalow sits among the massive beach properties on the south tip of Escondido Beach Road. It's one of the largest oceanfront parcels of land available in the area, and it's been owned by Eve Plumb — a.k.a. "Jan Brady from The Brady Bunch — since 1969.
Plumb bought the home at just 11 years old (with help from her parents, of course), at the height of Brady fame for just $55,000, which was a substantial amount of money back in those days. But now the 850-square-foot, three bathroom, 1.75 bathroom home has just sold again after being back on the market for the first time in nearly fifty years for a whopping $3.9 million.
Of course, as it often goes these days, the vintage home is worth more for the property it sits on, and will likely be torn down and rebuilt by its new owners:
Sitting at the south end of Escondido Beach, the 1950s cottage returned to market earlier this year with plans for an ultramodern residence designed by Meis Architects, designer of the Staples Center, among other venues.

Renderings that accompanied the listing showed a cantilevered design with walls of floor-to-ceiling glass, a retractable "moon roof" and two-story garage wrapped in perforated metal. In all, the proposed home would have three bedrooms and 2.5 bathrooms in 3,500 square feet of space.
Sounds like George Glass would approve, anyway.
Here's a bird's eye view of the home from Google Maps. It's clearly much, much tinier than the other homes on the strip.
(Via Today and Los Angeles Times)