On Tuesday, after weeks of an occasionally vitriolic back-and-forth between comedian and activist Jon Stewart and Republican members of Congress, the latter finally authorized the passage of a long-term compensation package for 9/11 first responders. According to CNN, the Senate voted 97-2 to pass the healthcare bill, which will extend coverage for surviving first responders for decades to come. President Donald Trump is expected to sign the bill when it arrives on his desk.
Stewart, activist John Feal of the FealGood Foundation and several members of Congress appeared soon after at a press conference. Not only did the comedian and the first responder hug it out during a series of remarks, but the former also delivered an emotional address to those who had (and hadn't) supported their efforts:
"I will always be so proud to have been associated with it. We can never repay all that the 9/11 community has done for our country, but we can stop penalizing them. And today is that day that they can exhale. Because, unfortunately, the pain and suffering of what these heroes continue to go through is going to continue. There have been too many funerals, too many hospices."
"These families deserve better," he concluded. "I'm hopeful that today begins the process of being able to heal without the burden of having to advocate."

As moving as Stewart's words were — not to mention Feal's own comments and the remarks made by their fellow activists — many were quite taken with a Getty photograph that was snapped by Bill Clark before the Senate's vote. In it, a smiling Stewart stands in a hallway while Sen. Mitch McConnell (R-Kentucky), who initially balked at the prospect of holding a vote in the first place, walks by.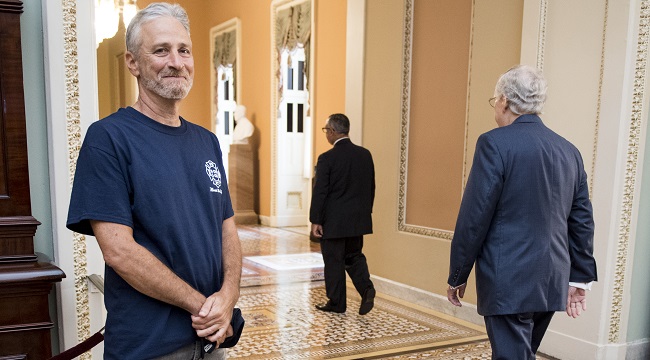 Needless to say, the photo was quite popular.
Or, as Kat Kinsman put it…