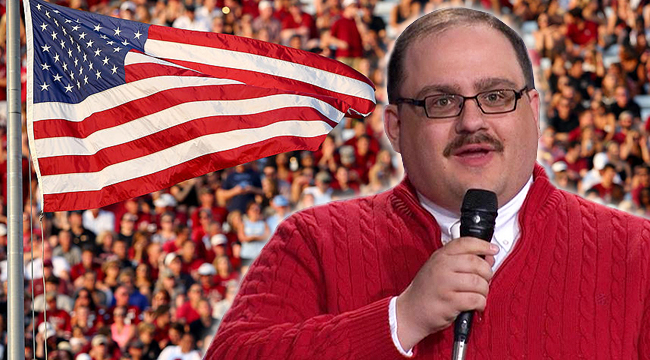 Ken Bone is exactly the person you expect him to be: soft-spoken, authentic, exceedingly pleasant. When he talked with me by phone last night, he thanked me for being a part of the new media. "I don't know how long newspapers will be around," he said, "I hope a long time. But what you're doing with digital is really, really great."
I hadn't been expecting Bone's call. Earlier in the day, Sunday's debate winner had responded to my interview request by asking me to text his phone, so that he could organize his requests. I assumed I'd get a call from a PR person — some slick operator who'd quickly swooped in to guide Bone through his 15 minutes of fame. Instead, Bone called me from his own cell phone around seven o'clock, politely identified himself, and asked if it was a good time to talk.
Bone is 34, two years older than me, but the way he speaks suggests that he's somehow not of our generation. Perhaps that's part of the reason that he — with his iconic red sweater, mustache, and disposable camera — became the breakout star of the second presidential debate: He seems to belong to a kinder, gentler era. Who knows if that era really ever existed, but it's nice to imagine when our current election cycle has been so very brutal.
Even Bone's debate question, an already-criticized query about energy policy, was a welcome change in the middle of a 90-minute bloodbath; a single moment in which both candidates were forced to retract their adamantium claws and discuss policy.
Bone's warmth is legit, and while he'd spent the entire day doing press — ours was the thirtieth phone interview he'd done that day — he took all the time he could with me, answering every question and even saying hello to my friend, who arrived to pick me up for dinner towards the end of our call. Little did my friend know that I was speaking to the man who hundreds of people will write in on their ballots come November 8. (Bone isn't eligible to win due to his young age, by the way, though he understands that he might appear older because he's "bald and fat.")
"Is it okay if I put the phone on speaker so she can say 'hello'?" I asked. "She's not going to ask any questions."
"Put her on," Bone responded in literally the nicest way possible. "I've got a few minutes! What's her name?"
There's only thing that Bone won't tell anyone — who he's voting for. On all other subjects, from the issues that matter to him to the positives and negatives of his virality, he's exactly as open and enthusiastic as we'd all dreamed he might be.
***

Can I ask you the weirdest question before we start?
I love weird questions!
Has anyone asked what you were wearing?
No! But I'm about to tweet about getting out the vote, so I've just washed my sweater and put it back on.
How have the last few days been?
It's been bizarre. I just thought — when the Gallup poll invited me to be a part of the debate — that it'd be a really cool experience, that it'd be a tough day, and that maybe my local paper would want to talk to me; maybe the local TV channels. But I've done non-stop media. I just got off the phone with an afternoon radio station in New Zealand. I've got a morning radio show in Ireland tonight. It's literally all over the world. I'm getting a chance to talk to people!
Let's go back to the beginning: Did you even know you were going to ask a question?
We were invited eight days before and told to prepare two questions. That way, if a lot of them were the same, we wouldn't run out of material. We each bring two questions, we share them with nobody, and then when we get there that morning, we give them to Anderson Cooper and Martha Raddatz and their producers. They're the only ones that get to know about it. They pick the questions they want to ask and in the order that will keep the conversation going. They don't tell us what the order's going to be because they can switch depending on what they want to do.
Everybody has a questions to ask, but no one knows when they're going to be called on.
So you didn't know until they said your name.
A few seconds earlier, while Anderson was having to interrupt Mr. Trump for the 100th time or so, he started pointing in my direction — "we have a question over here, we a have a question over here!" So when he was pointing at me, I knew that was kind of my cue.
This is your third day of life as a viral sensation.
It's been fantastic! There are some times it's not super fun because it's tiring. I have to go back to work at my regular job at the power plant tomorrow night. I've got interviews all day tomorrow, and then I gotta try to get a couple hours of sleep and then go in and work a 12-hour night shift at the power plant. [Bone is a controller at the plant, which he likens to being the producer on a set.]
When do you think this will die down?
People are already wanting to talk to me about the next debate, so I've got some appearances and some more interviews leading all the way up to the next debate. Maybe after that it'll calm down, maybe not. Maybe they'll still want to talk to me up until the election, which I'm happy to do.