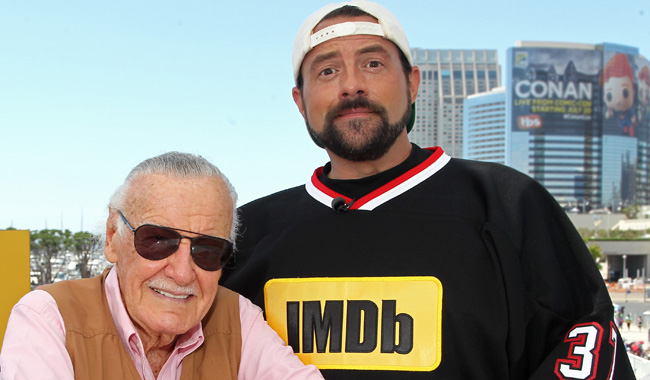 A sad, stunning report by The Hollywood Reporter dropped on Tuesday, shocking many with details about the current living situation for Marvel Comics legend Stan Lee. The report provides details of a document Lee reportedly had written with his lawyer alleging elder abuse and a battle over the pop culture icon's estate in the wake of his wife's death at the age of 95. One source referred to the whole situation as "an utter sh*tshow."
The Feb. 13 document, obtained by The Hollywood Reporter, begins with some background, explaining that Lee and his late wife had arranged a trust for their daughter because she had trouble supporting herself and often overspent. "It is not uncommon for J.C. to charge, in any given month, $20,000 to $40,000 on credit cards, sometimes more," the document states. It goes on to describe how, when he and his daughter disagree — "which is often" — she "typically yells and screams at me and cries hysterically if I do not capitulate."

Lee explains that J.C. will, "from time to time," demand changes to her trust, including the transfer of properties into her name. He has resisted such changes, he states, because they "would greatly increase the likelihood of her greatest fear: that after my death, she will become homeless and destitute."

The declaration then explicates how three men with "bad intentions" — Jerardo "Jerry" Olivarez, Keya Morgan and J.C.'s attorney, Kirk Schenck — had improperly influenced his daughter, a woman with "very few adult friends." The document claims the trio has "insinuated themselves into relationships with J.C. for an ulterior motive and purpose": to take advantage of Lee and "gain control over my assets, property and money."
Lee has denied and distanced himself from the document referenced above, but the report indicates that the "turmoil" between his daughter and the three men named has been ongoing and raised questions about the 95-year-old's wellbeing.
The entire report is a shocking read, highlighting a side of Lee's life that many wouldn't expect given his continued cameo appearances in Marvel films and convention stops across the country. And it comes on the heels of reports by outlets like the Daily Beast filled with jaw-dropping allegations about things like Lee's blood being stolen to sign comic books with. One person who was definitely shocked by the news was the longtime director and Stan Lee collaborator Kevin Smith. He reacted on Twitter by opening his home to the Marvel Comics legend:
Smith called the situation "heartbreaking" and added that Lee was "always welcome to come live with me – or please let us fans buy you a new place to live." Smith was joined by others from the industry with similar sentiments, including Seth Green and Felicia Day.
The allegations are indeed heartbreaking and an example of one of the worst crimes that can happen in someone's twilight years. We'll have to keep an eye out on how this story plays out, hopefully with a positive conclusion.
(Via The Hollywood Reporter)