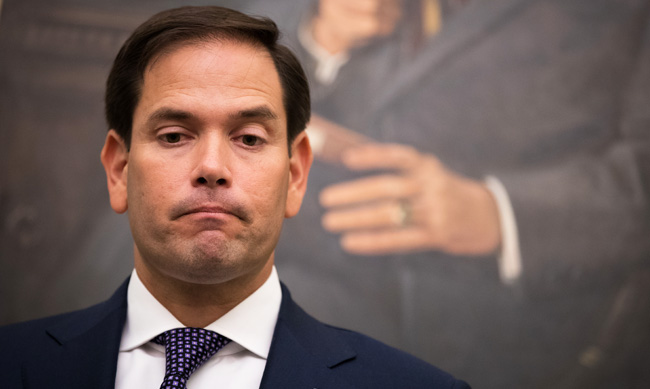 Following the deadly school shooting in Parkland, Florida this week, Sen. Marco Rubio (R-FL) claimed that gun control laws would not have prevented the tragedy — despite the fact that Nikolas Cruz, a 19-year-old with a troubled background, was able to legally obtain the AR-15 machine gun that he used to take the lives of 17 teachers and students. Probably totally unrelated, Rubio has received at least $3.3 million in funding from the NRA as of October, according to The New York Times.
As such, on Friday the online activist group Avaaz trolled the Senator near his office in Doral, Florida, with three mobile billboards boldly reading: "Slaughtered in school," "And still no gun control?" "How come, Marco Rubio?"
The idea came from the 2017 Oscar-nominated film Three Billboards Outside Ebbing, Missouri which stars Frances McDormand as a mother who rents out billboards to hold local authorities accountable for her daughter's unsolved murder. The trucks were also seen rolling through nearby downtown Miami and Little Havana.
"Florida has notoriously lax gun laws, and Rubio, who is supported by the NRA, has never attempted to reform them," Emma Ruby-Sachs, Avaaz's deputy director said. "The senator ranks as one of the highest recipients of NRA contributions and has received an A+ rating from the NRA."

Added Ruby-Sachs: "Today citizens are asking: How come Rubio refuses to protect our children? The senator has taken fire across the country for his toothless response to the shooting, calling it 'inexplicable'. We called (that) 'inexcusable.'"
It's a difficult argument to make that a teenager who was considered too mentally disturbed to carry a backpack on campus should have been able to acquire a deadly firearm with such ease, but somehow Rubio and his fellow Republicans keep making it, in light of tragedy after tragedy.
(Via CNN)