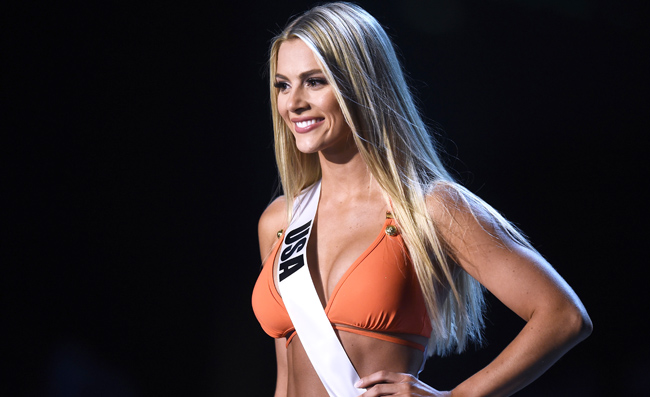 Miss USA Sarah Rose Summers was forced to apologize, ahead of the Miss Universe pageant taking place in Bangkok this weekend, over comments made about two of her fellow contestants. Her remarks have been put on blast as "xenophobic" and "condescending" after surfacing on Wednesday in an Instagram story the 24-year-old former Miss Nebraska posted, in which she joked about the language barriers experienced by Miss Vietnam, H'Hen Nie, and Miss Cambodia, Rern Sinat.
Joined by Miss Colombia, Valeria Morales and Miss Australia, Francesca Hung, Summers was heard saying, "Miss Cambodia is here, and doesn't speak any English, and not a single other person speaks her language. Can you imagine? Francesca said that would be so isolating and I said yes and just confusing all the time. Poor Cambodia."
Summers continued with Miss Vietnam, who she dismissed as "so cute and she pretends to know so much English and then you ask her a question after having a whole conversation with her and she goes [nods and smiles]."
It makes you wonder how many languages Summer personally speaks. At any rate, the videos were captured for posterity by the Diet Prada Instagram account:
After the remarks went viral, Summer issued an apology in the form of a photo of herself embracing her fellow contestants.
"Miss Universe is an opportunity for women from around the world to learn about each other's cultures, life experiences, and views. We all come from different backgrounds and can grow alongside one another," she wrote. "In a moment where I intended to admire the courage of a few of my sisters, I said something that I now realize can be perceived as not respectful, and I apologize."
Since her apology, both H'Hen Nie and Rern Sinat have come forward to defend Summers ahead of the competition:
Speaking to CNN on Friday, Miss Vietnam H'Hen Nie said Summers "didn't mean anything" by it. "Everyone in this competition, myself included, loves and respects one another," she said, adding that Summers had been particularly supportive and helpful to her.
"When she knew about my difficulties with (the English) language, she took an interest and showed me love. That's why she knows about that. Thank you Miss USA for taking care of me, showing me love and helping me recently," H'Hen Nie said.
Likewise, Sinat posted the same photo on Instagram, with the caption, "My friendship and sisterhood in Miss Universe will forever be kept in my heart. Our experience have given us the opportunity to show and learn different cultures. I speak the language of love, respect and understanding. I love you my sisters."
In this hyper-sensitive day and age, it seems baffling that Summers thought those comments were appropriate in the first place, but at the very least, this must have been a teaching moment for her, for sure.
(Via CNN)