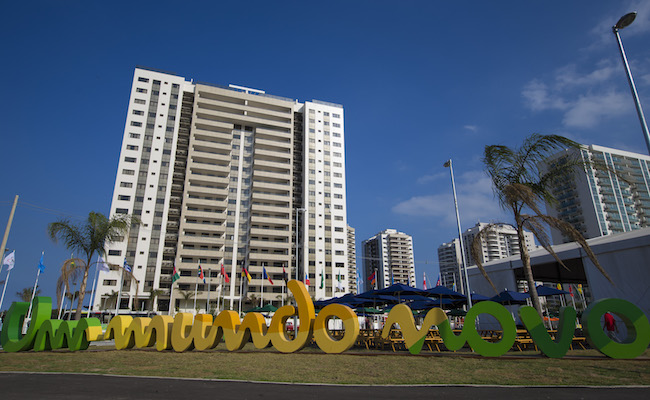 It's possible that the Summer Olympics, slated to begin in less than two weeks in Rio de Janeiro, Brazil, have faced even more problems than the Winter Olympics in Sochi, Russia in 2014. A deluge of problems overshadowing the games includes sewage in the water, police protests, and the Zika virus. The Australian Olympic team tried to move into the Olympic village and were apparently greeted with blocked toilets, leaking pipes and exposed wiring, among other unpleasant conditions.
Luckily for the Rio Olympics, CNN has printed a friendlier piece about the Olympic village, where athletes will enjoy a utilitarian furniture and bathroom setup, but will also benefit from air conditioning and condoms — 450,000 condoms to be exact — which comes out to 42 per person. This is the selling point of the Olympic village, perhaps, because of fears of sexually transmitting the Zika virus.
Another selling point is apparently how spartan the Olympic village apartments are, with metal beds, bedside tables and disposable wardrobes made with recycled fabrics. This is all to keep the cost of the Olympics low. Luckily, planners didn't skimp on the air conditioning:
Unlike in recent Games, there are no TVs in the apartments. Organizers did finally agree to install air conditioners in the bedrooms to allay fears over the mosquito-borne Zika virus, despite the expected cool temperatures during the games, which fall during Rio's winter.
Athletes can also enjoy the pools, tennis courts and bike lanes at the complex, completing the counterpoint to the Australians saying that the village is currently uninhabitable. We'll see what everyone else says when they move in before the opening ceremony on August 5. At the very least, they probably won't be complaining about the lack of access to contraception during their stay.
(Via CNN)